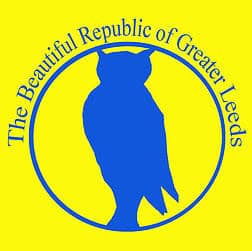 Leeds, Devolution & Why I Hate Yorkshire… Mick McCann, from Leeds writes
I hate 'Yorkshire' me. I don't hate the physical place but the concept. I love Wakey, Bradford, Huddersfield, Hull, Halifax, Appletreewick et al but Yorkshire means NOTHING to me. Yorkshire is old and tired, whiling away it's time, shitting it's pants in a retirement home. And wtf is West Yorkshire? That's even worse, a wishy-washy BBC term.
What is Yorkshire to the world? A quaint, gentle, vaguely middle-class, old county of tea and scones and cricket. It's a James Herriot, Last Of The Summer Wine, Emmerdale theme park with no modernity, no edge, no 'street', no big, vibrant, exciting cities… 'Will it have wi-fi?'
Look at the official video trailer for the Yorkshire TDF
Three minutes 50 of glossy footage of countryside, dry-stone walls, sleepy villages, sheep, tea and scones, with a few seconds of deserted cityscapes – yep that's how we want t sell ourselves. Scones got more prominence than Leeds, Bradford, or Hull. Perfect example of quaint, sleepy, old Yorkshire and while Yorkshire represents, or more accurately, replaces Leeds, it can crawl into a deep mine-shaft and hit gas.
Take Yorkshire out of Leeds and it can only be good for Leeds, take Leeds out of Yorkshire and Yorkshire would be reeling, clinging on to it's sad old stereotypes.
Actual capital of 'the north' Leeds, is a modern, vibrant, cutting-edge city, the Leeds City Region has an economy bigger than Wales, way bigger than Greater Manchester and accounts for 5% of the UK's national economy – a quarter of that of London.
There's sommat weird about Leeds. For the last 10-15 years I've met almost unanimous disbelief when I've stated the simple, unquestionable fact that Leeds is way bigger than Manchester… and that's in Leeds. I'd argue that a major player in this Leeds lack of self belief or even knowledge is the horrible shadow of tired, old Yorkshire that's always hung over us. Was Manchester or Liverpool ever in the shadow of Lancashire?
Just to quickly put the size argument to bed, here's a graphic – ironically from a BBC programme (Mind The Gap) trying to persuade the nation that Manchester is the UK's 2nd city – showing the population of the two cities.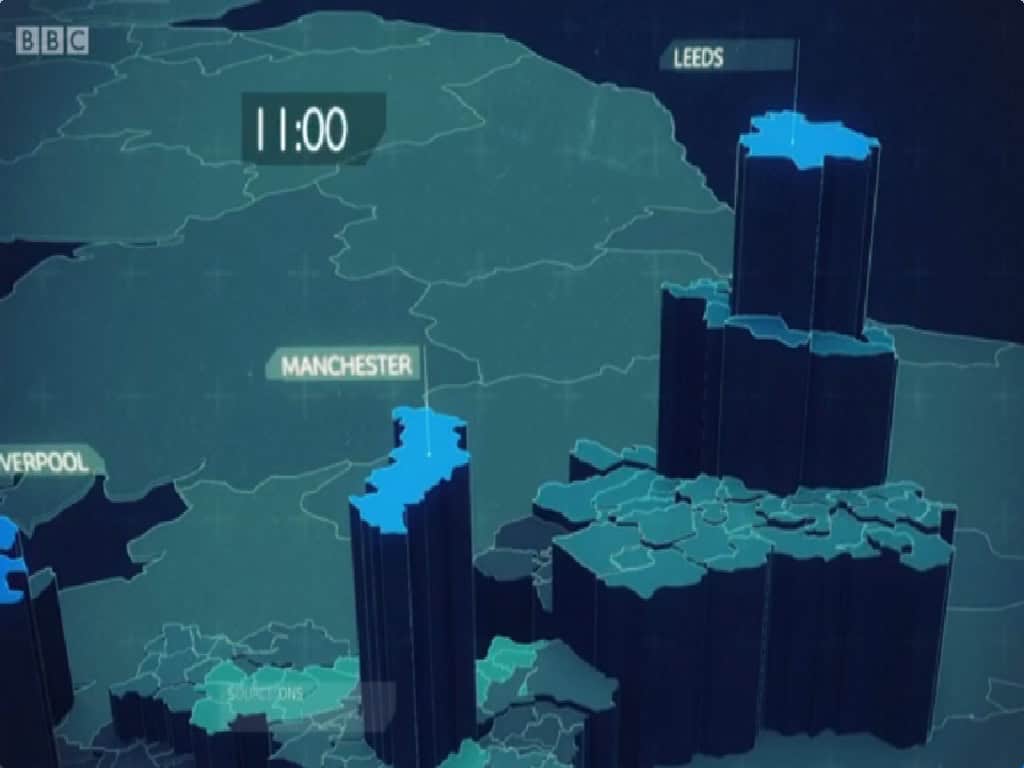 In part, Manchester is powerful because it has a specific name, a brand that people can tag onto, it's not South Lancashire, it's not a general, weak term like West Midlands, West Yorkshire, North Lanarkshire, it's Greater Manchester, it's an actual place.
I'd argue largely thanks to decades of national BBC and central government bias, brand Manchester is way more successful than brand Leeds. I'd also argue that another major factor in that is 'Yorkshire'. Leeds is rarely credited, or even mentioned in the lazy national media and in the nations imagination Leeds becomes a none place.
The examples are endless. Upon his death Leeds writer Keith Waterhouse became 'Yorkshire writer' in the national press – as will Alan Bennet. Just last week I heard a couple on the Manchester Marketing Board (the BBC) that had me screaming at the telly. 'Yorkshire lass Beryl Burton' and a classic example, the immortal BBC words 'In Beeston, West Yorkshire.' Leeds appears to be a dirty word at the Manchester Marketing Board.
Now, yes, technically, Beeston is in Yorkshire but Liverpool and Manchester are in Lancashire. Can you imagine ever hearing the words 'Lancashire bands The Beatles or Oasis' or 'I'm in Moss Side, Lancashire'?
'God, stop banging on about Manchester' I hear you shout. 'No, I won't,' I shout back, 'it matters.'
Why is it that Manchester is the only UK city (outside London) that could start an 'International Festival' and, from the off, gain large funding, immediate, blanket BBC (and therefore national media) coverage? BBC patronage makes the whole thing easy, you can attract big names when they know the Beeb are promoting. Newsnight, for example, ignore world news for a night and do a full arts night from Manchester. I wonder if there's any connection to Peter Salmon being a board member of the Manchester International Festival and the director of BBC North?
Can you imagine even a curt, national BBC mention for Thought Bubble? Or Europe's oldest Caribbean Festival in Leeds, or The Big Bookend or Ilkley Lit Fest? Never mind the national BBC setting up camp there.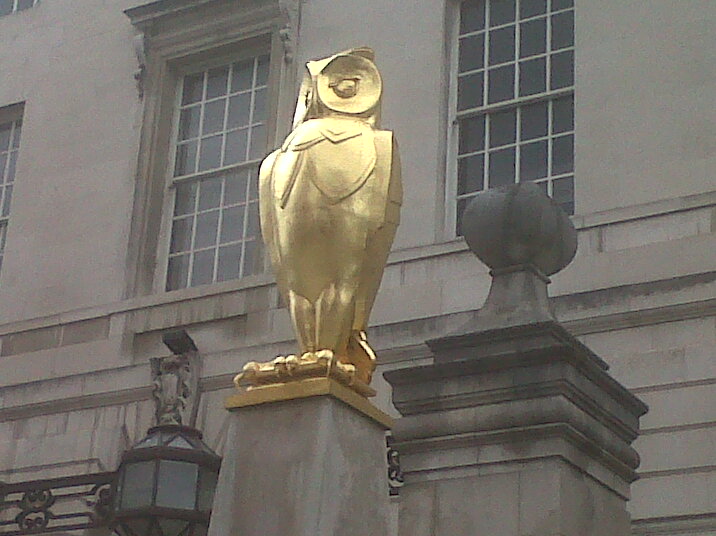 Ooh, look what George Osborne announced in his last Autumn Statement with the Festival comes a new £110 million theatre and arts venue to add to 'the largest arts complex outside London' which opened earlier this year at a cost of £25 million. I'm sure you can argue the toss about where the money came from but government and BBC patronage helps.
Across the nation Leeds is a non-city, it's a vague notion, somewhere in Yorkshire and, thanks to the BBC and government, Manchester is 'the north'. I'd love to see comparative figures for government (and public) investment in Leeds and Manchester.
Obviously George Osborne gave devolution to Manchester first with even more money, as he dragged the Chinese President around Manchester flogging them the city for further investment and I doubt he'll have even mentioned more viable, successful Leeds.
Forget 'the arts', look how being a 'non-place' plays out in transport. OK, they've invested in the new Southern entrance to Leeds train station but bear in mind that just the roof of the less used, revamped Manchester Victoria station is more expensive than the whole Leeds development – the whole Manc revamp is £44 million compared to Leeds' £17 million.
There's a reason Leeds is (by far) the most congested city in the UK and has the worst public transport of all the UK's cities and it's years of government bias and underinvestment.The UK's third biggest city by population, second by area doesn't even have trams ffs. We don't exist, we're somewhere up north, somewhere in Yorkshire.
Because of constant Westminster underinvestment, Leeds is Western Europe's largest city without a modern transport system. Our very small tram system (which we even down-graded to a trolley-bus to try to keep alive) got moth-balled by Westminster ten years ago. And while London stashes OUR Leeds money and refuses to invest in that single trolley-bus line it invests a further £56 million in tarting up a system that already criss-crosses Manchester, our small Lancastrian neighbour. They get the extra luxury of using Oyster Cards on their extensive, modern system while we get nowt, why is that?
Leeds needs to stand up to the ignorant southern power mongers If those undemocratic, arrogant, ignorant twats at Westminster try to impose any devolution on us that doesn't include the word Leeds, I will bitch and spit until my dying day.
Leeds constantly gets screwed over so, when it comes to devolution, anything we get HAS to include the word Leeds, it focuses the mind, makes it a specific place, gives us a tag, clear identity, a narrative, a personality, makes us human, gives us pride and determination and makes us harder to ignore for another 50 years…. Sorry, where exactly is West Yorkshire?