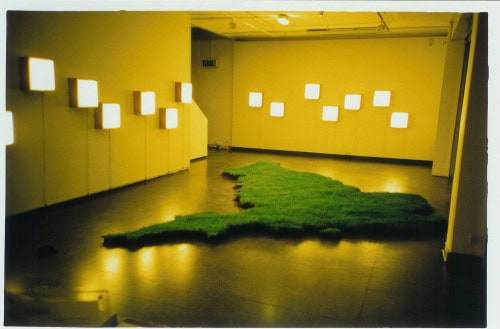 The spaces that I think of as Leeds Met Gallery and Studio Theatre have closed.  The programme of both spaces continues – indeed my company Third Angel's new show Words & Pictures is part of the Studio Theatre programme at the Workshop Theatre, University of Leeds, this month, and Leeds Met Gallery is one of the partners in the recently announced Artists Taking The Lead project, Canvas Leeds.
Third Angel has had a close relationship with Leeds Met Gallery and Studio Theatre over the last 12 years – one that we fully hope and expect to continue.  That relationship is more with the people in the organisation, of course, than it is with the institution.  It's a relationship that is partly about bookings and commissions, along with practical support for the work outside of the venue (taking shows to Edinburgh, for example), but it's also equally about the ongoing conversations we have about the work that we have shown and seen there.
But as an artist (and as an audience member, to an extent) I find that I develop emotional relationships with the actual spaces in which work is made, shown and seen.  When we are working in Sheffield Independent Film's Studio, for example, at the back of my mind I am aware that this is the space where we made our shows Hang Up and Where From Here; where we saw Vincent Dance Theatre's On The House (also made there); where, as co-curators of Live Art at Site Gallery 2001, we programmed Sophia New's Feeling Poorly; where I saw a great James Wallbank installation at the Lovebytes Festival ('96?); where we shot A Perfect Circle and set up our show Parts For Machines That Do Things for the first time.  The space has a history.
The show Where From Here was itself partly about the way rooms can accumulate memories – how we write our stories into the spaces we spend time in.  And this is not just true of domestic spaces.  I've seen a huge range of work in Leeds Met Gallery over the last 15 years – performance, installation, film, video, painting, sculpture.  Christopher Hall and I showed two (quite personal) video pieces there earlier this year.  But my strongest memory of the three rooms that I think of as Leeds Met Gallery will always be the six metre long turf map of England that we grew in the front space for Third Angel's Pleasant Land, growing healthily and sprouting mushrooms over its four week life.  For months afterwards you could see the ghost of it on the black tiled floor.  But if there is still any trace of it left, it will be gone soon.
Leeds Met University's H Block, the building that houses the rooms that I think of as Leeds Met Gallery and Studio Theatre, is being decommissioned.  Everyone has moved out.  The Studio Theatre has been stripped of its curtains and technical equipment. The seating bank no longer has seats.
But this is still the room in which (Third Angel Co-Artistic Director) Rachael Walton and I wrote the different chapter headings of our show The Lad Lit Project onto pieces of paper, laid them out across the stage, and figured out the running order, working in from the start and end of the show to the middle.
Still the space in which devisor/performer Gillian Lees and I sat, not quite on the stage, as I explained to her the idea that I had had the night before for the 'journey' we felt I needed to go on during our ritualistic performance 9 Billion Miles From Home; and where, as I felt myself begin to cry towards the end of my re-telling, we both understood that this was the right direction to be travelling in.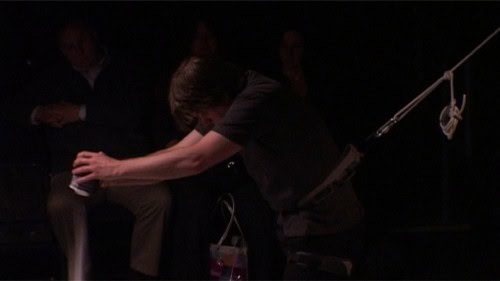 Still the site of our second-worst ever gig: one night of Leave No Trace, 2002.  Still one of only two rooms in which the first, 15 minute version of Class of '76 was shown, back in 1999. Still the room where we first worked with now long-term collaborator, lighting and sound designer James Harrison.  Still the theatre where we have shown more of our work than anywhere else.
In many of the theatres that we tour into I am aware that the audience owns the space more than the artists who show work there.  They visit more regularly, they see more work there, and most of them have a stronger relationship with the space than a company that visits it once a year.  But with the rooms I think of as Leeds Met Gallery and Studio Theatre, that isn't the case.  These are spaces I've taught in; spaces I've locked up at the end of the night.  Together they make up one of the handful of venues where I feel most comfortable making and showing work.  Now I come to write this, I realise that I feel a sense of partial ownership of these spaces.  So, whilst I am undoubtedly looking forward to the next chapters and new spaces, I can't deny that it will be some time before I stop thinking of those now empty rooms as Leeds Met Gallery and Studio Theatre.  And I'm going to miss them.
Alexander Kelly is Co-Artistic Director of Third Angel, and Associate Senior Lecturer in Performance Practice at Leeds Met University.  He blogs at http://thirdangeluk.blogspot.com and is on Twitter @AlexanderKelly.
Third Angel's Words & Pictures is at Leeds Met Studio Theatre at the Workshop Theatre, 11 & 12 November at 7.30pm.  For more information see www.thirdangel.co.uk and www.leedsmet.ac.uk/arts.