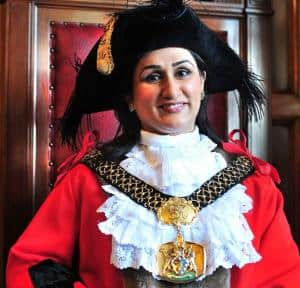 I assume it was people like me that Yvette Cooper was referring to when she declared that Labour had failed to connect with Muslim women, in the wake of George Galloway's incredible victory and Labour's crushing defeat in the Bradford West by-election. Whilst I'm still undecided about the winner, I stand firm in my rejection of the Labour candidate.
I don't believe Muslim women any longer fit the stereotype of voiceless beings that aren't allowed to leave the house – if anything, I think it's us women that are making the greatest progress within and beyond our own communities. That's why I hope Yvette Cooper wasn't assuming that as a fellow Muslim, Labour's Imran Hussain was in a better position to represent women like me. Nothing could be further from the truth in fact – we might have faith and cultural heritage in common, but believe me, we don't even speak the same language.
I have an issue with the very idea of Pakistani/Mirpuri politics being rooted in mosque culture. It's well documented that Muslim women and mosques don't generally mix; although I appreciate the exclusion isn't deliberate. It's just that men must attend mosque to earn extra merits for congregational prayers while women may earn the same reward by offering prayers in the home. But you see, the mosque for Muslim men is so much more than a prayer venue. It's THE place for social interaction, and often where men pick up community news. For instance, an announcement of a death in the mosque after prayers constitutes our equivalent of an obituary!
The local imam is a trusted figure, often acting as a bridge between the western community and his own. So much so that agencies with a message to disseminate to the captive Friday prayer congregation now regard the imam as a key dissemination tool! It's not difficult to appreciate then how the mosque can also become something of a political arena, but to me, this is more of a hindrance than a bonus. I'm not interested in measuring the morality of a candidate according to religious standards, so it doesn't matter to me how often Imran Hussain frequents the mosque. That's also why I don't give a toss whether George Galloway chooses to drink alcohol or not. If anything, this sort of talk feels exclusory and counterproductive, which makes me uncomfortable.
In recent days, much has been made of the outdated concept of biraderi politics, particularly popular among the older generations, where voting on the basis of clan membership takes precedence over merit. When men like my father first found work in this country in the '50s and '60s, they imagined they'd eventually return to Pakistan with a few years' worth of savings. They didn't bother to invest in any other skills, let alone literacy, because they never imagined the mills would stop running, or that they'd still be in Bradford to live out their old age. And so, voting in someone from their own clan has become part of their coping strategy. It's an informal, mutually beneficial arrangement, where the likes of Imran Hussain broadcast their family background on election literature as if it's a university qualification, and in return, the voters get to hold him accountable through family or community connections.
I was at my mum's yesterday when her Mirpuri neighbour popped round. "Did the white man win?" She asked, as it became evident that she knew nothing more about Galloway, not even his name. The only way she could relate to him was as a white man, the "gora". She explained that her family had this time boycotted the "apna" (our own, referring to Imran Hussain, although she couldn't name him either) because he'd stopped making time to attest her extended family's passport photographs.
And here's my point. This woman and her clan's vote had nothing to do with policies or even an inkling of research – the only thing that seemed to matter was accessibility. They'd simply heard from the mosque that he was good for Muslims. In their world, the MP is the only professional they know, qualified enough to attest photographs. And as the woman reasoned, why pay attestation fees to a doctor or solicitor when her vote earns her the right to approach the local MP instead? As far as I'm concerned though, if my local representative is going to spend his time running a community advice centre to repay his biraderi for their votes, when will he find the time to engage with the real issues that concern the rest of us?
A number of Muslim women have successfully penetrated this antiquated system, even though they initially faced prejudice from within their own community. I know of a Muslim woman councillor who was advised to emphasise her Pakistani heritage on her election literature because of her deceptively light complexion, in case her own community mistook her for being English and didn't give her their vote. In May last year, Labour's Naveeda Ikram (pictured) became the UK's first woman Muslim Lord Mayor. When she became a councillor in Bradford, her staunchest opponents were also the men in her own community. She won them over after successfully campaigning to prevent a local cemetery from charging excessive overtime for Muslim burials to be conducted after hours. [Islam decrees that Muslims must be buried as quickly as possible, so funerals are often organised within 24 to 48 hours.]
You know, it can sometimes feel tough being a Muslim, just as being a Bradfordian sometimes can. We cringe and cower every time the media spews out another skewed story. And with every shift in the global political climate, we watch as our species is reconfigured along the continuum of ever narrowing definitions. So we've gone from being simply Asians to British-Muslims, and from phobic fundamentalists to irrational Islamists. Is it any wonder the Muslim nerve rattles whenever the media descends on Bradford! What will they blame us for this time? And believe me, the lack of robust representation does little to lessen this sense of insecurity.
As Muslim women, we don't expect to be pandered to, but realistically, what faith can we have in a system that alienates us on so many levels? It's not paper pushers we need, it's articulate, passionate, committed candidates with fresh ideas, who respect diversity and equality, and who value our contribution. And believe it or not, just like the rest of Bradford, we also want jobs, investment, self-esteem and a city to be proud of.
Irna Qureshi blogs about being British, Pakistani, Muslim and female in Bradford, against a backdrop of classic Indian films.