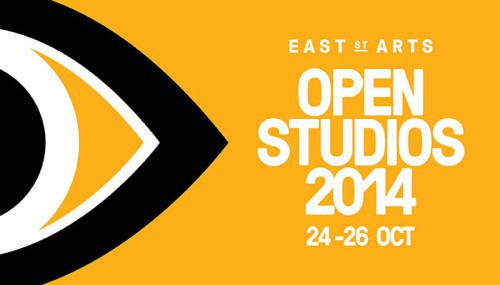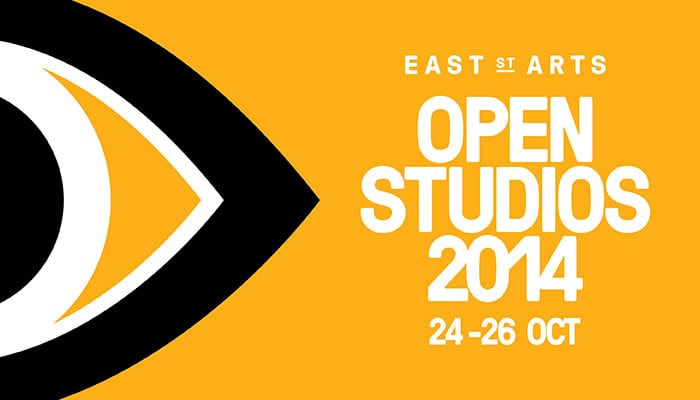 Rich Jevons takes an intrepid tour of the East Street Arts Open Studios at Patrick Studios and Barkston House on a weekend with some simply superb talent on display and a great introduction to so many fabulous artists working here in Leeds.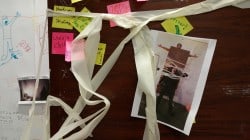 The first day of East Street Arts' Open Studios is spent at Patrick Studios and on our visit the studio of Adam Young has been made into a performative space, replete with a cabinet of curiosities containing that all-too-familiar artist's tipple gin and tonic. Young though cites Roland Barthes as an influence rather than Gordon's or Bombay Sapphire.
We are invited to write out a statement of our own idea of utopia which is then photographed and then shredded, the machine so beloved of East Germany's Stasi. I'd never used one before so it was quite a novelty, though still sad to see my blueprint for freedom cut into little pieces.
Perhaps we are meant to think of Proudhon's anarchic motto: 'In destruction, there is creation', (Destraum et Aedificabo). Whilst it's far easier to think of dystopian novels like Zamyatin's 'We' than more utopian tomes like Ursula le Guin's 'The Dispossessed' though the latter is in fact a mixture of ideal and nightmare.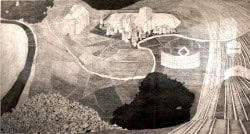 Rhea Storr's work includes a painstaking drawing that has taken up to 150 hours of hard graft and graphite. She creates a fictional world of reflective surfaces including a metropolis with its own town hall where the power is and spaces to grow food. It considers, essentially, how people would live in two dimensions and is built up with detailed contours of lines that form a fabric on the surface of the paper.
http://www.rheastorr.com/home/4582000057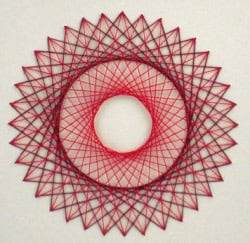 In a nearby studio is found the Curve-Stitch Designs of Alison McIntyre that are quite calming in their formal geometric simplicity and remind you of botched attempts at these in primary school (it's not as easy as you think) whereas Alison's are incredibly well-crafted.
Alison explains: "I continue to be rather enthralled by the way curve stitching works, even though I've been making them in one form or another for around three years now. You sew straight lines and you get a curve, it's maths-fuelled magic!
" I find making the pictures very meditative, the process is a calm pause in the rest of my more hectic life. I think this is partly because it's very defined, precise and controlled, unlike LIFE in its broadest terms which is full of chaos and very rarely black and white."
http://www.alisonmcintyre.co.uk/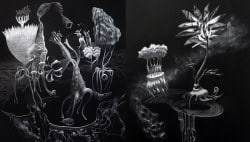 Valerie Zwart's fantasy art in acrylics and oils present a form of magic realism that is partly based on photos and composited on PC. She has a particular fascination with the Voynich medieval manuscript with its esoteric codes that she interprets as being a way to protect the use of herbs for healing.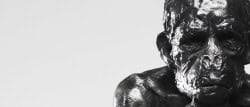 Sculptor Dean Kemp's latest work is based around a friend whose relationship crumbled as a result of which his life collapsed. The models are made up of slip casts cut down into pieces and built up with clay. His studio is cluttered with observational drawings next to such classic images as Rodin's Gates of Hell and The Thinker alongside closer-to-home artists like Euan Uglow.
http://www.deankempsculptures.co.uk/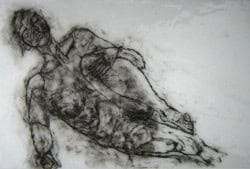 Griet Beyaert's technique of glass drawings is one I've not ever come across before despite having regularly covered the National Glass Centre in Sunderland where she has exhibited. Griet sprinkles glass powders onto a sheet and pushes it around with a card, carefully moving it until she is satisfied with the form when it is then heated and sticks to the base. She has an entirely unmorbid fascination with bones and indeed one of the most successful of the works displays the suture lines on a skull.
http://grietbglass.com/about-gglass/index.html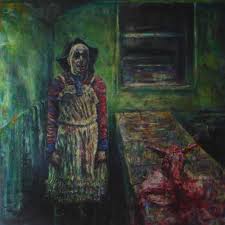 Then I found it hard to believe that painter Norrie Harman was working on such large-scale works in his studio on what I would describe as sculpting in 2D. The recent work is based around the theme of Chernobyl with a concrete housing estate now overrun with wild animals. So the wolf depicted here is not meant to be symbolic apart from the fact that there is an irony that something so savage could take over the scene of such man-made disaster.
Harman is keen to point out his joy in having a surface that stands up to close scrutiny in an almost abstract sense as well as building up the overall visual form from a distance. He also sees the disaster theme as indicative of a not-too-distant dystopia, a vision he shares with the likes of Russian filmmaker Andrei Tarkovsky.
http://www.norrieharman.co.uk/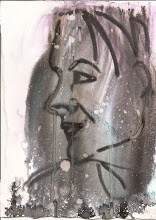 In a nearby studio Emily Towler's self-portraits are simple, almost naive, but effective. Drawn in marker pen they are then washed – some including a suitably garish pink – that gives the work an added depth.
http://emilytowler.atspace.com/

There is a sense of the world of Liliput in David Shearing's work with tiny figures inhabiting spaces such as the Courtyard Theatre at West Yorkshire Playhouse and, forthcoming, Space@Leeds. It's a blend of the simple and the hi-tech with wireless headphones transmitting a story for the spectator who is invited to add one of the tiny architectural models, giving them ownership of the work.
http://www.davidshearing.com/About.html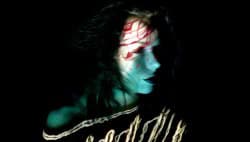 Clearly I should state a conflict of interest when writing on the work of graphic artist, photographer and filmmaker Paul Miller, as he is my housemate. In the Leeds Guide daze I once described him as 'notorious' for the vivacity of his figurative work – I stood up for it as fine art but my MD at the time was worried about the obscenity laws!
His recent prints of his partner-muse Claire Wigham are utterly breathtaking capturing a kind of rave-like mood with their coloured projections onto his model's face and upper body. They manage to capture a real atmosphere with the vivid colours set skilfully against a blank black backdrop. It's a great series that is at moments quite sensual or sensuous at others quite cold or chilling, but always technically exacting and visually stunning.
Then on the Sunday we get out to Barkston House but late on in the day so unfortunately many of the artists had left. In one area there are Dom Chastney's abstract expressionist paintings with their vibrant grids and patterns; Bob Thompson's small square ambient landscapes; and the amazing skylines of Jamie Williamson's photographic panoramic Yorkshire landscapes.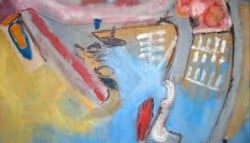 Elizabeth Neylan's colourful oil paintings are semi-abstract and seem to have a connection with folk or naive art. There are paintings of song and dance, some inspired by coasts, others of the Middle East and of towns including A Tale of Two Cities, Barcelona and Amsterdam.
http://www.elizabethneylan.co.uk/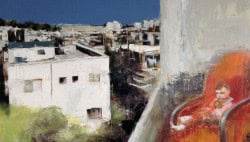 Darren Parker's richly textured portraits are reminiscent of Euan Uglow or Lucien Freud but he is also capable of naturalism as well. In the same space are Erica Hamilton's colourist experiments in minimalism and then we move on to Gillian Holding's Postcards from the Holy Land (above). The latter are in the style of a 19th century traveller's sketchbook in mixed media and inhabit that place that is becoming known as 'psychogeography'. Some of these small works are being transferred into equally interesting larger pieces.
http://www.gillianholding.com/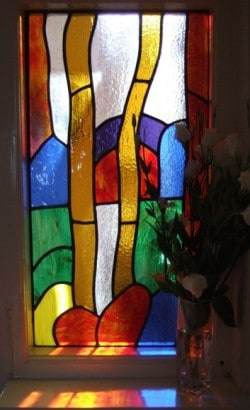 There is something particularly serene and quietly sublime about Nick Claiden's stained glass work which is hand-painted, then fired and placed in a 3D environment. She takes inspiration from Leeds and Fountains Abbey but this is worked down to partial abstraction.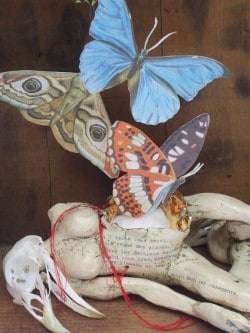 Whilst Corine Brosse is trained as a painter all her new work is essentially sculptural utilising her love for the natural forms of bones including a boar's head and quail's wings. They are made up of collages from a twenty volume encyclopedia she inherited and are based on poems by Christina Rossetti.
http://www.onceuponatimeetc.com/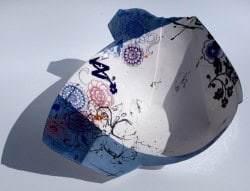 In the ceramic unit I meet up with the irrepressible Rebecca Appleby, like Paul Miller we go back to the Leeds Guide daze when she was involved with the White Wall Gallery. Whilst her ceramics have the organic feel of slate they also refer to industrial making and architecture with their grids and formal structure.
Some of the overlaying marks remind you of Kurt Schwitters' MERZ and she references Rauschenberg too. They are known as the Random Order Ceramics Collection, perhaps another reference to the dada ethic of chance and coincidence.
http://www.rebeccaappleby.com/
It has been a fabulous weekend giving a little inkling tothe world that is ESA – so diverse and rich with talent, see http://eaststreetarts.org.uk/ for further details on these and the many other artists in the community and what's on for the rest of the year.