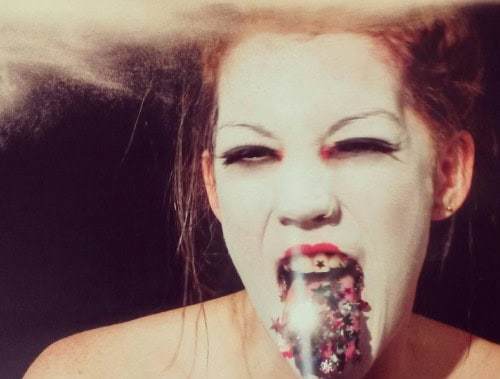 So I went to see two solo performances last weekend. Both female artists. Both at Theatre in the Mill. Both making strong statements about the world in which we live. One show talking about being 'metaphorically' blind and scrabbling around in the dark. The other wondering whether other people are just playing the same game as her. My answer to the latter is a resounding yes!
Blind is a story of sound and growing up. A beatboxing theatrical cabaret that explores what we hear and how that influences us. Grace Savage's vocals are incredibly skilful and inventive. I enjoyed the theatricality and entertainment of this show. I liked in particular the focus on sound and how that can change our perception of the world. She vocalises for us some of the memorable phrases from the media over the years – Monica Lewinsky (you remember 'that woman'), 9/11, Iraq and the death of Diana.
Grace describes her childhood and wanting to be a different Spice Girl each day of the week. It strikes me that this is the generation of girls that I taught to dance when I was the age Grace is now. I knew this generation well as children, but not as adults and its interesting to hear this different voice. She is the mouthpiece of another era. A tech savvy, connected and ambitious one that was brought up by 'the baby boomers' and taught to demand a lot more out of life than previous generations.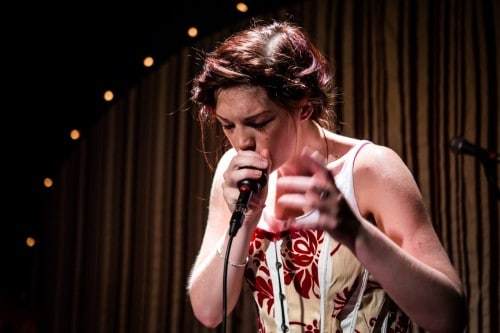 Grace goes on to describe the misogynistic, male dominated world of beat boxing. We get an uncomfortable sense of how that can sometimes feel as a woman. She talks frankly her mother, her sexual preferences, and her self doubt. Her soul bearing is brave. Then she tells us that she doesn't vote because … I didn't quite understand why? Confusion? Apathy? Protest? It's  a strong statement and I wonder, for what purpose? The 'no vote' has become appealing for many but what will this change? Will it make our world better? In an article in the guardian 2014, Grace Savage is quoted as saying …
"What I hope audiences take from the show is a heightened awareness of the sounds we are all constantly hearing in the world. And, as cheesy as it sounds, that they have a voice, and it matters – even if they don't think it does."
And I agree with her. It does matter that potentially 40% of the country may choose not to vote in the next election.  Do I understand that position?  Maybe. Though I'm leaning towards no. A friend described UKIP's recent influence in politics as making her feel less safe. I would tend to agree. I worry that if fewer people vote, that the influence of the far right will grow stronger. Then what? Anarcho-populism makes some appealing suggestions for an alternative way, but whether that could work in practise, I don't know. So I wonder whether a 'non vote' is a valid form of resistance? Is it the way forward as Russel Brand and others suggest? I'm just not so sure. I guess it's down to whether you believe that voting can make a difference…I do.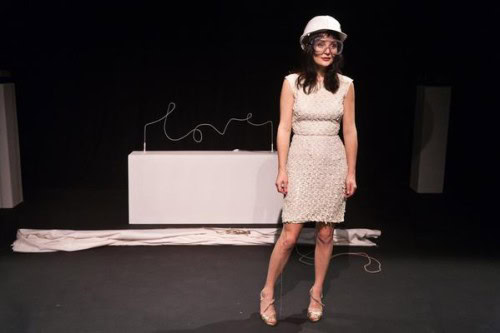 The Secret Life of You and Me is a story about connections and memories. It is inspired by the questions Lowri had coming up to her 30th birthday and also about the marks she and we all leave in this world. It is about the space between us and how we cross it. She asks, what we would never want to forget? It is magical and tender. It speaks of a lesser known world that also exists. I see it everyday in the connections between people I am dancing with and communities I am sharing in. It's a world filled with a sense of wonder, of fairness, of laughter. This is a disappearing world that we need to remember. In this space,Lowri cultivates all these values. The story uses retro technology- OHP projectors, glass jars with glitter and lights, a wire loop game in the shape of the word 'Love'. The Secret Life of You and Me is poetic and speak to our hearts.
"That first night, my heart swells to the size of a watermelon", she says.
The show uses projections of words written on crumpled pieces of paper and images of messages written on steamed up windows. It highlights the ordinary beauty in each of us. No flashy lights or clever illusions. Just a small beautiful thing.
After the show, my friend tries out the wire loop game of Love. Below is my friend's attempt. It was a lot trickier than it looked. There's a lesson in there somewhere.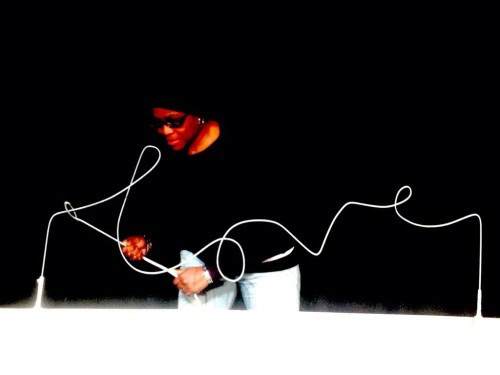 You can see the rest of the tour dates for Blind here and The Secret Life of You and Me here.