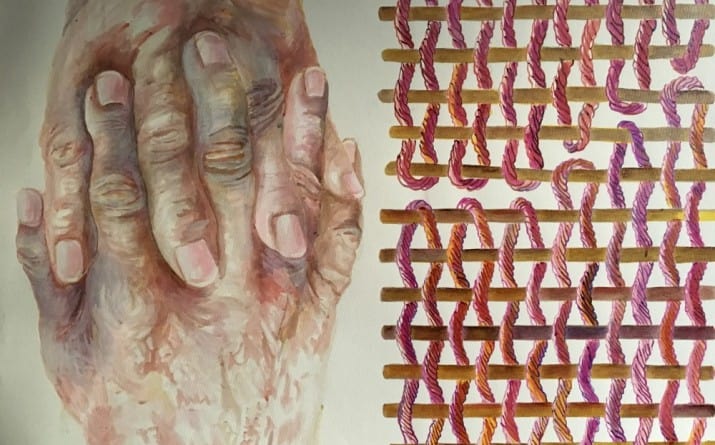 An exhibition at Bradford's Industrial Museum by sculptor Deborah Gardner explores the region's textile heritage through the prism of overlooked artist Mitzi Cunliffe and the arthritis which blighted her burgeoning career. Interview: NEIL MUDD. Illustrations courtesy of DEBORAH GARDNER.
Mitzi Cunliffe. By her works may you know her. The artist who designed the BAFTA award, carved the frieze on Heaton Park's listed pumping station building, who crafted two key pieces for the Festival of Britain in 1951 – the distinctive door handles which adorned the Regatta restaurant and the large-scale sculpture Root Bodied Forth – both now lost, casualties of the reactionary rumpus raised by Churchill's then incoming government keen to distance itself from the festival's socialist taint of modernism.
In a sense Cunliffe was also lost somewhere along the way, an injustice sculptor Deborah Gardner hopes Interweave, her exhibition at Bradford's Industrial Museum, will redress. Cunliffe, who could count no less a figure than Le Corbusier among her earliest admirers, enjoyed 'a highly regarded level of contemporary acknowledgement dissipated through health difficulties, and the politics and priorities of art history,' explains Gardner, who also teaches Art & Design at Leeds University.
The push by the Cultural Institute to restore Cunliffe's name and repute has been central to the Yorkshire Year of the Textile Arts Council project, of which Gardner's show forms part. 'Each aspect of the year's projects, such as Interweave, is required to work with certain themes,' she says. 'Mine concerned weaving and the region's textile industrial heritage.' Drawn to Cunliffe's Man-Made Fibres, the artist's 1955 commission for Leeds University's former School of Textiles building, with its seductive interlocking mesh of hands and yarn, Gardner grew increasingly absorbed by 'the effect of arthritis on (Cunliffe's) ability to continue making sculptures.'
An incredible photograph shows Cunliffe at work on Man-Made Fibres in her Didsbury garage-cum studio. The artist is wielding the pneumatic chisel which almost certainly exacerbated her arthritis. This formidable-looking tool is umbilically connected to a cumbersome air-pump generator beside her. Daughter Antonia remembers playtime in the family home punctuated for months on end by the combined racket of both.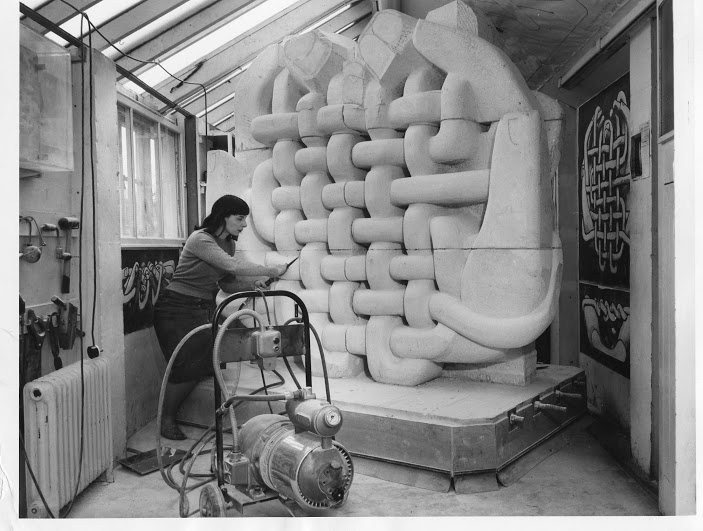 Interest in the effect on hands of arthritis led Gardner to the Musculoskeletal Biomedical Research Unit at Leeds's Chapel Allerton hospital. She took photographs of patients' hands, which she used as references for the drawings worked up into pieces for the Interweave exhibition. 'I became fascinated about the chaos of the body and how the mutation, migration and propagation of cells can cause inflammation and erosion within arthritic hands.' Gardner's elegant pen and ink drawings for Interweave, precipitated by a shift in focus to this interior cellular micro-world, offer up a bruised lattice of mottled colour washes which resonate with a molecular frequency of their own. 'I am interested in the body as a changing, mutating event, rather than as a static, idealised object,' she tells me.
Acknowledging the debt owed to Cunliffe when creating the pieces, Gardner was also mindful of research connecting the inhalation of textile dust with increased rheumatoid arthritis among Malaysian textile workers, thus adding a layer of contemporary polemicism to the works on display. Within Bradford's Industrial Museum, a former textile mill with a permanent display dedicated to the region's heritage of mechanised weaving and loom production, it feels significant. 'I always approach making with some notions of placing, site response and spatial setting. The context will very much determine the nature of the work.'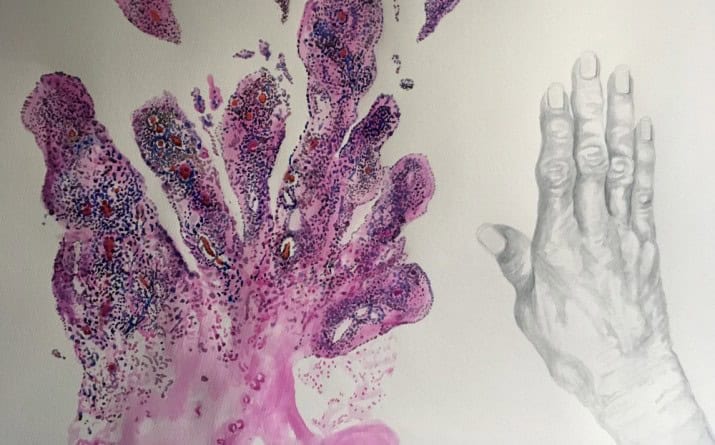 There is a desire underlying most such projects – Pavilion's Interwoven Histories being another example – of reclaiming certain forms of practice. 'I think there has been a steady consideration of this over many years,' suggests Gardner, 'and some very exciting work … (focusing) on traditions of making normally sidelined to craft making.' At the intersection between textiles and sculpture, Gardner says, lies a shift away from preconceived notions of pattern and surface to more sculptural considerations: 'Joseph Beuys, the post war German sculptor, used felt in many works to point to survival and warmth; Louise Bourgeois often used textiles to upholster a form and speak about the skin and the body; Phyllida Barlow uses cloth material as a means of building, wrapping, and containing soft bulbous forms.'
Primarily a sculptor, Gardner's use of textiles within her practice stems from her earliest student days at Canterbury School of Art when her formal tutors would question her use of 'anti-sculptural' materials. 'Fortunately,' she says, 'this is something increasingly embraced by contemporary sculptors, including Jessica Stockholder and Rosemarie Trockel.'
Are these then the natural heritors to Mitzi Cunliffe? 'There are connections with Mitzi Cunliffe in that she was both a sculptor and designer of textiles and jewelry,' agrees Gardner. Pointing to Assemble, the direct action art-design-architecture collective which won the Turner prize in 2015, she says. 'There seems to be an increasing awareness and acceptance of the interrelation between art and design in the 'established' art world.'
Exhibitions such as Interweave may well serve to underline the fact that women's contribution to art history, such as those made by Cunliffe, has only just begun to receive its due recognition. They are an acknowledgement that a debt is indeed owed. With a recent exhibition of her drawings and art at the Stanley and Audrey Burton Gallery in Leeds, a presence in the English Heritage Out There show at Somerset House, and with Man-Made Fibres spruced up for its 60th anniversary last year, there has been steadily renewed interest in Cunliffe and her work.
Deborah Gardner's Interweave at Bradford Industrial Museum – part of the Cultural Institute's Yorkshire Year of the Textile – is a marvellous, bold recognition of Cunliffe's importance as an artist, as well as being a richly provocative, deeply sensuous meditation on life and the impenetrable mysteries of bodily decay and our own mortality.
Visual artist Deborah Gardner has exhibited nationally and internationally and is a member of the Royal Society of British Sculpture. Interweave continues at Bradford Industrial Museum until Sunday 5th November. Further details here.