Leeds based actor and filmmaker Ashley Tabatabai talks about The Interview
As his latest short film The Interview is released online, Leeds actor and filmmaker Ashley Tabatabai talks to ANNA CALE about the importance of sharing stories and the art of the online short film.
By his own admission, Ashley Tabatabai is a cultural nomad. An English American who grew up in Spain, his dad is from Iran and his mum is part German. His eclectic career also reflects myriad influences, "It's like a big old smorgasbord of everything," laughs Tabatabai as we chat over a pot of tea.
The Leeds based actor is having a bit of a moment. His latest short film The Interview has recently been released online, and it continues an energetic filmmaking journey that also includes recent festival hit Falsified.
Acting can be a frustrating business, so Tabatabai started making his own films, "I got to the point where I knew I wanted to tell my own stories. I'm an actor and I want to perform, but I don't just want to wait for the phone call. We're here to create."
By writing and producing his own work he can take creative control, but it also generates opportunities for other people. Most of his work has been filmed in Leeds, working with colleagues he has trained or worked with previously, "It's about community, about bringing people together. Not just to execute your story, but to make sure they believe in it and get something out of it. That collaboration is so important."
His connection with Leeds is strong. Tabatabai was born in the city and after coming back to the UK to study, Leeds felt like the natural place to base himself after graduation. It continues to be a great location for his creative ideas, "It's easier to film in Leeds, it's cheaper and more accessible. It's booming now, and we'll see more and more with Channel 4 moving here, but compared to London it feels a bit more organic."
Engaging with audiences is important to Tabatabai, and by releasing his films online as well as showcasing at film festivals, he can access audiences directly, "Isn't that what every artist wants? You make something and you want it to have an impact and be seen. The platforms used to be controlled by a handful of people who held the reins at big companies. But now digital self-marketing gives you a lens to look through."
His work to date spans very different subjects. The award-winning Falsified is a thought-provoking short starring himself and Mitchell Mullen, about Spain's stolen baby scandal (Los Niños Robados). It explores the journey of discovery and comprehension between two men caught up in the events.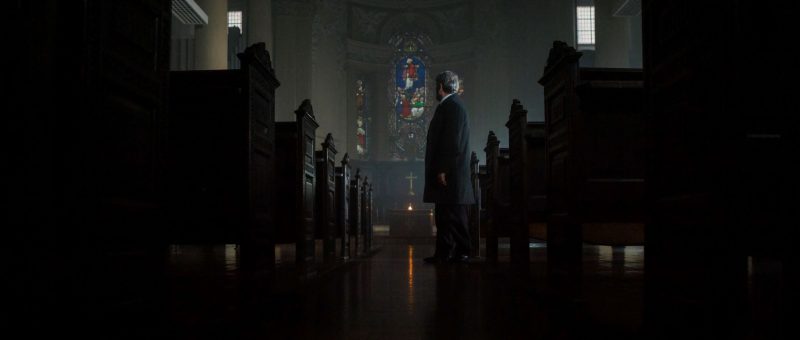 Having grown up in Spain, Tabatabai knew about the scandal, "I assumed wrongly that everybody else did. There were thousands of cases over many years so how could you not know?" Often in the media it's talked about in general terms, focussing on the scale of it rather than the individual stories, "It's easier to talk about it at a macro level, slightly removed from it. I wanted to look at it from a more human perspective."
His film is not based on an individual case, something he was very mindful of. But it has provoked debate, "I think some people found it quite polarising. If you're a parent, a father, what would you do? If you were the child, how would you feel? I was really interested in the humanity of it."
Similar scandals have happened in other countries around the world, "Now the film's online, I'm getting a lot of feedback from people in Argentina and Chile saying this is my story, this has happened to me." That personal reaction to his film means a lot to Tabatabai, "From the outset I never expected to have that kind of engagement. It's amazing to think that my idea for a film is now this living thing that resonates with people. But that's why we want to make films, to share stories."
His latest short, The Interview, is a very different film. A two-hander, it's an intriguing cautionary tale about a job interview that takes a rather unexpected turn.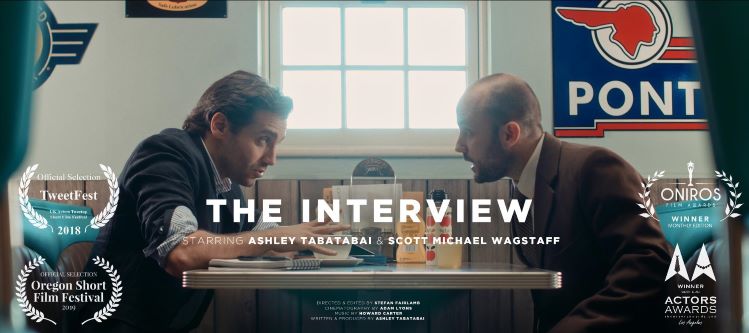 At less than eight minutes, the film is short and snappy. The idea came out of conversations with his co-star Scott Michael Wagstaff, who Tabatabai knew from acting classes. "We thought, let's just have fun, make something and see how it goes, and it kind of morphed into a short film."
The film explores the clash between tradition and modernity. Tabatabai is naturally quite defensive about his character Joseph, who conducts the interview with the hapless and insecure candidate Robert, "People say he's exploitative, but I see him as an opportunist. His morals are questionable, but what he talks about I don't think is necessarily wrong, but perhaps the way he goes about things is."
"In his mind, Joseph thinks he's doing Robert a favour. People empathise a lot with the Robert character, we all have our doubts and insecurities when change happens. Jobs for life doesn't exist anymore, skills need to be continually refined and developed. What we once knew won't be valid in a few years."
A key theme of the film is how we judge ourselves, "We're all going to label people, but this film explores how we allow those labels define us. Do we have belief in ourselves? We're trying to be something we aren't. What is it about society that means we take on other people's opinions, and believe in them more than we do ourselves?"
Tabatabai enjoys the creative expression of short film, "It's like you're a painter, you might have 50 different canvasses. Short format allows you to just make your film, without the pressure of making a feature."
The digital age creates opportunities and accessibility, but a filmmaker still needs to create a journey for the viewer, "It's a platform for anybody, an expressive platform. But it's always going to come down to the story, and it needs an authentic voice. Film in the digital age is a DIY thing, we need to be creators and not just consumers."
Ashley Tabatabai's latest film The Interview is available to watch online Here
Falsified is also available to view Here