The Year I stopped to Notice by Miranda Keeling, interview by Hazel Millichamp
"In a way it's kind of been writing itself for years" Miranda answers when asked how she came to write the book "It's part of a long-term project of noticing small things around me and is something I have done since I was really young."
The book itself brings together all of the things she has taken notice of – small things, mundane things, funny things.
As a teenager, Miranda would sketch the small things that drew her attention and for many reasons she switched to writing them down. She took to posting her "noticings" on Twitter and they drew a large response. Lots of her followers began asking her if they would be compiled into a book and that was how "The Year I Stopped to Notice Things" was born.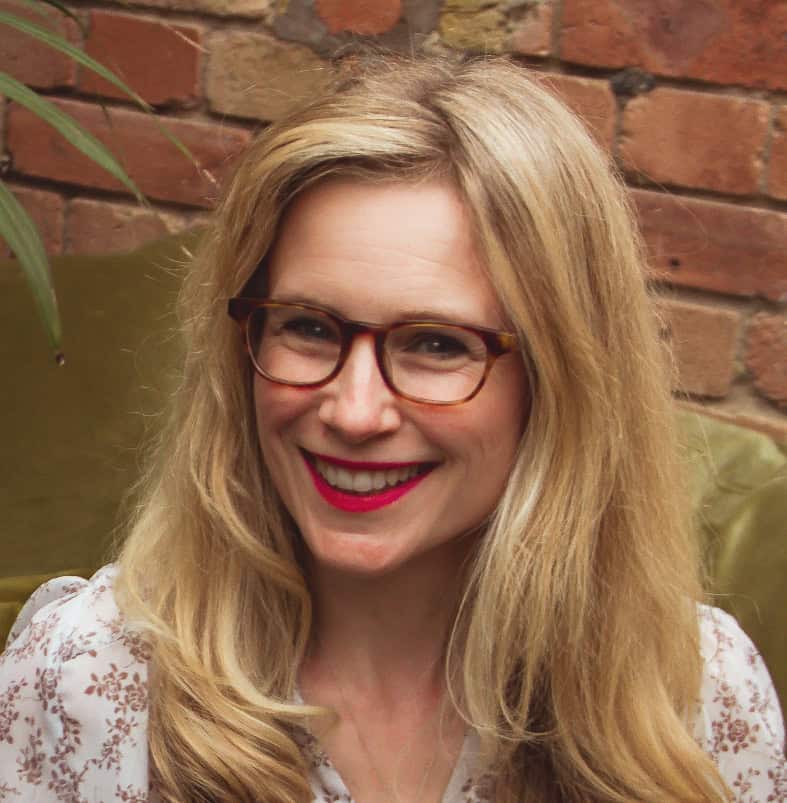 Miranda explains that she doesn't feel the book is full of happy things, more that readers will recognize the familiar – she hopes the book makes people feel something about the world and make it a little less dark than it can sometimes seem. She has been surprised and pleased that there is an audience for the thoughts in her head.
I suggest that although some of the entries can be seen as descriptions of mundane events and observations, once they have been noticed and written down this somehow elevates them, they become imbued with a kind of beauty.
Asked whether she gets followers sending their own instances of taking notice, she says she does, from across the world. She is fascinated by the scale of things people notice. Interpreting this as an invitation, I tell her about one of mine. I was on the top deck of a bus behind a man with a very close-shaved head. On the back of his head was a kiwi fruit sticker. It tickled me as his head looked very like one. It was just a tiny thing, but the noticing of it brightened my day.
She relates one of her favourites:
People ask Miranda how she sees and hears this stuff and she explains that it is everywhere, you just have to notice. You could be hearing golden snippets that might come from a really boring conversation, but you've somehow caught the pinnacle of the funniest thing they say.
Miranda is of the opinion that her work is an antidote to the difficult times we are living through. We can't and shouldn't make all of that go away she explains, but we can focus in a little. We can listen more closely and direct our senses at what's happening around us at that moment.
She goes on to say "Writing the book really helped me to realise what repeats. How many times you see a certain thing or you see it in a different way. You might see a person in a wonderful outfit and think to yourself that no-one else has ever put together something like that. The way someone closes their glasses against their face – that is something so many people will recognize because that's a thing humans do." I agree with her, it's these tiny things that can help us feel a sense of connectedness.
I ask her whether there is an optimum place or mode of transport that is best for noticing. "Buses are great because you're in your little space of a couple of seats and you can have a notebook held at the window. You have this lovely thing in a bus in that you can see outside, so you have all of that and what's going on inside the bus. You have the relationships between the passengers. On a train the world is much more contained. I sound like such a geek – like I've studied it! The over ground used to have that booth sort of feeling and now they're just these long lines. You can see a lot of people but if you're going to observe them it's a bit… you have to write quick notes like – man, green shoes, strange hat. Cafes are great. If you've got time to just sit and have a coffee all kinds of things happen."
Although Miranda mentioned that her musings began life as sketches she was not tempted to illustrate the book herself. She describes the process of choosing her illustrator as a wonderful process. In 2013 she had tweeted
"A woman on the tube
her beautiful silver hair
cascading in waves over
her vivid red cape, nods
to herself as she reads
a book about tigers"
and this prompted an artist to send her his drawing of the tweet. Despite thinking this was a one off incident, she had lots of artists send her their representations of what she had noticed.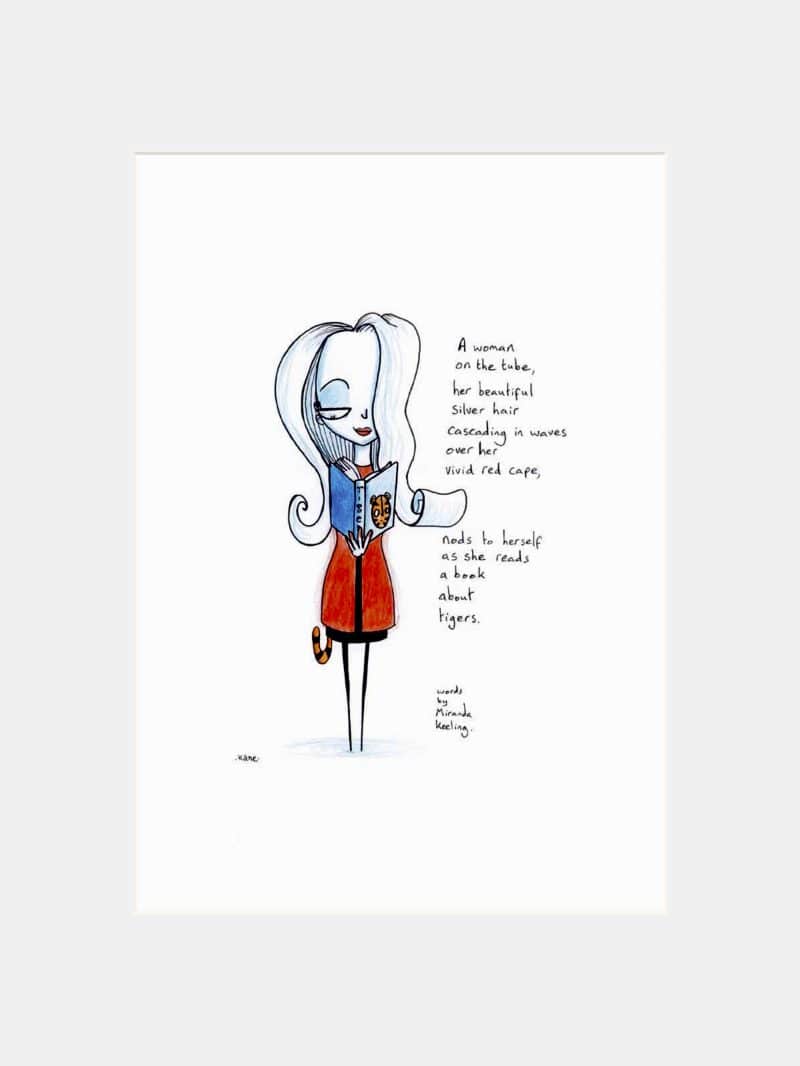 When the publishers presented her with some great artists to choose from, she felt very strongly that she'd like to take at least one of the artists who responded to her tweets with her (she would have liked to take all of them but that was not possible). Eventually the publishers chose from nine artists that had engaged with Miranda's tweets and she was very pleased when they chose Luci Powell. She guesses this is partly due to the depth Luci manages to portray. One that particularly stands out is the image that accompanies
"Two men sit outside a
café in the dark, the last
of the autumn leaves
swirling around them.
they are playing chess.
one man rests his head
in his palm. The other reaches for a piece."
I recall this image instantly – the café lit up with fairy lights and strung with decorations, one man poised to move and the other concentrating. An owl and a fox watch their progress.
I ask Miranda whether it is too early to ask whether there will be another edition? Will this be a series? She tells me she has over 40,000 observations noted and that of course, she adds more to these every day. Perhaps she could group them thematically by emotion or location? She concedes that Tuscany and Paris would be great locations to focus on but that Peckham and Walthamstow are just as rich for things to notice.