Cantabile  the Leeds chamber choir is ten years old. CATH ANNABEL joins them for a new commission and a celebratory programme of glorious choral music from across the centuries…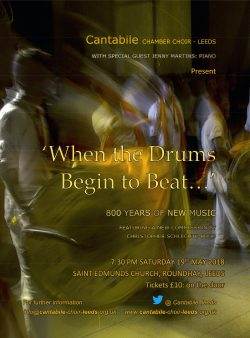 Poster for Cantabile's tenth anniversary concert'The Juggler', Chris Schlechte-Bond's exhilarating and challenging new work, commissioned by Cantabile to mark their tenth anniversary, is the centrepiece of this birthday concert. The composer's brief was simple – to create something uplifting and joyous, as befits a celebration.  He found his inspiration in the Rudyard Kipling poem, 'The Juggler', in which a performer revels in his own skills and the spell cast by his dexterity.  The poem became the basis for a wonderfully atmospheric piece, which asks the singers not just to sing, but to use extended techniques, to whisper, and to use their voices to create urgent rhythms that build a sense of excitement, even of risk.  Schlechte-Bond worked closely with the members of the choir, finding out in workshops and rehearsals what worked well and suited the balance of their voices, as well as the acoustics of the venue.   The singers not only met the considerable demands of the piece but brought it to spell-binding life.
Whilst this was the only piece that was literally brand new, the overall theme was 'new music' – music that, as musical director Ian Akroyd puts it, 'heralded a new development in musical composition or theological and cultural thinking'.  It was a perfectly constructed programme, eclectic and with just the right balance of the familiar and the unexpected, including solo piano performances that beautifully complemented the songs by Jenny Martins of pieces – each ground-breaking in its day – by Mozart, Chopin and Debussy.
We began the evening in the twelfth century, with a beautiful piece by Perotin from Notre Dame de Paris at the dawn of polyphony, a revolution in sound and one that exploited to the full the excellent acoustics of St Edmunds church.  Demonstrating their versatility, the choir then launched into the rambunctious sixteenth-century drinking song 'Tourdion', illustrating how polyphony transformed secular as well as sacred music.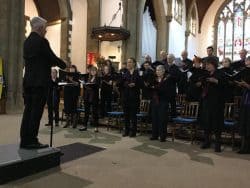 The programme itself balanced the sacred and the secular. We heard a spine-tingling performance of Arvo Pärt's 'Magnificat', Protestant church music by Tallis ('If Ye Love Me', which as it happens was on the programme at a certain wedding that took place on the same day as this concert), Bach's 'Jesu Meine Freude', and a beautiful 'Kyrie' from Tallis's Counter-Reformation contemporary, Tomás Luis de Victoria.  And as well as the aforementioned drinking song, Cantabile performed a love song from the same era, and twentieth-century treatments of English folk tunes from Holst and Vaughan Williams, finishing with a sparkling performance of Cole Porter's 'Let's Do It'.
A delightful evening that showcased the combined talents of Cantabile at their very best, and the launch of an exciting new piece from an outstanding young composer.  Here's to the next ten years!