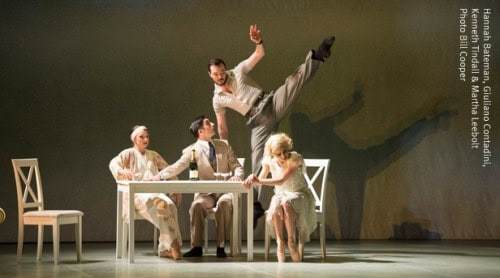 Guest post by Jessica Peace
'I like large parties. They're so intimate. At small parties there isn't any privacy' Jordan Baker in The Great Gatsby
The performance was sublime; Boozy ballerinas, sex, guns, car crashes, grinding groins, développés past the ears and Jazz.
The story of F. Scott Fitzgerald's 'The Great Gatsby' told in two acts by David Nixon and his alluring army. The set, the costume, lighting, the live score and choreography all working together in transporting  the audience back to the 1920's to be then graced and seduced by virtually every dancer on stage. The stamina and fluidity of the entire performance was astounding.
The set glided seamlessly from jetty to lounge to garage to ball room to night and sunrise…
The costumes were distinctive of their era; waistcoats, bobs, dresses floating past the knee with slits to the thighs, greased side partings and faces framed with slicked curls. There was not one piece of choreography which seemed to be just filling space or simply a motion to push through to the next scene. The movements communicated unquestionably each characters emotion. There was a visible energy and rapport between the dancers particularly during the pas de deux and pas de trois sections. Notably in Act 1 between Mertyl and her highly intimate scene with Tom with whom she is enduring a violent affair; then during Act 2 a more subtle but still deeply affecting moment sees both the present Daisy and Young Daisy simultaneously partner their lover Gatsby.
Ultimately the divinity of the piece was in the characterisation.  The lead dancers held true to the essence of their character beyond the choreography; Gatsby's visible obsession and restrain (Tobias Batley), the spirited joy of Nick and Daisy (Guiliano Contadini, Martha Leebolt), the sexually driven Tom and Myrtle (Kenneth Tindall, Victoria Sibson) and the frustration of Myrtle's husband (Benjamin Mitchell). Applause also to the Young Gatsby and Young Daisy for their portrayal of that first pure love between our protagonists (Jeremy Curnier, Michela Paolacci).
Throwing roses on the stage for the stamina of Martha Leebolt and the développé's of Victoria Sibson. Launching a bouquet at Nixon for his work on this production and his ability to merge two art forms so gloriously; by translating F. Scott Fitzgerald's words into a Ballet thus bringing necessary attention to both the art of literature and the art of dance.
If you are unfamiliar with 'The Great Gatsby' then I would advise you to at least scan the programme as some more subtle moments within the ballet's translation may be lost.
This was a short run in Leeds before the tour however NBT perform at The Grand and The Playhouse regularly. NBT will be unleashing more shows throughout this year including 'A Mixed Programme', 'A Midsummer Night's Dream' and the world premier of 'Cinderella'
40 quid for a stalls ticket
8 quid for a programme and a bag of minstrels
Audience high, the woman beside me shamelessly knocking back a can of Boddingtons.
Audience low, person behind me are you really opening that sweet wrapper now?
Choreography, David Nixon OBE
Music, Sir Richard Rodney Bennett CBE, performed by the Northern Ballet Sinfonia
Set Design, Jerome Kaplan
Lighting Design, Tim Mitchell
Photo by Bill Cooper