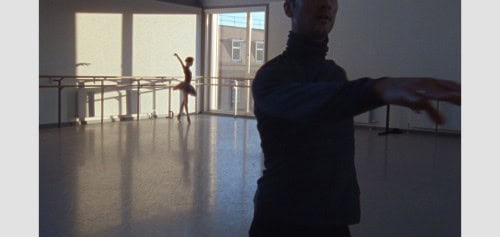 Darren Murphy went along to Northern Art Prize's first artist in conversation event earlier this week. Here's what he thought …
I suppose I've set myself a little task in writing about the Northern Art Prize 2013 'in conversation' events; each time I want to come to the exhibition afresh, not viewing the show as a whole until I've heard each artist discussing their work with their nominator. The first in conversation event took place on Tuesday night with Rosalind Nashashibi.
Nashashibi presents three works, Lovely Young People (Beautiful Supple Bodies), A New Youth and Monster Walk.
With her video Lovely Young People (Beautiful Supple Bodies), commissioned by Glasgow International Festival of Visual Arts and Scottish Ballet, Nashashibi takes us 'behind the scenes' of Scotland's ballet school. Nashashibi stresses the film is not a documentary. She creates no obvious narrative, in turn creating a feeling of disorientation. The camera often cuts abruptly and sound comes from where it's not supposed.
In ballet, it is the dancer's role to be graceful, beautiful, but effortlessly so: they are people "mythologised" by society, says Rosalind. With her film, Nashashibi plays on this. Members of the public are invited to watch rehearsals and the camera focuses on how the audience members view and respond to the dancers. The spectators complete the cliché, but to almost absurd levels. Older females objectify the dancers, a mother and daughter idolise them, and two policemen watch with a restrained joy and appreciation (or lust). Nashashibi's film dismantles the grace. She places microphones on the dancers and we hear their mistakes, their panting and their apologies.
The camera is often distracted, be it by the faces of the audience, glances out of the window, or observing conversations outside of the studio. When in conversation with Sally Tallant (Director of Liverpool Biennial), Nashashibi elaborated why she didn't want to create a documentary and instead wanted to deconstruct this idea of the dancer as super-human. She became almost bored of watching the dancers owing to restraints put in place by the school. She couldn't move across the studio floor while rehearsals took place and was kept at the side of the room. It seems it is the artist who is distracted here, not the camera.
Nashashibi's work often plays with John Berger's words " … men act and women appear. Men look at women. Women watch themselves being looked at …", with the idea of spectatorship and how we perceive ourselves being watched. And this is no less true with Lovely Young People (Beautiful Supple Bodies) as we watch the dancers rehearse from the perspective of either Nashashibi or the public. The dancers are only aware of one another, the mirrors and their mistresses' instructions. The male dancers move around their female partners, apologising as it seems any mishap can only be their own fault. They watch the females intently in the mirrors. Yet the females, although obviously aware of their partners, only watch them selves when looking in the mirrors.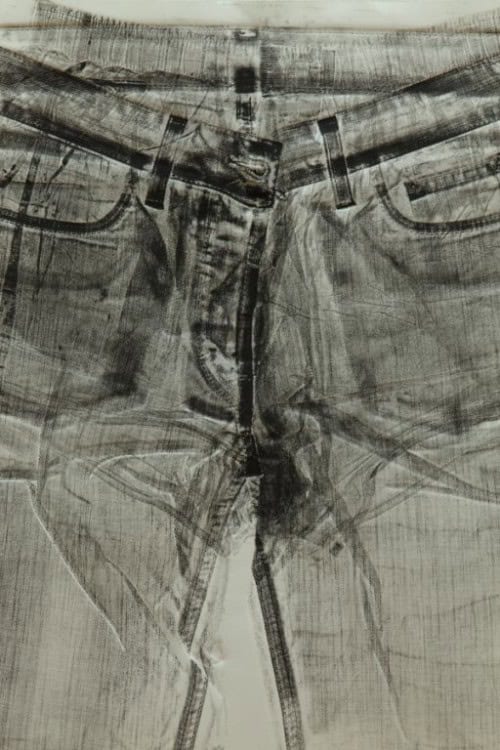 When talking about another work exhibited, Monster Walk, Nashashibi states the significance of how they are created. A series of imprints – physical impressions of garments on to paper with ink, not representations. The items of clothing have physically been through the mangle-like ink press. These are not drawings of them. Nashashibi says the work is a comment on the objectification of women. These are men's jeans with men's underwear. For some reason the male gender manages to remain void of sexual objectification, in Nashashibi's opinion. Here you can almost feel confronted by this line of 'men'. Had this been women's underwear visible on top of women's clothing, I wonder if it would feel quite as intimidating. Imagine these were female figures bearing their undergarments, facing you, seeming to advance – maybe it would feel sexual rather than menacing? I don't think you can ask this question without also considering the loaded title of the work, Monster Walk. By giving the work this name, Nashashbi almost instills this perception of menace. The work must be presenting something monstrous to warrant such a title.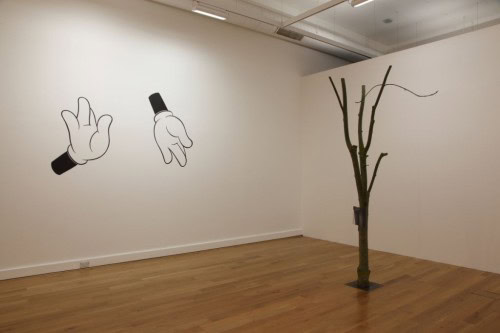 In another, A New Youth, Nashashibi places the print of an androgynous crotch on the trunk of a young tree: the tree's branches reach up with one appearing to bear a moustache in the form of two smaller curled branches. Is this a hint to the gender of the crotch? Nashashibi commented on this work, that we make symbols of all things; we project our body on to everything we come in contact with – making evident the ludicrousness of us seeing a moustache on a tree. The other part of A New Youth engages with semiotics directly. Two easily recognizable and stylized gloved hands are printed directly onto the gallery wall and they're in the position of what Nashashibi refers to as a common gesture. The hands of Mickey Mouse form Buddha's gesture, one facing up and the other down. They're offering more than one path – hinting at other ways of seeing.
Nashashibi's work definitely sparks an interest for me. I could watch Lovely Young People (Beautiful Supple Bodies) over and over again, each time certain scenes, sounds or situations gaining more significance. By changing the camera angle frequently and disorientating us, Nashashibi doesn't allow the person watching to see themselves as an audience member like those watching the dancers. This in turn allows you to consider the relationship between the spectators and the spectacle, the dancers. Hearing Tallant and Nashasibi's conversation allows for a further understanding of the works exhibited in her submission to NAP.
Next week sees Tallant return to converse with Emily. Will you see her work before I do? Be sure to let me know what you think!
Darren Murphy is a Freelance Writer and Artist based in Manchester, studying at Manchester School of art. Darren also leads an informal discussion group, Not Too Critical, for those with an interest and/or involvement in the visual arts. @bonesmurphy www.bonesmurphy.wordpress.com