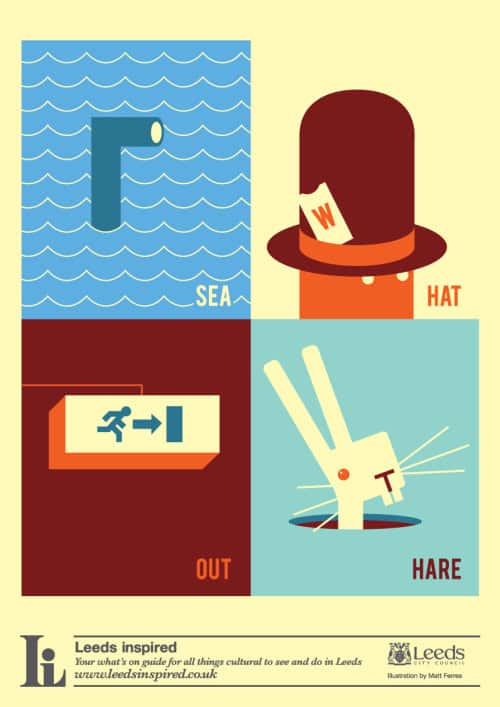 Matt Ferres is a Leeds based creative designer and illustrator, working in digital and print. Leeds Inspired asked Matt to design a poster to promote their cultural events listings site, and here it is in full glory. Read on for the transcripted chinwag Matt was forced into by Wendy Denman, and enter a competition to win one of ten of Matt's marvellous posters.
In the past you have drawn on all manner of objects including furniture, sports equipment and clothing, as well as a set of speakers and even an axe! Should we encourage young vandals in case they turn out like you?

I think we should encourage the youth to draw on anything they like – as long as then own it!
If you were to brighten up a bit of Leeds with your art, where would you most like to use as a canvas, and what would it look like when you'd finished?
Some of the old/empty shop fronts or walls near the Corn Exchange would make great canvases – i'd like to come up with something very surreal/graphic to brighten the place up.
I love the cardboard guitar you designed for the Love Unplugged auction last year. What song would it play if it had strings?
Have you ever painted a portrait so realistic you could barely look it in the eye?

No but i've painted one so badly I wouldn't want to see it again.
What was your favourite cartoon as a child and how did it influence your creativity?
Most of the work in 2000Ad – fantastic amount of skill and effort needed to create such a high standard.
Tell us about something exciting you're involved with!
Just exhibited some large work at Boxpark Shoreditch as part of a Testspace group show.
Street art, pie chart, jam tart or Tony Hart?
Tony Hart
Matt is on Twitter @saveferres and you can see more of his work at www.ferres.co.uk
*********
For your chance to win one of ten of these inspiring A3 posters, please answer the question about the picture in the comments box below.
Q: Which is best? A hat? Or a hare? Tell us why.

The closing date for entries is Wednesday 24 April at midday. Winners will be announced later that day on the website. Good luck!