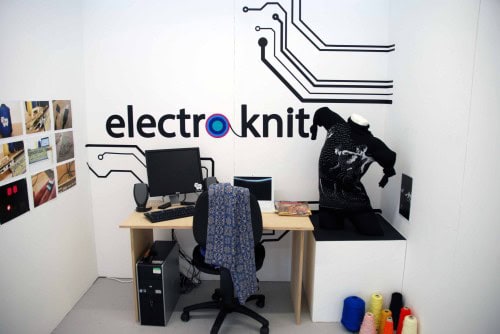 Katie Beswick (@ElfinKate) on machine knitting at Elizabeth Chadwick's 'electroknit/Men With Ties' – an exhibition at Leeds Metropolitan University 28-31st August 2013.
'Loads of people used to make their own clothes in the 80s,' Elizabeth Chadwick, a Leeds based artist, tells me at her 'electroknit' installation – part of the Leeds Met MA Art and Design exhibition Art in Twelve Parts. And I know Elizabeth's not wrong because as she's speaking I remember my great-grandmother, Nanny Flat, who used to knit us cardigans with a fag hanging out the corner of her mouth, her knitting needles clicking between arthritic fingers as two inches of ash threatened to drop from her cigarette and set fire to our clothes, but somehow never did.
Elizabeth is telling me about the origins of her electric knitting machine – a small home machine that dates from those days in the 80s, before Primark and George at Asda, when store bought knitwear was prohibitively pricey. She has set it up in the exhibition space so she can demonstrate her working methods to interested visitors. 'I got into knitting machines a couple of years ago,' she says, 'I found a tutorial online that showed you how to "hack" into an electronic knitting machine using a bit of simple programming. A few other artists and computer hackers had already used the hack to produce some amazing work and I thought it would be a really interesting project to undertake.'
Her work in the lead up to this exhibition has been based on the concept of hacking – which, she tells me, originally means appropriating an object for something other than its intended use. Her installation includes the live set up of the electroknit computer hack and 'Men with Ties' – a series of nine portraits, in vivid colours.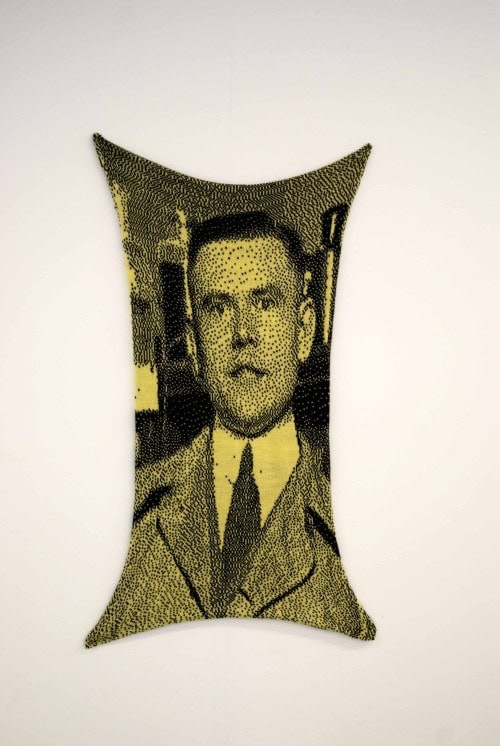 The 'Men with Ties' series has been knitted on Elizabeth's machine, using the computer hack that allows her to download and knit any pixelated image from the internet. The concept is this: the portraits are of inventors whose work has been 'hacked'.  All the inventors in the series intended their discoveries to benefit mankind, but eventually their work caused large scale loss of life or damage to the environment* – they include Arthur Galston, who developed a chemical to aid the growth of soybeans; that chemical was eventually nicknamed 'Agent Orange' and used by the US Army to wage chemical warfare on the Vietnamese. And Richard Jordan Gatling, whose rapid-fire Gatling gun, which he had hoped would lead to less soldiers fighting (and therefore dying) in warfare, was mainly used to mow down huge numbers of native peoples during the expansion of European colonial Empires.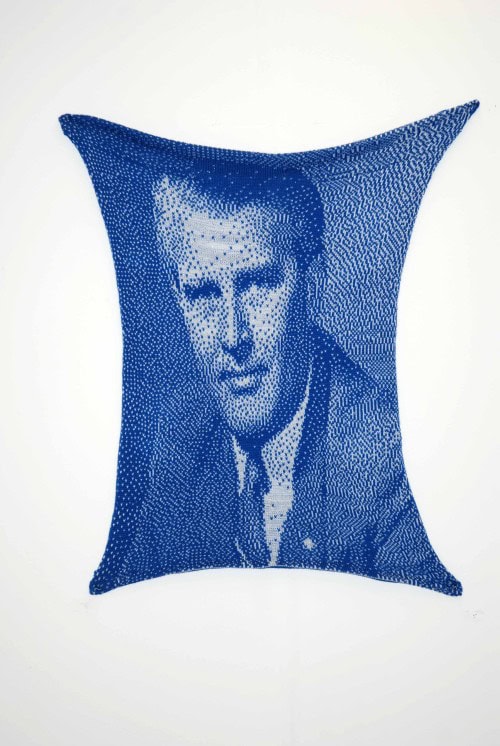 Hanging sculpturally, unframed, the portraits make the most impact of any of the work in the exhibition – not only in terms of their coherence as a series, but also because they are individually striking pieces.  There is something about the use of colour and the charisma of the work that reminds me of Andy Wharhol's portraits – also, like Warhol's prints, they would look as good on the wall of your house as they do in the gallery.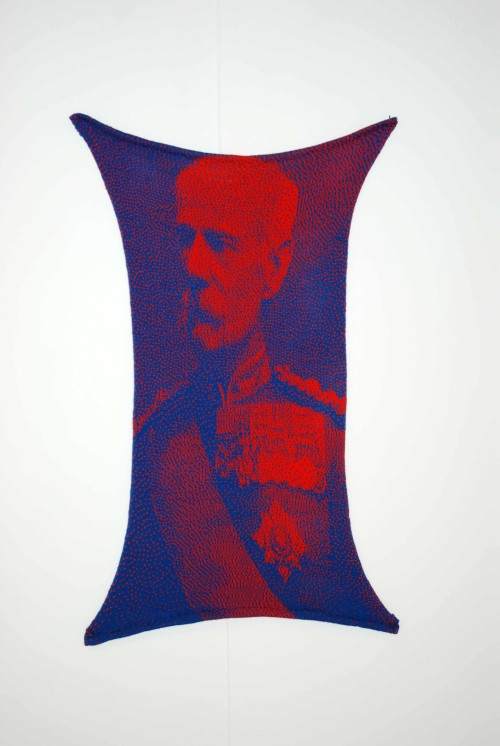 There are a number of layers to the 'electroknit/Men with Ties' installation that come through in the portraits and stay with me after I've left  – the material quality of home-knitting that alludes to British social history and throws up memories from my own life; the references to contemporary computer culture and the ease of image appropriation that the internet has created, and the global social and political history invoked by the portraits themselves.
'I don't know where I'll go with it in the future,'  Elizabeth says, when I ask how she might develop the hack for new work, 'I might stick with the knitting – I have plans to make bespoke pieces using the hack – and I also have ideas about using the concept of hacking to do other things. So we'll see.'
I shall certainly be watching. And, though the exhibition has finished now, you can follow Elizabeth Chadwick's progress and check out her work on her website http://electroknit.wordpress.com.
It's worth a look.
*Information and sources from www.listverse.com Jamie Frater  & www.history.com