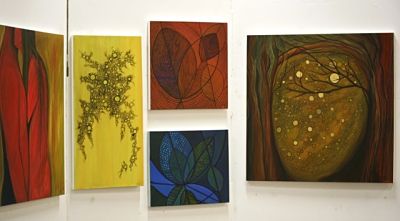 It's not often you get the following phone call: "Can you put together an art exhibition?"
"Yes, sure. When?"
"3 hours time".
"Right-io."
You may have heard of the name Inkwell and know it is an art group. But, you may not realise that it is a programme of Leeds Mind, the mental health charity, as an art group for people who have experienced mental health difficulties. Based in what I'm assured is a pretty cool old pub in Potternewton complete with gardens, various art classes are held for clients and locals, including life drawing classes, pottery, digital media etc.
The current exhibition is held at Leeds Central Library, features a variety of media including painting, pottery and jewellery and is a reflection of the differing skills and talents of the group. Like all such exhibitions, there is a variation in the subject, skill and execution of the art and some of it is better than others, but much of it is surprisingly original, delicate, bold and clever. It really is no exaggeration to say that I could even imagine some of it being for sale in the Craft and Design Centre next door.
I spoke to some of the artists who explained some of the mental health difficulties they had suffered, and asked what they got out of attending Inkwell, described by one artist as a 'sanctuary in an art room'. One of the women said that prior to attending she was not interested in art at all, and would never have imagined that it would appeal to her, let alone be of positive benefit. By the end of the first day she was converted. "It gives me something to do, provides a purpose, and everyone is so positive."
Another client says that she "feels comfortable, and safe. It's an environment in which you feel encouraged". Everyone talked of the sense of encouragement, and the lack of negative judgement. You make something that you think is worthless, but others will point out the positive aspects of the work, and so you go off and try again. Imagine if we lived in a world that was always like that; just what might we all achieve?
With just a few days to set up an exhibition, the Director of Inkwell justifiably glowed with pride as he described how the artists leapt into action, selecting works, printing labels and hanging. For skills acquisition, being an unexpected curator under stressful time pressures is pretty impressive. There are slightly insane rumours there is a 12 year waiting list to show in Central Library. The fact that Inkwell was asked to step in at the last minute, and did so brilliantly, is a testament to the artists and their art.
 The exhibition is held in the art gallery of Leeds Central Library and is on until the end of August.
Further information about Inkwell http://www.leedsmind.org.uk/view.aspx?id=160
Alexandra Boyle @sewhipfolkie  (photo copyright: Inkwell)