RICH JEVONS gets seriously spooked by a sound and video installation in the Brontë country of Haworth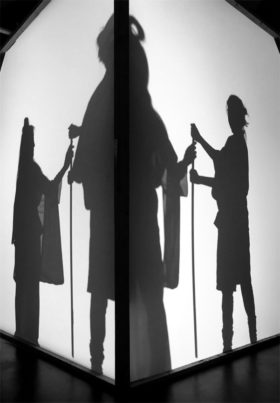 Stormy House is an immersive video and audio installation that looks at the ghostly aspects of Emily Brontë's Wuthering Heights from the viewpoint of traditional Japanese ghost stories.
The project has been created by Whitestone Arts (founded by photographer Simon Warner along with writer Judith Adams) and is mounted in partnership with Brontë Parsonage Museum (former home of the Brontë family) and Bradford's Theatre in the Mill.
The architectural and multi-media design is by 59 Productions, who designed the V&A's David Bowie Is, and provided the video content for the 2012 Olympics Opening Ceremony.
Known in in Japanese as Arashi no ie, Stormy House is a walk-in video and sound installation which invites visitors to engage text fragments and hauntings from the ghost world of Emily Bronte's classic novel and a parallel universe of kaidan (Japanese ghost tales).
The eerie elements of the novel are compared and contrasted against these ancient kaidan, which were collected and translated over a hundred years ago by Greco-Irish author Patrick Lafcadio Hearn.
In the centre of the installation a Japanese tea service is laid out, as if inviting us to some sort of ritualistic ceremony. And at either side of you there are two writers in their writing rooms as if hard at working in conjuring up these literary hauntings.
Their words and their drawings are projected across several screens, allowing the viewer to walk around the space and take in each moment at a time which is most engrossing. We are reminded that the location of Haworth is frequently depicted in bleak windy and muddy desolate descriptions.
Simon Warner explains: "The ghosts here are physical not spectral, they are earthbound and this resonates with Cathy as a ghost in Emily's writing as well as the kaidan. This collaborative installation brings together a collection of ghostly visual and sound fragments from the biographies and works of two writers separated by time and distance but united in uncanny ways."
The piece is highly evocative and imaginative in content and is a experimental and innovative in form. The 25-minute duration gives you just long enough to soak up the concepts and ideas and take out from these those of particular interest. As someone who lived in Haworth with an air vent next to my pillow I can vouch for the authenticity of these stories from another world!
Heathhhclifff!…
Try to catch it this weekend if you can or see Whitestone Arts for forthcoming tour dates.
Stormy House / Arashi no ie
Old School Room, Church Street, Haworth
Saturday 3 – Sunday 11 November 2018
10.30am – 5.00pm daily (last entry 4.30pm)
Entry free, all welcome. Suitable for children over