Leeds artist SUMAN KAUR is calling for her work to be treated on equal terms with her white contemporaries; not hung in shows and collections for 'BAME artists'. She spoke to The CV's RICHARD HORSMAN
"Some people say I only won it because I'm brown". Suman Kaur, winner of the BBC's Big Painting Challenge last year, is speaking to me over a cup of Earl Grey in the Tiled Hall at Leeds Art Gallery.
She's angry, and there's a passion in her eyes as she talks of casual stereotyping, and a lack of opportunities for black and minority ethnic artists to have their work displayed, or considered for exhibition, on equal terms.
It's a Monday, so the shutters at the gallery are down.
For Suman, it could almost be a visual metaphor for the UK's arts establishment .. no way in for an Asian woman from Leeds, the only daughter in a Sikh family, who showed precocious talent for drawing as a young child.
"They asked me to draw my dad. I drew his turban, his shirt, the buttons on his shirt, the button holes, the stitching round the button holes …"
Not that Leeds, like her family, hasn't supported her in a big way. She studied at the Art College, now Leeds Arts University, and was commissioned this year to create an installation at Kirkstall Abbey.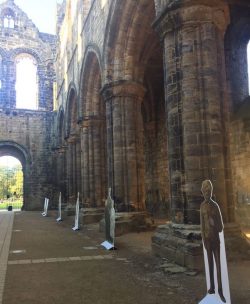 Faith in Peace and War commemorates the contributions of Leeds people from different religious and ethnic communities whose lives were lost, or changed forever, by the first world war. Their near-life size portraits are standing in the nave of the abbey this month to mark the centenary of the armistice.
Suman gave up her job as a health service manager to draw and paint full time. The BBC exposure helped .. "I'd only done about seven paintings before I was selected for the show" .. but now she's making a living from her talent she's angry about the way she gets pigeon-holed as a BAME artist:
"I feel so powerless at times, in the future I hope not to be, I know with my work maturing I may get there. I don't want to be in a box labelled Asian artist because I'm brown. I want my voice hung up with every other artist regardless of colour or status"
It's a big theme, and one that provoked a reaction on Twitter when Suman posted the comment. In our tearoom chat I asked her to outline the problem as she sees it … and the possible solutions.
As for her plans for the future, Suman outlined her ambitions to Leeds Arts University after winning the Big Painting Challenge:
"I want to get to a level of consistent style and then I'd love to exhibit my work. I plan to stay in Leeds because I love it, it's a great city; it's really diverse with a real hub of artistic stuff happening. I'm keen to collaborate with other artists. I would also like to be on the list of Leeds artists. My ambition, one day, is to be on the timeline of notable alumni that is printed on the walls inside Leeds College of Art."
Suman Kaur's Faith in Peace and War installation is at Kirkstall Abbey until November 25th.
You can see more of Suman's work on her website
Photography by the artist