Curry and poetry, it turns out, go together like chilli and chocolate, melon and ham, black pudding and, well, your mouth. It shouldn't work… but it does. Really, really well.
The World Curry Festival has become a staple of Bradford's summer menu, sizzling and exploding taste buds every year, with Yorkshire's finest cooking put alongside some further flung fare. Poetry in the City, though, is new, and was the perfect mango chutney to the curry festival's poppadum: sweet, thick, rich and incredibly moreish.
In a city whose emblem is a tongueless boar, who'd have though food and the spoken word would be received so well?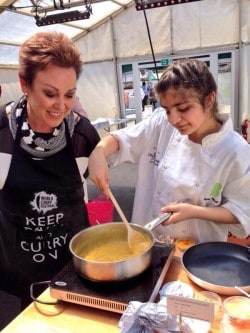 I spent Sunday in the city centre, taking in as much of both festivals as I could. I started, of course, with the curry.
The puddle in the park had been drained a little, but the fountains were still going strong and there was a sizeable number of youngsters (and the not so young) splashing around. Around the edges a myriad of stalls selling all things spicy had sprung up, from Caribbean curried goat to all manner of south-east Asian tastes. It was heavenly! I dove right in, refreshing my palette with a trip to the London bus bar that had parked itself in front of Forster's Bistro.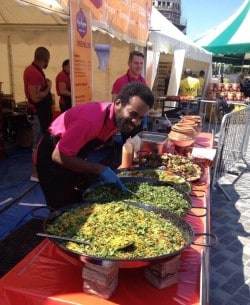 Before I popped, I managed to waddle off to City Hall, an amazing venue for my first taste of Poetry in the City: a writing workshop with Ann and Peter Sansom of The Poetry Business. In the plush surroundings of the Debating Chamber, we sat, a mixture of seasoned workshoppers and some new to writing poetry, or at least sharing their poems with others. Pleasingly, there was a real mix of different places, with people coming from as far as Derbyshire and Robin Hood's Bay to attend, as well as a few of us with a BD postcode. Ann and Peter immediately put us at our ease, outlining the day and starting us off with some interesting writing activities to get the creative juices flowing. We wrote, we shared, we were congratulated. The afternoon progressed like that, with different, always interesting, prompts which were then followed by a read round, the workshoppers and newbies alike understanding that poetry voice, with pauses lingered over, alliteration enunciated and each word savoured like a fine wine, rolled around in the mouth to check its flavour and richness. Whilst I wasn't very good (the memories of why my fledgling, teenage wanderings in verse never came to fruition came flooding back), my efforts were rewarded with encouraging words, and my 'delightful' zeugma was commented upon (and who wouldn't be pleased by having his zeugma admired?). All poets' work was mulled over and particularly good parts were picked out for praise and, although I wasn't best in class, I never felt unvalued or unwanted, and everyone's work was treated with the same enthusiasm. The activities were interesting and everyone jumped into them with both feet, enjoying each one. The poems produced were good and, it was obvious, everyone was proud of what they'd accomplished in just a little time. Although I'd have preferred a little more direction, maybe working on poems for longer to improve them or focusing on how to improve writing rather than simply writing, reading and commenting, it was fun and, given the short time we had, what was produced was remarkable in terms of quality and quantity. Ann and Peter put us all at our ease, had some fabulous ideas for getting writers writing and were genuinely interested in our poems.
My lust for words sated – for now – I went back into City Park to sample some more of the spicy delights, and found a feast for the ears, too. Amongst the curry stalls, the cookery school and the cookery theatre, which boasted broadcaster Hardeep Singh Kohli, two-starred Michelin chef Matthew Benson-Smith and culinary grand master Hemant Oberoi amongst many others, I found the stage. The musical mix had been as eclectic as the food all weekend, and I was delighted to find a reggae band belting out classics and getting the crowd bouncing. In a city seen as segregated to the core along all sorts of lines, it was marvelous to see all colours and creeds and classes dancing along, all smiling, all happy, all one. In a moment of poetry, the guys fired up 'Let's get together and feel alright' – and we were and we did.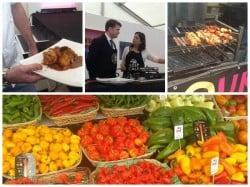 That evening, signing off Poetry in the City, came Simon Armitage – one of our finest poets, one of the few modern poets people could name, and, pretty much, a local lad. He read from his extensive collections, picking here and there to bring the mood up and down. His stories about how the poems came into being, why they were written or their hidden significance gave his words even more meaning. He held the audience throughout, entranced by his verse, his voice and his verve. For Armitage's legion of fans, this was a wonderful opportunity to hear the great man's words as they sound in his head. For me, who dips in and out of poetry, I enjoyed the experience of listening to work new to me, but couldn't help thinking that I prefer my poetry savoured, and would have loved to have followed the poems on a page, allowing me to pick over different words and phrases… but, at home, I had that opportunity to get the best of both words.
I ended the day happy: in thought and word and deed, poetically, culinarily, musically and socially, Bradford had done a cracking job of keeping me entertained. I'd seen the best my city has to offer and revelled in the welcome it'd put on. The mix of poetry and curry went together well, and it was great to see so many of the poetry events' attendees spilling out to sample the curry festival's delights. I didn't see too much of it going the other way round (although, admittedly, I didn't sample the free family events in City Park or fringe events around the city). Poetry in the City certainly got out-of-towners into Bradford, and many people I spoke to were amazed (rightfully) at their first view of City Park and what Bradford's fast becoming. Perhaps, next year, we'll have more Bratfud accents at the poetry events to go with the cornucopia at the curry events. But, if Poetry in the City's bringing them in, getting people to enjoy themselves, and showing Bradford's got yet another cultural string to its bow, I'm delighted, and I look forward to seeing what's on offer next year.
Bradford's got its knockers, and there's a lot to knock, but when it comes to the different, the exciting, the unusual, Bradford's showing that it can mix it with the best. On top of World Curry Festival and Poetry in the City, to name but a few, the amazing Christmas Lights switch on in City Park, Haworth's 1940s Weekend, Bingley Music Live, Ilkley Literature Festival (who came up with Poetry in the City) all draw the crowds and put us in the papers for the right reasons. It's events like these that make me especially proud to be a Bradfordian.