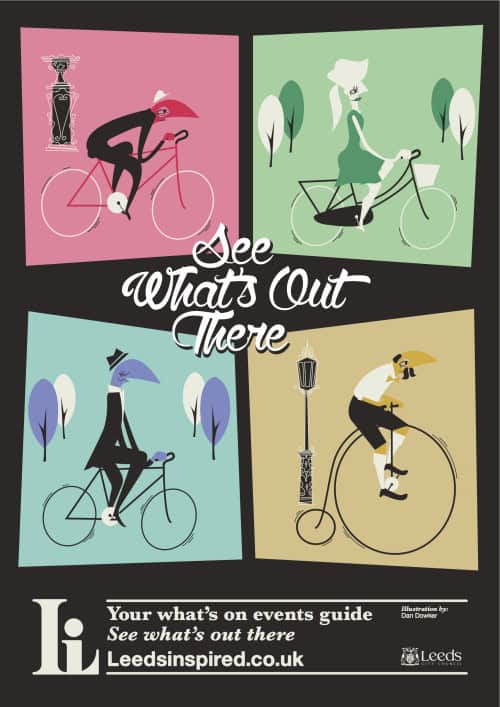 Dan Dowker  is a Leeds based illustrator and graphic designer from York. Leeds Inspired asked Dan to design a poster about their cultural events listings site, et voilà, he only went and did it! Here's where Wendy Denman quizzes him about his handiwork and you get the chance to win one of ten magnificent posters.
It's summertime! What's hot and what's not?
It's a British summertime so I guess the main thing that's both hot and not would be the weather. It's been pretty nice recently though so it's nice to get out and about.
There are four dandy cyclists on your design. Which of them would you hop on to win a race?
If I was just partaking in the race I'd definitely take the Penny-farthing, though I'm not sure it would serve me so well if I wanted to win. I'd like to see a Penny-farthing only race, something on the same scale as the Tour de France.
What Leeds event should we take to France to repay the favour after Le Grand Depart?
I'd probably have to say something like Subdub. Everybody (I would hope) likes music, and I feel Subdub is a strong representation of some of the Leeds culture.
Which cartoon has had the biggest influence on your work?
It's hard to give credit to just one cartoon, I've been watching cartoons for literally as long as I can remember and it's something I just never got tired of. I think Ren & Stimpy was probably the first cartoon that really stood out to me visually, it had such a unique style to it, and accompanied by the variety of old TV and commercial music from people like King Palmer, Raymond Scott and Laurie Johnson, to name very few, it all worked together so nicely. It was from there I started to look into John Kricfalusi and the different studios he'd worked for prior to Ren & Stimpy, and eventually just began looking back to earlier cartoons, particularly Betty Boop – Snow White (1933) and Minnie the Moocher (1932). In the time around the late 50s, early 60s, when animation became in higher demand for TV and commercials, animators began to realise that not every animation had to look like a Disney cartoon to work, and started simplifying everything from characters to backgrounds. I'm particularly fond of the style from this era because although it appears naive or even lazy, I love how the attention is paid to stripping everything back to a simple form whilst still maintaining enough detail for it to be understood, for example a characters head could simply be a coloured triangle with a face drawn on. I have a huge appreciation for really detailed work, but I think I'll always just be more drawn to minimal styles.
Tell us about The Critter Shed
The Critter Shed is a Liverpool based non profit screen print collective run by Alex Smith and Chris Anderson. They create packs of A5 black & white screen prints based on a different creature each time, for example yetis, creatures of the deep, creatures from outer space etc, and each artist creates their own interpretation of the brief. Each brief is an open submission so anyone is free to submit work.
It's a really nice way of helping up and coming artists to get their work printed and shown rather than it just remaining on a screen, and it also works as a community, as theres artists sending submissions from across the country and even out of the country. It's good to always be given a new brief to work on that allows complete creative control as it pushes you to try to create things that may be out of your comfort zone. I know I'm bad for just drawing heads and faces, it's the first thing I'll draw anytime I put pencil to paper.
You created a printed canvas cassette tape sleeve for Bambooman. What song would be first to feature on the mixtape of your life?
That's another tough one to choose, but I'd have to say something chilled like 'Somewhere along the line' which Bambooman produced for Segilola.
I'm not one of these people who likes to dive out of bed on a morning throw themselves straight into a frantic routine. I like to give myself at least an hour or 2 before I start doing something of any worth, so if I've got to do something, I'd rather just get up early so my minds in the right place by the time it needs to be.
Bikes, Spikes, Tykes or By-Heck-As-Likes?
What about a tyke on a bike which has tyres with spikes, screaming 'By 'eck as like'.
 *************************************************
You can view more work from Dan here and follow him on Instagram here. For your chance to win one of ten of these inspiring A3 posters, please answer the question in the comments box below.
Q: Which of Dan's characters do you identify with most and why? 
A: a) Mr Pink   b) Mr Blue   c) Miss Green   d) Mr Beige
The first ten people to answer below will be rewarded with a poster to collect from Leeds Town Hall. Go go go!