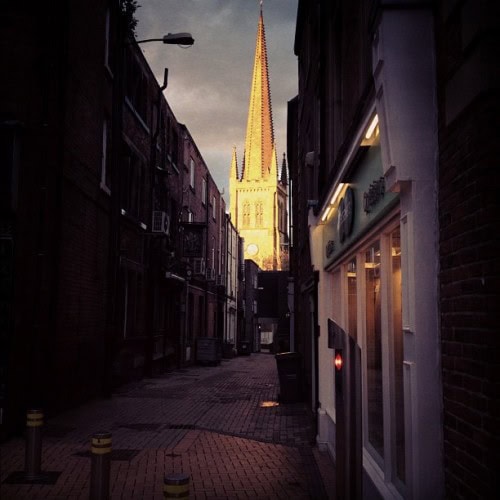 Festival review from Penny Brazier (@tokaipenny). Photos by Ben Davison.
Now in its second year, Wakefield's Long Division festival is an embarrassment of riches, gathering cult indie heroes and some fantastic local talent and sprinkling it all over three days and nine venues across the city centre. The main event is a well organised Saturday of excellent music that somehow manages to be simultaneously arty and completely unpretentious.
It would be impossible to see all the bands playing on the main day – there were actually millions (you might want to check this, but I'm pretty sure there were actually millions). Just thinking about it beforehand made me break out in a scheduling-related sweat. Instead, burdened with a progressively booze-addled brain, your intrepid reporter sampled as much of the proceedings as possible, notes getting ever-more illegible until I declared gonzo status and started writing "BEARDS" and/or "SCOTTISH" for every band. I will try my best to remember what happened.
The day kicks off downstairs at the Hop with The Passing Fancy, a lovely folky Wakey ensemble who warm the crowd up by getting us to do some sums (long division, of course) and trying to instigate a dancing competition. They've made balloon animals for prizes. See, this is what Wakefield is like when it's not on Booze Britain – quirky, hilarious and utterly charming. A great start to the afternoon.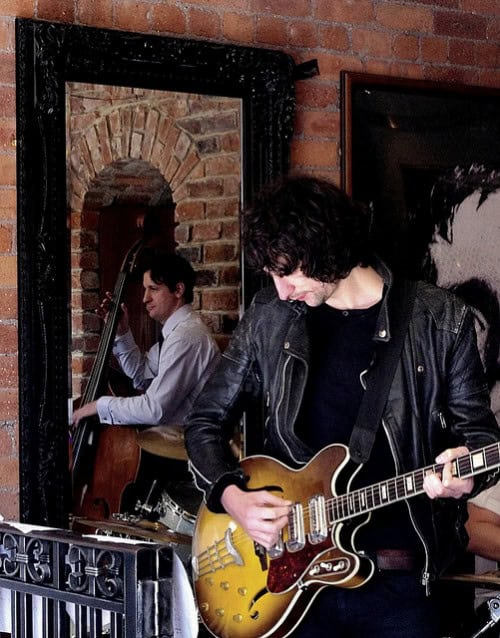 It's barely half past twelve and the upstairs room at the Hop is rammed for local boys Piskie Sits, who peddle their raucous, lo-fi rock to an already converted crowd. There is definitely a Wakefield sound, and Piskie Sits are about the centre of it – heartfelt, scrappy music that has both feet firmly in the 1990s. The singer himself admits the size and enthusiasm of the crowd quickly makes up for their early billing.
It's a fast sprint over to Wakefield Theatre next for Mi Mye, who are soberingly sedate after the pep of the last two bands. Mi Mye is singer/songwriter Jamie Lockheart and various accompanying musicians, and he makes lovely, gentle, stream of consciousness music about paying the gas bill and such. He has a small band together for this gig, but still the songs are so understated they struggle to take up space within their grand surroundings. At first. Then Jamie takes it right down and plays unplugged, unmiked and unaccompanied on a guitar his friend bought him for his birthday – finally it all hangs together. You could hear a pin drop. Gorgeous.
I only catch the end of Moody Gowns, which is a shame because they're very impressive, and the singer is wearing at hat a bit like the Queen might be wearing today – a nice touch. They're not moody at all actually, more a totally tropical, bouncy blend of Talking Heads style post-punk and the percussive groove of Vampire Weekend. They have one absolutely brilliant song that has something to do with holidays, and it deserves to be a hit.
I stick around upstairs at the Hop to catch Glasgow's finest racket-makers PAWS, who play even better than they did at the Brudenell a couple of weeks ago, spazzing out in an unholy blur and pinging lethal broken cymbals across the stage. It's a scuzzy wall of impassioned punk rock, not dissimilar to fellow Scots Urusei Yatsura or grunge icons Mudhoney. Not being local types, it's a smaller crowd, but gets reassuringly bigger as the set goes on, the audience whooping as they're won over. A shame the band forgot to bring their merch – there were plenty of eager punters by the end, myself included. Definitely ones to watch.
Back at the Theatre, PAWS' label-mates The Twilight Sad spend far too long setting up and lose a few audience members in the process (tsk, do they not know some of us have spreadsheets to adhere to?). I'd been looking forward to hearing this band, and the theatre is a perfect setting for their epic post-rock. When they finally get going, the sound still doesn't seem to quite hang together for most of the set… the vocals don't always sit right in the mix, and often seem off-key so I'm not sure if they were having monitoring issues. However, when it does work it is nothing short of transcendental – imagine Joy Division if they'd ever made it to their bloated, arena rock phase.
I leave early to head to Wakefield Town Hall to see Leeds' own Hookworms, who claim to be having sound issues of their own. If this is what they sound like when they're rubbish, I can't wait to hear them when they sound normal – this is terrific psychedelic drone-pop. Everything they play has that fantastic relentless motion, like you're driving on the Autobahn in a 1980's-vision-of-the-future car.
I stick around in the panelled upstairs room at the Town Hall, an odd setting that makes it feel a bit like we're all at a wedding reception. I guess that makes local scamps Runaround Kids a bit like Busted in that video where they crash the wedding, storm the stage and everybody sings along (or whatever happens in that video – I wouldn't know). The room is packed out for another great example of the bittersweet guitar pop that Wakefield does so well – there are some real standout songs and choruses that lodge unapologetically in your head and live up to the band's name by running around furiously for the rest of the day.
If the Runaround Kids are the sound of Wakefield in its scruffy teenage phase, then Protectors are what it sounds like when it grows up, starts wearing decent shoes and gets a proper haircut. Back upstairs at the Hop, the room is packed again and there is actually dancing at the front as the glossy, intelligent indie-pop spreads its wings and soars. New material sounds more upbeat and driving – if this is characteristic of the next record then it should be another blinder. I don't know what it is in the Wakefield water, every time someone sneezes it sounds like another astonishingly catchy chorus.
It's another dash over the road to the theatre to see Arab Strap's dour-voiced singer Aidan Moffat in his current collaboration with jazzy egghead Bill Wells. The venue is already packed out, and I end up scooching down on the floor at the back. This is jazz, but not as we know it – Moffat deals in stark, mumbled poetry delivered in a kind of mournful semi-singing style. In other hands this would be pretentious dribble, but his world-weary tales are as beautiful as they are bleak, and the musical backdrop of brushed drums and muted trumpet is sparse and tasteful. The only real blip in the set for me is the smartypants cover of Banarama's Cruel Summer – only because it's a bit tokenistic (isn't everyone doing reworkings of 80s pop hits now? Isn't anyone else getting a bit annoyed with it?) but even this is executed with panache.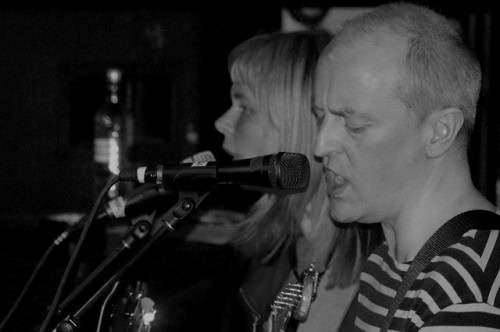 Last call of the day is Mustangs for twee pop idols The Vaselines, known nearly entirely for having an enormous fan in Kurt Cobain, who famously covered their songs Jesus Wants Me For A Sunbeam and Molly's Lips. It's another Scottish band! It really is. I've no idea what it is with Wakefield and Scotland today. Anyway, the Vaselines play pretty, fey music for people to wear cardigans to and it's really not my thing at all, but they're so sweet and the crowd is so up for it that it's hard not to get swept along. Frances McKee is exceptionally kind about Wakefield and the band seem genuinely buzzed about playing the festival (how can you not when the promoter's mum makes you vegan rhubarb crumble?). They even cave at the last minute and play their cover of Divine's You Think You're A Man, much to the delight of the audience. The night draws to a close and the crowd are bouncing, everyone is singing and I'm standing next to a lady who is punching the air and looks about to fall off her bar stool. The atmosphere is bursting with camaraderie and a sense of pride at a job well done. Excellent work, team Long Division. Roll on next year.
Read more from Penny on her blog, Bad Penny. See more of Ben's photos on Flickr.