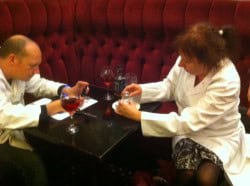 Bradford Science Festival is bigger, longer and better this year, with a full month of activities. Perhaps that's why the British Science Festival will be returning so soon, or perhaps they've heard about the Science Busking Pub Crawl. I did; I went – and all for the furtherance of Scientific knowledge.
Fifty Shades of Science (AKA Helen) met us at the uber-cool-and-Bratfud Sparrow Bier Café for some great ale, great company and great magic tricks, er, science experiments. Lab coats on, clipboards at the ready, we began…
Whilst I did my best to demonstrate the biology of the digestion of alcohol (with some aplomb, I may add), Helen gave us our first stern test – a rather tricky biology quiz. I was rather pleased myself in knowing the largest fish in the world and the animal of which the leveret is the offspring, but it wasn't enough to bring home the delightfully whimsical prize.
The next activity, a practical, literally had us in knots as teammates had to untangle themselves from Helen's web. My partner, Alan, and I would've been there all night whilst our adversaries released themselves in seconds.
How many balls can you keep in their air with a hairdryer? Probably a lot, but three pints in is a different matter – and arguably more fun. Now try the same with a straw, a Malteaser and your lungs, and you have yourself another scientific trial – and another failure for me. Mike won with 6 seconds plus, whilst I fell to nerves in the finale and was well beaten.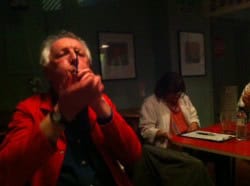 A short walk down Bradford's burgeoning North Parade led to Al's Dime Bar, another firm favourite on the Bradford ale trail, offering a wide selection of great beer, some fantastic cocktails and a friendly, science-loving clientele.
Another quiz led to some dissension in the ranks over the wording of a question (If you travel across the International Date Line from a westerly direction, do you lose or gain a day?) which serendipitously led to the whole bar becoming embroiled in a debate worthy of Galileo himself.
The next practical was more tying knots, and another chance for Mike to show us his skills, this time tying a knot without letting go of either end of a scarf, before we ensconced outside to see a balloon explode when burned with a lighter, but another survive (whilst hovering over the head of a brave barroom volunteer) when filled with water.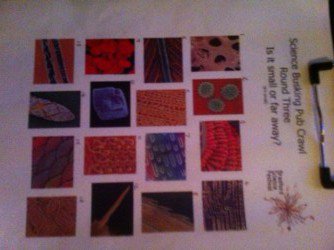 Finally, we moved on to the magnificent and beautiful Midland Hotel, our final destination, and its wonderful painting of Bradford past and Saltaire brewery's fare on tap. Details are hazy (as one might expect) but Helen managed to turn water into whiskey, Mike won yet another prize, and all of us were presented with a certificate and cup championing us as official science buskers.
Bradford Science Festival has a variety of activities for all ages, including a Sci-Fi season at the National Media Museum, a schools' programme and family days, throughout October. Don't miss out!