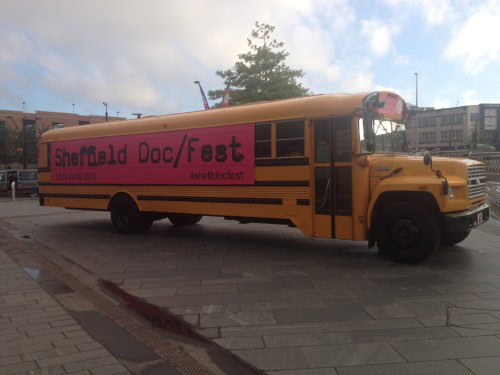 Ryan Butcher and Marie Kitney from @Numiko had a brilliant time at this year's Doc/Fest …
If you didn't know already, Doc/Fest is an international – you guessed it – documentary festival held right in the heart of Sheffield. Celebrating its 20th birthday, organisers pulled out all the stops to make this year's festival the best yet – and even brought us lot here at Numiko along for the ride.
From pitching sessions to discussion panels with some of the industry's brightest experts, this year's Doc/Fest boasted a jam-packed scheduled peppered with a host of British icons, like Sue Perkins, Ross Kemp, Melvyn Bragg and even a one-off performance from Sheffield's favourite son Jarvis Cocker.
And then there were the documentaries. Doc/Fest's programme left no stone unturned, with highlights such as the politically-charged Pussy Riot: A Punk Prayer, the bizarre Secret Life of Uri Geller: Psychic Spy?, and, one of our most anticipated documentaries of the entire festival, the world premiere of Particle Fever, a film which explores the teams who conceived, designed and built the Large Hadron Collider in Switzerland.
But the real highlight for us this year was Project Wild Thing, which made its world premiere at Doc/Fest, narrowly missing out on winning the Green Award. The film is about David Bond and his concern for his kids' dependence on TV and computer screens threatening to turn them into glassy-eyed zombies. He decides it's time to get back to nature and, in an attempt to compete with the on-screen brands which make up a third of his daughter's life, he appoints himself "marketing director for nature".
Project Wild Thing is at once funny and moving. We must've laughed at least once every five minutes as David goes about selling nature to British families – with the help of a number of bemused professionals. But at the same time, the humour is juxtaposed with a shocking social commentary, highlighting how our current generation of young children is the first in history to have a shorter life expectancy than their parents, taking into account soaring child obesity and the concerning number of families living below the breadline.
But that's the beauty of Doc/Fest; you find yourself exposed to stories, lives and points of view that you'd never normally come into contact with.
Not quite a film, but another one of our highlights of Doc/Fest came in the form of pintsize robots known as BlabDroids. These cute little fellas on wheels are the brainchild of artist and roboticist Alex Reben, from Boston, as part of his master's thesis at MIT. Alex is deploying the BlabDroids in cities all over the world in a bid to make the world's first-ever documentary shot and directed by robots.
But these little BlabDroids aren't to be taken lightly. Despite being voiced by a seven-year-old, they come armed with some of the most probing questions imaginable, like "what's the biggest lie you've ever told" or "why do you love the people you love?" People at Doc/Fest went crazy for these things – us included – sitting on park benches in floods of tears, bearing their souls in a way they never would to another human being. Alex has collected more than 130 hours of footage already and the documentary is surely going to be one-of-a-kind. It just goes to show that those folks at Doc/Fest really are on the bleeding edge when it comes to the most innovative and exciting projects in broadcast and documentary films.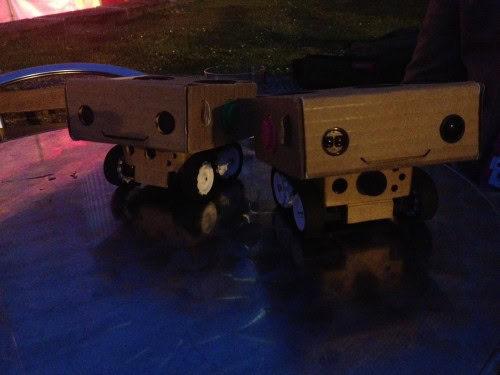 But this year's Doc/Fest proved that it isn't just about watching some truly astonishing films – there's plenty going on for TV and digital types too. In fact, Numiko was invited to take part, hosting An Autopsy of Easter Eggs Live with our friends at Windfall Films and Channel 4, who worked with us on the project. Easter Eggs Live welcomed viewers into the weird and wonderful world of eggs and, thanks to around-the-clock streams, its digital presence was used to grow a broadcast audience into the millions.
The idea for Easter Eggs Live arose out of a post-Big Brother world for Channel 4. With newfound space in their programming, they wanted to do something new and exciting. You can't just put 50 species of all kinds of creatures in a house together, but animals have been proven to do brilliantly well when it comes to multi-platform – just search for kittens on YouTube and you'll see what we mean.
It led to moments of really compelling editorial that you really can't predict – especially with animals as you don't know just when they're going to hatch. Our resident shark Nirvana, for example, didn't hatch during the original transmission and public demand meant we had to keep the live streams running for an additional 20 days. The key for us was to build a site which would be technologically sound, while still being flexible, with the ability to hold up under a massive traffic strain.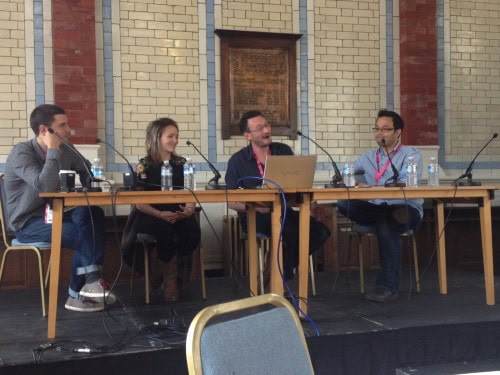 We could never have expected such an appetite for anticipation from our audience – who literally spent hours watching these eggs at home, at work, or through the night in their pyjamas, joining in with a social conversation and even forming their own like-minded communities. The show's live streams were watched more than 650,000 times in the first week, generating a whopping 30,000 Facebook comments.
To be invited onto the programme for the 20th birthday of Doc/Fest was a real honour, and just proved what we already knew – that we'd been working on a project which was truly special.
This year's Doc/Fest was the biggest year – with 3,129 delegates from across 60 countries attending the five-day festival. This is up by 18 per cent from 2012, breaking all previous Doc/Fest records.
And whether it was Project Wild Thing, those little BlabDroids, our own Easter Eggs Live or winner of the festival's audience award for best feature documentary The Act of Killing – in which Indonesian death squad killers are asked to re-enact their crimes – Doc/Fest gave the thousands of people in attendance a glimpse into the future of documentaries, and broadcast, like never before. We were thrilled to be asked to take part in the festival's 20th birthday celebrations – and we hope we'll be there for many, many more years to come.