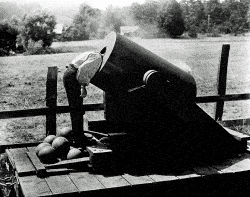 One of the very real pleasures of a film festival is the opportunity it affords to revisit and reappraise some of cinema's defining moments. The 28th Leeds International Film Festival, which starts next week, is studded with such treasures, including a welcome number drawn from the pioneering era of silent film.
A rare screening of J'accuse by Abel Gance (at Leeds Town Hall, 12th November) will feature live organ accompaniment, and is a moving tribute in this centenary commemoration year. An incendiary talent, Gance was one of early cinema's maverick visionaries, a genius worthy of the name. J'accuse is his response to the savagery of war, and is startling in its treatment of a subject still fresh in the minds of audiences at the time of the film's original release in 1919.
Another gem on offer is F W Murnau's little known The Last Laugh which also features live accompaniement, this time from jazz pianist Matthew Bourne (Hyde Park Cinema, 9th November). Made between the director's successes with Nosferatu and Sunrise, The Last Laugh is an accomplished slice of heart-warming miserablism, revealing a deadpan sensibility which will be instantly recognisable to fans of Jim Jarmusch or Finnish auteur Aki Kaurismaki.
Following his brilliant BBC Four series chronicling the art of the soundtrack, composer Neil Brand will provide a live soundtrack of his own to accompany People on Sunday (Hyde Park Cinema, 16 November). A portmanteau movie which features the collective directing talents of future noir instigators Edgar G Ulmer and Robert Siodmak, as well as Hollywood A-listers, Fred Zinnemann and Billy Wilder, People on Sunday is a fascinating early attempt to realise a kind of expressionist magic realism.
Perhaps the most exciting silent presentaton of the festival is the revival of Buster Keaton's tour de force The General (City Varieties, 8th November). The film both cemented Keaton's genius and ruined his career with its boy meets train, boy loses train, boy wins train back shenanigans, but it has long been recognised for its inventive set-pieces, and sheer beauty of its cinematography. (Orson Welles was a big, big fan.) The LIFF screening will feature a live soundtrack provided by silent movie disciples Unsilent Movies.
With revivals of Fritz Lang's M and Josef von Sternberg's The Blue Angel, as well as choice selections from the work of Ingmar Bergman, there is plenty to engage the mind and soul in  this year's Leeds International Film Festival.