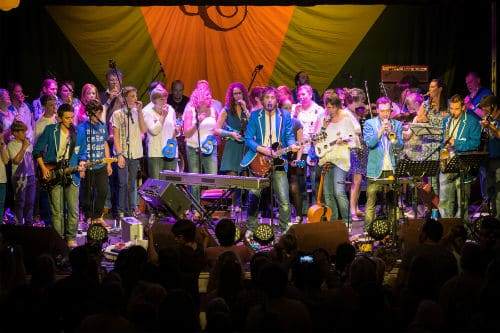 This spring & summer, something tremendous is set to sweep across Yorkshire. It will be blue, yellow, and cycle-powered. And nope, I'm not referring to the Grand Départ. Another something tremendous…
I'm talking about The Tour of Infinite Possibility – or 'TIP' for short, an insane initiative by Hope & Social with Grassington Festival. TIP is part of the Yorkshire Festival 2014 – 100 days of art and culture starting on 27th March and running up to this year's Yorkshire Grand Départ.
Now, Leeds-band Hope & Social are never ones to be shrinking violets, nor knowingly out-mayhem'd. True to form, they are set to deliver their spine-tingling, life-affirming brand of organised chaos once again, this time igniting and leaving their lasting mark on local communities across Yorkshire.
Think Pied Piper. In multiple. Wearing blue jackets. Err, without the stealing of children, or rats….
Got it?
In a nutshell, Hope & Social will resurrect A Band Anyone Can Join (as seen rocking Grassington Festival 2013), this time gathering not just 10s but 100s of new members as they go, and marching around the route of the Yorkshire Grand Départ on a Tour of Infinite Possibility. The end result will be 12 carnival-style gigs in 12 gorgeous Yorkshire towns over 4 days in June on a mobile cycle powered stage. (Yes really.)
Still confused? I'll let the boys explain:
The whole point of TIP is participation; bringing people together, empowering and enabling them to do stuff they didn't think possible. Like sing, play an instrument, be in a (bloody fabulous!) band, laugh 'til they ache, laugh 'til they cry, meet new people they otherwise may never have met, and have a cracking experience they never would have otherwise had. There is nothing to not love about this project!
And the best thing is, literally anyone can be part of it – join the band, see the gigs, be part of the cycle-power these loons are gonna need for that stage(!!). They say you don't even have to be musical, and there's a shiny form(of Infinite Possibility. Oh yes!) to fill-in on the TIP website. Oh AND… Hope & Social have written and recorded THE Yorkshire Festival 2014 song, called The Big Wide. It's very big. And very wide. And available for free to do what you want with. In fact, they insist.
So TIP will be kicking off this month, starting with a load of feel-good-factor-spreading gigs across all the 12 locations before knuckling down with some workshops and general tom foolery!
Band frontman Simon Wainwright says "Honestly, it's going to be fantastic! Or ridiculous. But always entertaining because, let's be honest, what's more pleasurable than watching someone really mess things up?"
Think they're in for a ludicrous failure? Naaa! In the words of the band themselves:
"Fear not, for we are not mere men. We are Hope and Social. There's nothing we can't achieve with stupidity and blind faith on our side."
What could possibly go wrong?
You can follow TIP via 'The Diary of Infinite Possibility' on The Culture Vulture, from March-July.