DJ and writer Dave Haslam talks about Carol Morley's The Alcohol Years.
With a rare screening of Carol Morley's The Alcohol Years happening in Halifax, DJ and writer Dave Haslam talks to ANNA CALE about the film, its legacy and his own creative journey.
Talking to Dave Haslam, it's clear that connecting with people is important to him, "That idea that our life is being defined not necessarily by who we are, but the impressions that we give, and how we're seen through the eyes of other people." That feeling is echoed when he talks about his friend Carol Morley ahead of a screening of one of her most personal films, The Alcohol Years, which Dave appears in.
The DJ, journalist and writer has known film director Morley for many years. Their friendship began in 1980s Manchester when they were both involved in the music scene. Made in 2000, The Alcohol Years follows Morley's journey back to Manchester to revisit her turbulent past, when her life was an alcoholic blur. She interviews various people who knew her then, including Haslam, but also Tony Wilson, Pete Shelley, Vini Reilly and Stella Grundy. It's a search for her lost self.
The film is showing at Square Chapel Arts Centre in Halifax, as part of the Now You See Me – Changing Times: Women in Film season, a series of screenings and events that include the work of directors Carol Morley and Sally Potter.
Haslam, who will be sharing his thoughts about the film at the screening, is pleased it's being talked about again, "It's a very interesting film, it's a very honest film. I can remember Carol saying, just be honest, and not just think about what you knew of me but also what did you hear of me."
The film is at times difficult to watch, "Some of the people in the film are quite dismissive of Carol, and quite critical of her. It's a unflinching, very honest portrait of a troubled young woman growing up in the 80s."
The raw honesty of the film, and of Morley as a filmmaker, is something that Haslam admires, "I've learned over the years that we mustn't be scared by our own vulnerability. If you are an artist, admitting and defining your vulnerability is something that very much connects with other people. It makes a very big, deep, human impression."
The film also revisits his past too, but Haslam wanted to support Morley and her desire to make it, "If I'm honest, I wasn't sure that film was ever going to be made, let alone see the light of day, let alone get on Channel 4, let alone be shown in Halifax 20 years later, but all of those things have come to pass."
"I think there are probably a few people in the film who, if they'd known it was going to end up being public and high profile, might have had second thoughts."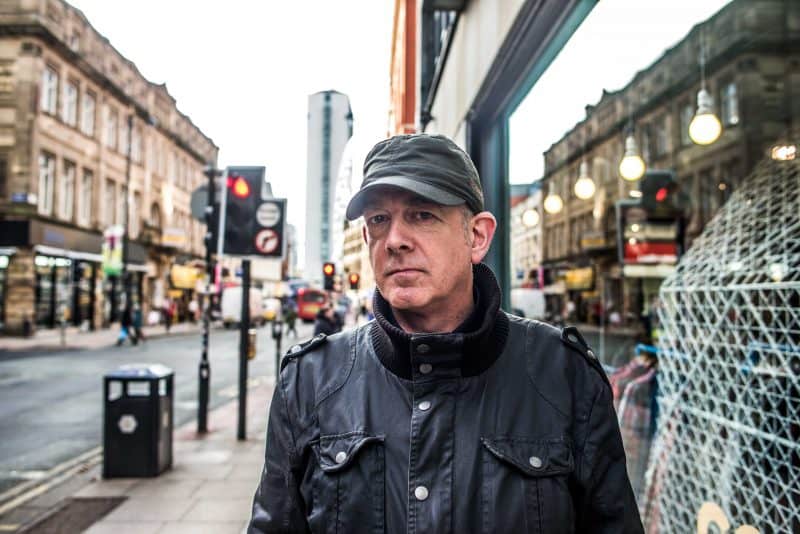 Haslam has very fond memories of the friendship he shared with Morley in the early 1980s, "I remember her as a very engaging, curious and energetic young person, and we all supported each other very much in our own vocations and our own passions."
"I think when you're in your late teens, early twenties, those kinds of relationships have a very deep impact and leave their mark."
There are parallels between The Alcohol Years and Morley's 2011 film Dreams of a Life, which also screens as part of the season, "There are very close connections in the structure and the style of the two films, both of them are about creating and recreating somebody's life."
The Now You See Me programme reflects a wider conversation about how women in film are viewed, and whether this is changing, "If I think back to when I first met Carol, and we were young people just kind of hanging out, dreaming and making stuff up as we were going along, I don't recall a sense that any men that we knew had any special powers with regard to artistic expression."
"I'm still scratching my head as to why the male perspective just seems to dominate our literature, film, and so many aspects of our lives. Look where we are, look at the state of the world."
Haslam feels that lack of access and opportunity is also about class, "Carol came from a loving background but there was no money around, no sense of privilege. What Carol's achieved is remarkable in so many ways and sadly, coming from that kind of background is probably the most remarkable of all. It shouldn't be that way, but it is."
Like Morley, Haslam is unafraid to show emotion in his work, "I love writing and its really good for my soul, I like the discipline of sitting down for two or three hours every day and downloading what's in my head onto a piece of paper."
When reflecting on his own achievements, he doesn't mind acknowledging that his career has been eclectic, "The thing I never wanted was to be put in a pigeon hole in life."
Haslam created a fanzine in his early 20s, a way to capture his love of music and desire to make something happen, "I didn't know how I could ever access NME or The Face, or any magazines or newspapers, I didn't really have any way into any of those so the fanzine seemed to be the only way I could express all the stuff in my head."
That led onto more opportunities, and by the age of 24, Haslam was also DJing twice a week at The Haçienda, putting on bands and writing for the NME. But in the moment he didn't always feel happy, "When I was writing Sonic Youth Slept on My Floor, I was having to revisit that era of my life and I wanted to just write to that 24 year-old-lad and say, "you're good, you're full of energy and you're interested in doing anything and everything. Don't be so anxious about life, this is all good and you're a top fella."
That passion for writing and being involved in music continues, "36 years later I say that I'm still getting away with it."
His next writing project is a bit of a departure, instead of a full-length book he's writing shorter, chapter length 'manifesto' style mini books. He aims to publish three a year and 10 in total. The first work in the series, A Life in 35 Boxes, is about selling his record collection, a decision which shocked a lot of people.
It's a very personal story, but one he feels people will relate to, "It's about amassing things that mean something to you, why you do that and how it's interwoven with your own life and defines you. What happens when you let go of it all?"
For Haslam, writing is about connecting with people, "For me it's like filling the dancefloor. You're connecting with those people and going on a journey with them for a few hours. I don't really mind if I'm playing a small club and I'm filling a small dancefloor or there's a small readership, but if there's a genuine connection there, then it's fabulous to be a part of it."
The Alcohol Years is screening at Square Chapel, Halifax on 23 April 2019 as part of the Now You See Me season which runs throughout April. Details Here
Further information about Dave Haslam's work can be found on his Website