Riot Grrrls | Lydia Cottrell and Sophie Unwin of 70/30 Split (Photo: Danny Knight)
For Transform19, female performance duo LYDIA COTTRELL and SOPHIE UNWIN have created bYOB: four men in riot gear caught between bravado, belonging and Morris dancing… Words: NEIL MUDD
As 70/30 Split, Lydia Cottrell and Sophie Unwin create teasingly subversive and boundary blurring performance art – but nothing like as wanky as that sounds.
They have worked closely together since 2011. So closely, in fact, that they regularly finish one another's sentences; their replies are punctuated by fits of the giggles whenever things threaten to become too serious.
"We don't make comedy work," says Lydia.
"But it will inevitably undermine itself somehow because it's us making it," adds Sophie.
The two met at York St John University where they became 70/30 Split. Asked to come up with a new piece, they created Content Part 1, a burlesque floor-show disguised as a jump-cut autopsy.
"We made it in two weeks in a room on our own," explains Lydia, "and then it just went crazy. People really liked it. Even today we keep getting asked about it."
Pas de Duh followed and was one of The Guardian's picks of 2014. A gender-flexing satire about body image and passive-aggressive correspondence, dance critic Luke Jennings called it, 'funny, poignant and a brilliant encapsulation of dance's obsession with female body shape.'
"We find it very hard when contemporary dancers stand up tall and wear serious faces to show emotion," Lydia says. "(We) find that just hilarious."
"Also we're not dancers. We don't make contemporary dance and we don't describe ourselves as that," says Sophie. "Our work traverses different disciplines, which is the work we like to programme as well."
Since 2013, the two have been organising SLAP, a pay-as-you-feel performance platform in their home city of York. This year it was presented as a festival for the first time, building on previous smaller scale incarnations.
"We were seeing a lot of work as a duo being billed together, and we really wanted that to happen where we were living," explains Sophie. "There isn't really an underground Fringe with risky lo fi stuff going on in York, and we wanted to make that happen."
For Transform19, Lydia and Sophie have developed bYOB, marrying riot squad chic to folkloric shenanigans and firmly putting the yob into b-boy. Co-produced with Northern School of Contemporary Dance, the work dispenses with the usual safety-nets.
"This is our first full-length work," says Lydia, using rabbit ears to emphasise the fact. "It's really interesting for us because we've only ever made work by ourselves on ourselves, and this time we're not in the work."
Instead bYOB casts four male performers, each dressed head to toe in black protective riot-gear, and explores the ritualised liminality of male bonding. It was presented as a shorter work-in-progress for Northern Connections at the NSCD's Riley Theatre in 2017.
"We had two performers in mind, and it was just supposed to be a duo," says Sophie. "They were artists with a body based practice, but definitely not your average dancer. We felt we needed two other bodies supporting them in the space, so we worked with two dancers from Northern…"
"We had to bring them in in two days and teach them the work," laughs Lydia.
"The professional dancers actually became the backing dancers, which was nice," says Sophie. "It was this ultra-conservatoire world which interested us – and what happens when you put two non-dancing men onstage (given) the expectations of the venue."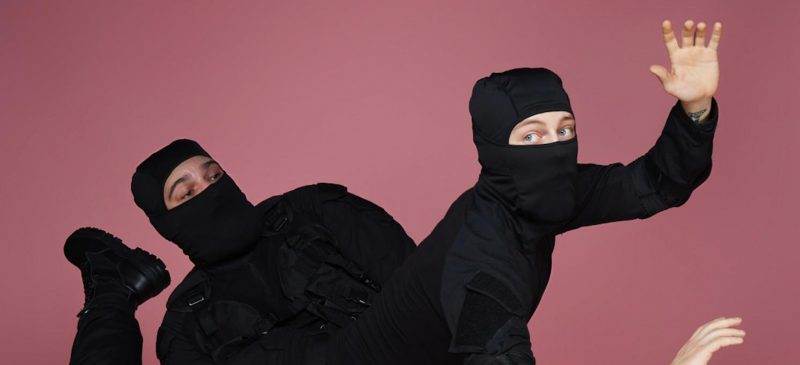 bYOB | 'putting the yob into b-boy'
The genesis of bYOB lays in images of riot police forming up into training drill patterns. The idea of the costume was there right from the start, says Sophie. "I really liked using (it) as a material to explore something else, as a shell or a protective layer."
"When you see all these guys dressed in this way, in these formations, it's intense, but (it's) also this weird, beautiful harmonious thing," says Lydia. "Then there's the current climate with everything that's going on, and within that there's brotherhood and connectivity."
The macho rich connotations of bYOB are purposely undercut by a playful appropriation of traditional Morris dancing. A once familiar staple of town and village fetes up and down the country, Morris dancers are fast disappearing apparently.
"When we're talking about social or folk dancing, a lot of our impression is around heritage, even among our dancers," says Lydia. "We've got a German dancer who now lives in Barcelona and we've got a Polish performer, so it's about unpacking those ideas."
"Some people were seeing paintballers or LARPing [a form of role-play where participants physically portray their characters], so there's lots of different readings," adds Sophie.
"Also this slow reveal: there are so many different layers. When the breast isn't on it looks completely different. One of them has got sunglasses and long hair, so he looks like a bounty hunter."
"He looks like Dog the Bounty Hunter," laughs Lydia. "When you have the top off, but the jacket on, it's unbelievable how camp it becomes. Whichever combination you wear, it reads totally differently."
Does this multiplicity of readings equate to what they describe on their website as 'liveness?'
"Liveness comes from the idea that we like reality onstage," explains Lydia. "If we're doing something where (dancers) need to get knackered, we will make them knackered. It's nice as they've become more and more of a company, they've been able to trust each other and what (they) might do."
"And there's that negotiation between things being set – and we know exactly what that is – and other things being improvised and happening in real time," says Sophie.
"But working with a bigger group and more bodies," laughs Lydia. "It's been slightly harder to realise."
"In our own work, but especially mine, I like playing with different performance modes," says Sophie. "When I'm onstage, I'm definitely in a theatre, so there's that element, but then there's talking to the audience conversationally then snapping back into a more cinematic world."
"That coming in and out of something happens in this work as well, but some of the performers from the inside probably don't know how that feels to see. It's about making them trust you a bit."
"A lot of traditional folk dances have set foot rhythms and steps," says Lydia, "but we've been able to play with that rhythmical framework. It really is about how people pull that into their own experiences, how they reflect that within themselves, which we find really interesting."
"There is that thing where you have to sell a show and put copy together and actually, while you're creating it that might not necessarily be the end thing."
"It's a process and we're still in that process until Saturday," agrees Sophie.
"Jack [Sibley] our musical director has been with us all week, and he's helping us shape it and bring that sound in the way the feet move and hands slap and stuff like that," says Lydia. "Then there's some surprise tracks. There's some pop and there's disco. We're quite eclectic in what we like to use."
"At one point there were twelve tracks, but we've whittled it down to three! We've used [Adam & The Ants'] Prince Charming so much in rehearsals, but it hasn't made it into the final show."
"All of the performers were devastated," chuckles Sophie.
Like its creators, bYOB is bold and provocative. It may indeed carry a serious message for these devastated times, but Lydia and Sophie are not prepared to let things turn po-faced. After all, 'Ridicule is nothing to be scared of!'
bYOB is at the Riley Theatre on Saturday 27th April, 4.00 pm. Details here.
bYOB is a 70/30 Split, Transform and Northern School of Contemporary Dance co-production. Choreographed by Lydia Cottrell and Sophie Unwin, and commissioned by The Place and Dance Exchange and supported by Yorkshire Dance and Leeds Inspired.
Transform Festival on Culture Vulture.