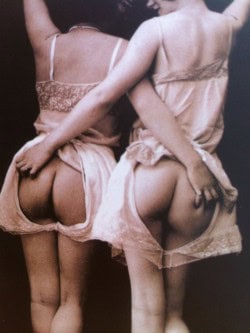 Kendell's Bistro's owner, Steve Kendell explains what makes his restaurant so unique: "It's the atmosphere and the quirkiness, we don't follow conventions, people enjoy themselves as soon as they walk through the door. We want to give them a good night so that when they leave they have happy smiley faces."
Then I wondered what he really liked about French cuisine. "I'm classically trained and I've got three restaurants. I've worked in Paris and the Dordogne and spent a few years living and eating my way round France. It's the different regions of France that appeal to me, it's such a vast country. You get the north in Brittany which is very similar to England but the further south you go it's more like the Mediterranean cooking. It really changes from region to region."
Another thing that is special about the place is the interior design. "My wife is the artistic director," Steve explains, " and people bring things in when they've just come back from France." So the space is filled with posters for Braques and Picasso shows as well as a large selection of memorabilia to form a really beautifully decorated design.
We are here for the teatime special which consists of three courses at the budget price of £19.95 or £26.95 with half a bottle of house wine. There is a choice of six starters and I select the Boudin Noir, black pudding served with apple puree and fried onions, a real Francophile treat. Holly is a great lover of pâté so she goes for the Pâté fois de Canard, a duck liver pâté that comes with croutons and cornichons (small pickled gherkins) that really whet the appetite for the mains.
For these there is a choice of five meat dishes, one of each fish and vegetarian. My Salmon en Croute really is so fresh you can almost feel the sea breeze and taste the salty air and this is beautifully presented with a bacon wrap and gorgeous butter sauce. For Holly there comes the Confit de Canard, a slow cooked duck leg that is crispy on the outside and tender inside. The fat of the duck is also used as fat for the potatoes and of course, as with all French gastronomic delights the garlic plays a lead role.
It's a filling meal but we can't resist the choice from some nine desserts with my fave Crème Brûlée on the list and choco-fiend Holly can't resist the Profiteroles, both simply divine. It's as if a little piece of gay Paris has been flown over the Channel and placed in the heart of Leeds. Convenient for the Quarry Hill venues for theatre at West Yorkshire Playhouse, dance at the Stanley & Audrey Burton Theatre and music at The Wardrobe and Leeds College of Music this is French cuisine at the top of its game.
Text: Rich Jevons
Photography: Holly Spanner