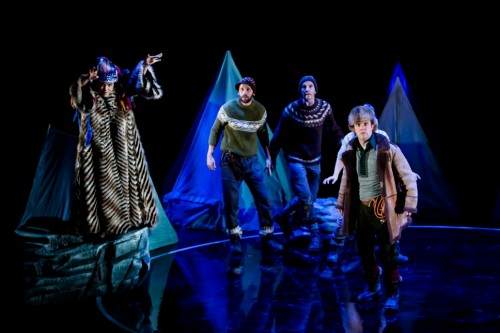 Swanhunter is an Opera North/The Wrong Crowd co-production composed by Jonathan Dove with a libretto by Alasdair Middleton.
Rachel Canning's simple but effective set consists of tents by a campfire with a project of distant mountains beyond at twilight (though these darken and lighten throughout the piece). The supporting actors stretch and limber up before the dramatic entrance of Lemminkäinen (the very able Adrian Dwyer) in a fur hat, thick overcoat and gloves.
He sings to his mother (a powerful Ann Taylor) of his quest for a wife from the North and is rebuked by her. But he sticks his knife into a wooden door and tells her it will bleed if he dies but has no fear of death, love conquers all. His journey is told through inventive puppetry using a doll for the protagonist and the tents serve as ascents and descents of his climbs.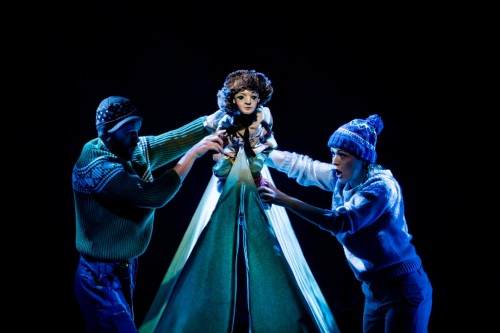 When he arrives he is met by the dogs of the North, a cute pair of bulldogs who sniff him out but they are placated by his winning ways, putting them both to sleep. Throughout there is a clarity of diction giving the piece and accessibility for all, both young and old, opera expert and novice. He sees his object of desire in the form of a girl silhouetted in one of the tents but Louhi (a resplendent Rebecca Afonwy-Jones) plays the role of task-master, testing his devotion. His first task, then, is to hunt the devil's elk which is depicted with more wonderful puppetry and atmospheric lighting.
We then flashback to his mother, waiting patiently by the knife in the door back home. Ann Taylor performs a rich soprano in response to Dwyer's baritone, also played with verve and veracity. Despite completing his mission Louhi then sets him another: to ride the devil's horse. So we are treated to a visually stunning huge brass breast-plated horse puppet announced with an alarming trombone. Once more, despite his success in fulfilling the task, he is sent out again, this time to shoot the swan on death's river.
So as not to be a spoiler I'll end my narrative here but suffice it to say that the action has Wagnerian overtones and is deeply moving. Its content speaks of death and rebirth and the form of puppetry and performance are both at the top of their game. A wonderfully magical and cathartic piece that is truly immersive and particularly profound. The Wrong Crowd excel at superb storytelling that makes us all identify with and feel for the characters and allow a suspension of disbelief to make the use of props and puppetry even more imaginative.
Reviewed on: 16 April, Howard Assembly Room, Leeds, tour includes 3 May, Harrogate Theatre.
Photos: Richard Davenport
Reviewer: Rich Jevons