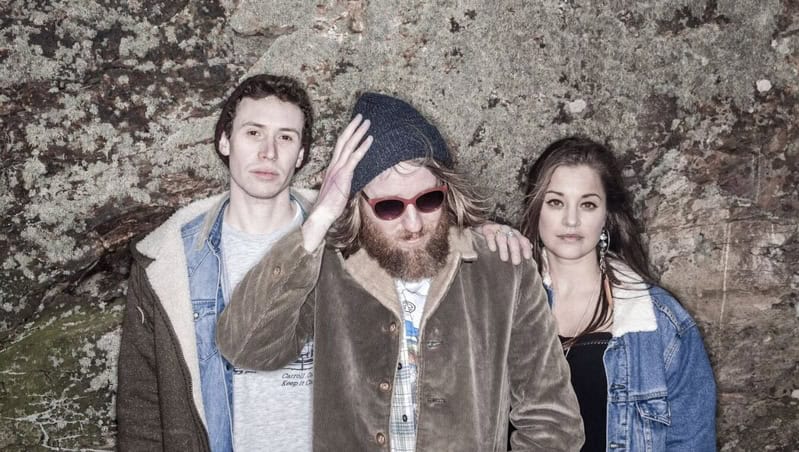 RUARRI JOSEPH grew up in a rural idyll, listening to the music of Bob Dylan and playing outside in the forest. He tells NEIL MUDD how an electric guitar and Guns N' Roses set him on the path to becoming William the Conqueror.
'Full of secrets, life stared at him, a murky, unfathomable world, an impenetrable thorny forest full of fabulous perils.' (Hermann Hesse, from Narcissus and Goldmund)
There are few musicians able to quote German author Hermann Hesse verbatim during an interview, but Ruarri Joseph, who as William the Conqueror plays High & Lonesome later this month in Leeds, is one.
'Hesse is the absolute dude,' he tells me as he tucks into breakfast. 'I just love it. I read that and it absolutely clicked.'

William the Conqueror's Proud Disturber of the Peace is one of the year's standout albums, a glorious smash and grab fusion of blues-rock and chiming guitar. Its hearsay tales of lessons learned and innocence regained come doused in Ruarri's distinctive walnut burr, its scattered cast of outsiders corralled within the hazy penumbra of childhood memory.
Recorded in the singer's garage (hence the album's avuncular title), Ruarri found himself tapping into his youth for inspiration, unconciously invoking another quote from Hesse: 'I cannot tell my story without reaching a long way back.'
"So much went on in my childhood that I've never really looked at, never really dug around in," he explains, "that I've ended up writing three albums."
"My original idea was to make a triple album, and have each album completely different. But it felt a bit too much like Tom Waits' Orphans [subtitled Brawlers, Bawlers & Bastards, the release featured separate albums of rock-blues, ballads and experimental music]. We decided against it".
Born in Scotland and living for a time in New Zealand, Ruarri spent much of his childhood in Callestick, a rural hamlet close to Truro. ("Everything is hidden behind hedges and cut off, a paradise for a kid to get lost in role-playing and daydreaming," he told Laura Barton on Radio 4 earlier this year).
"I don't necessarily feel like I'm 'from' anywhere. I wouldn't say I'm Cornish, but then I wouldn't say I was Scottish or a Kiwi either," he says. "Throughout my youth, I just floated. I ended up in Cornwall. That's my home now, but it just so happened to be the place I met my wife, you know."
The soundtrack to his childhood was Bob Dylan. His father was – and still is – something of an Evangelist. "There were other things playing," he says. "I mean, it was Dylan 99% of the time, but then occasionally this beautiful, angelic, ethereal female voice would come floating out of the window, and that would be Joan Baez."
When Ruarri was eleven, his father bought him an electric guitar and a cassingle by Guns N' Roses (inevitably, their cover of a Dylan song). "I knew Knocking On Heaven's Door," says Ruarri. "It was just a random thing. Music wasn't in my life. I didn't play the guitar, so when he came home with that cassette single, it just grabbed me. He taught me the chords. I was away from that point onward."
After leaving university, Ruarri quickly signed to Atlantic Records, polishing up an album of demos and releasing it as Tales of Grit and Grime in 2007. The singer admits the collaboration was an unhappy one for all concerned.
"Something wasn't right," he says of his decision to break with the label shortly after the album's release, uncannily echoing Dylan's stated reasons for leaving (Atlantic subsidiary) Asylum in 1974.
"I just suddenly found myself six months in with an album out and thinking, 'I'm not even sure that's representative of who I am.' I didn't necessarily have a handle of who I was as an artist. It seemed like the right move because I wanted that headspace to figure it out."
Self-releasing as a solo artist, Ruarri sought to discover the freedom he felt he needed. Touring with Seth Lakeman and Show of Hands, he was feted on the folk circuit as a singer-songwriter in the Damien Rice mould. It was a far-cry from his teenage years of piss and vinegar in the New Zealand punk scene, listening to NOFX and Bad Religion. However, the singer-songwriter tag became just another shackle.
"My second album [Both Sides of the Coin] had been quite dark, quite a grungy album, and it didn't seem to match. I thought I'd better make something that sounded a bit more like this world. Shoulder to the Wheel was quite a folky sounding record album, even if it wasn't quite folk music.
"But then the following album [2012's Brother] was dedicated to the loss of a friend. That was an album I pored over because I was making it for everybody – his friends and his family, his widow and his children.
"When the William thing started, it just seemed the right thing to do, to go back to my childhood and uncover all that sort of stuff. I'd been making records for other people for such a long time that I owed myself one."
He says, William the Conqueror feels the opposite of what 'Ruarri Joseph' had become: very polite ("In the folk world you have to be polite."), making a record about the loss of a friend, all very considered.
"As a kid, William the Conqueror is the kind of name I'd have come up with for myself, not knowing anything about the historical figure," he says. "I figured it would change the way that I wrote. You'd suddenly have to play differently."
"I'd got into the habit on the folk scene of talking a lot during gigs – giving context, telling stories and things like that – and I got sick of the sound of my own voice to be honest. I thought if I write about things that are so idiosyncratic to my own life, it would take so much back story and perspective to organise it into some semblance of order that I'd be there for hours. It stopped me talking and let the music do the talking. I just found that was a very pleasing excuse."
The other members of William the Conqueror, Naomi Holmes and Harry Harding, are session players from Ruarri's days as a solo artist. Together they share a close kinship: "We'd got into music because we loved music. We didn't necessarily go into it because we wanted it to be our jobs," Ruarri explains. "Sometimes you want to reconnect with what it was that got you into music, so they were just up for the adventure."
Playing the songs off the beaten track between tours kept him from feeling as if he was going through the motions.
"We all come from quite different musical backgrounds. I like the way it meshes together. I wanted to shake off any insecurities or inhibitions I had about the things I was writing about. I wanted to be able to write about anything. Being with people I was close to, and them encouraging me to do that, was helpful."
The Americana tag prompts a conversation about whether being labelled as a particular type of artist diminishes the work produced. "We try to avoid being pigeonholed," Ruarri says. "There are worse labels than being Americana because it's quite broad, but I still wouldn't want to tie myself to it."
Saccharine shades of New Country, perhaps? "Yeah, that is the downside," he agrees. "When we were in Nashville last year at the so-called Americana Fest, it leant very heavily on the country side of Americana – which was good for us because we stuck out like no one's business."
Proud Disturber of the Peace has attracted favourable comparisons with everyone from J J Cale to Sonic Youth.  Ruarri says he is pleased that the 'grunge thing' comes through. "We didn't know what we were doing. We were in a garage hammering out these songs and seeing what happened. We were guided by instinct and ethos rather than having a set goal."
The album was released through Loose Music in August. A few years ago, the UK alt-country label passed up signing the band after a 'rough around the edges' showcase in London on the eve of a tour.
"The first twenty minutes of your London show, that's what your whole career hinges on," says Ruarri ruefully, "and I've always had a problem with that. I'm sick of being judged on such a small fragment because the next night we went to Bristol and it was a sell-out and we smashed it."
"There's a line in the first song on the album, In My Dreams:  'Silly me to think I could excite sufficiently.' It wasn't meant as a two fingers to the industry. I don't give a shit. I don't care what other people think, or how they judge me, because in my head I've still got the same dreams I had when I was a kid, and I just keep them for myself.
"So I wrote that song. About a year after that, William got to play a showcase in London – twenty minutes in London – and afterwards outside, this guy came up to Naomi and says, 'I'm really impressed. I really love your band, etc. etc. By the way, my name's Tom [Bridgewater]. I'm from Loose Music…'
"He hadn't twigged it was the same band playing – actually, a couple of the same songs, but under a different name with an attitude of, 'We don't give a shit!' I told Tom the story, and he thought it was fucking hilarious. That song for me I'm most proud of because it opened the floodgates really."
The band has been touring relentlessly since the album's release, alternating between turns as support (they recently appeared with Danny and the Champions of the World at the Brudenell) and headline duties.
"It doesn't really bother me. The three piece band doing our own headline slot is obviously the one that we care most about – our opportunity to show you everything we have – but I don't mind the slipping in and out. I've got to get out and play."
It is a sentiment Dylan would applaud given he has been on the so-called Never Ending Tour since 1988. "You can always take inspiration from Dylan," laughs Ruarri.  "I just love the way he constantly keeps you on your toes."
"He and Tom Waits share that sort of thing in common. You know you're not going to get what you got last time. It's going to be something different. An album like Swordfishtrombones. I mean, that's brave. What a move!
"I love introducing people to Tom Waits and seeing their faces at the first thing they hear, and thinking, 'You've got so much more to get through…'
Proud Disturber of the Peace is out now on Loose Music
William the Conqueror appear as part of High & Lonesome, Saturday 25th November at Brudenell Social Club.