Opera North's Katya Kabanova (Photo credit: Jane Hobson)
Opera North's new production of Leoš Janáček's Katya Kabanova is a real heartbreaker, says CATH ANNABEL.
Katya Kabanova begins with some of Leoš Janáček's most beautiful music. 
We know from those first chords, aching with sadness, that this tale will not end well. 
Along the way there are touches of humour, but even these tend towards the bleak, and the scene on which the curtain rises – a sombre community of citizens, indistinguishable from one another – tells us all we need to know.
Hildegard Bechtler's simple, abstract set is bleak too, with glimpses of something beyond out of reach.  As one short scene succeeds another, the intensity builds and builds.
Scene changes are perhaps a little longer than ideal. At first the audience whispers, shuffles or coughs, but later on, all are silent, holding their breath.
This is a community ruled by the pressure to conform, to respect their elders (even those as truly monstrous and brutal as Kabanicha and Dikoy), to play out predetermined roles.
Katya is burdened with a weak husband and an appalling mother-in-law. She is an intense and troubled soul, ill-equipped for this world. (That she doesn't fit is conveyed by her costume which is brighter than those of the others and red hair which is brighter still.) Boris too is trapped, forced by family loyalty to remain in semi-servitude to his bully of an uncle. 
Varvara has somehow found a way to achieve a measure of freedom, despite Kabanicha's tyranny. She rebels by sneaking out to meet her lover Vanya. The couple provide humour and a lightness of touch in contrast to the melancholy fatalism of Katya and Boris.  
Janáček uses the rhythms and 'melodic curves' of speech for the singers, to give the libretto real immediacy and intimacy. Meanwhile the orchestra (conducted by Sian Edwards) gives us a rich variety of moods – the intensity of the storm, passages of gorgeous lyricism, and ominous undertones. 
Katie Bray is a delightfully mischievous Varvara, well-matched by Alexander Sprague as Vanya.  Individually and together they lift our spirits, the light to offset the tale's sheer bleakness. They convey beautifully their compassion for Katya and Boris. Theirs is a romantic love based on mutual understanding rather than dreams and fantasies.
Stephen Richardson (Dikoy) bursts onstage already berating his unfortunate nephew.  He's brutal in his words and his body language. He despises everybody and listens to no one. It's a brilliant performance, most especially in the privacy of Kabanicha's home when he reveals the self-pity which lies behind his bullying and the toxic interplay between the two becomes rather more carnal than we were expecting.
Heather Shipp as Kabanicha is terrifying. Unyielding, unforgiving, she holds herself rigid, her expression implacable. But her voice is glorious.  And,
as she claims her victory, the final scene is truly horrifying.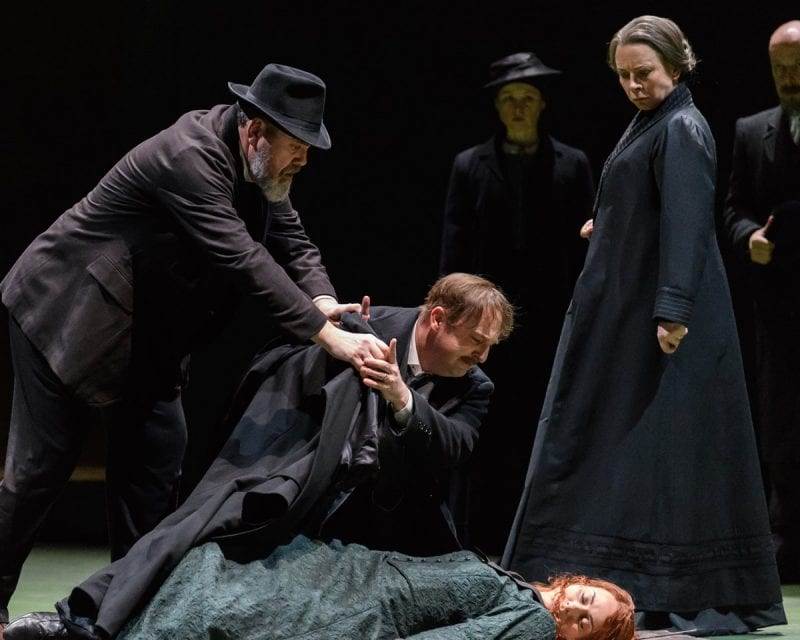 Harold Meers makes his Opera North debut as Boris. He's a fine, passionate lead and conveys both the intensity of his emotions (his frustration with his subservience to Dikoy and his love for Katya) and the weakness that will sabotage any hope for the couple. 
As Tichon, the other protagonist in the love triangle, Andrew Kennedy shows us another weak man (one wonders whether Janáček held a generally dim view of his own gender), whose genuine love for his wife cannot withstand the pressure from his relentless mother.  He's as trapped as the others, seeking escape through booze and taking out his frustrations on his wife.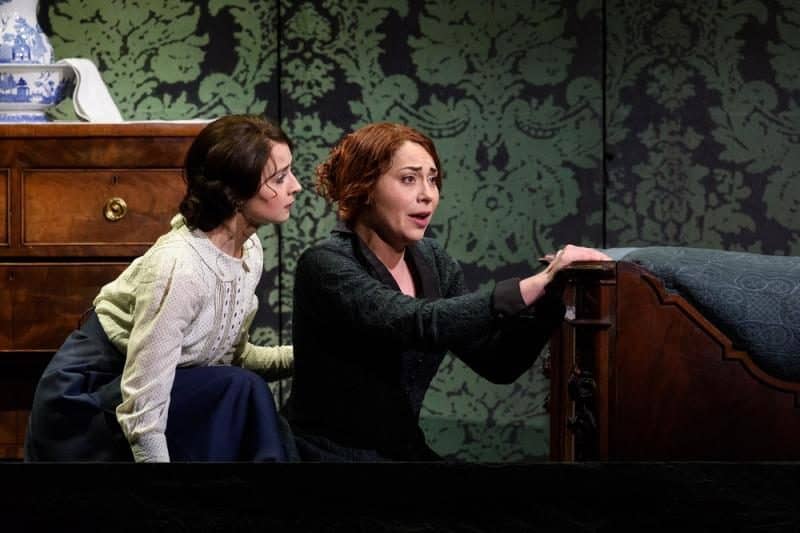 Of course, any production of Katya Kabanova stands or falls with Katya herself.  Stephanie Corley breaks our hearts in the role. She feels everything with a dangerous intensity, all of which Corley expresses beautifully. (Her versatility is underlined by the fact we last saw her on this stage as another Kate, in Cole Porter's musical). This was an outstanding performance: we felt for her, feared for her, grieved for her.
Katya Kabanova is at Leeds Grand Theatre until 27 February, and then on tour to Salford, Newcastle and Nottingham until 21 March. Details here.