Opera North's Kiss Me, Kate (Photo credit: Tristram Kenton)
The Opera North cast and orchestra pull out all the stops for this sizzling hot production of Cole Porter's witty and exuberant Kiss Me Kate. CATH ANNABEL can't resist …
From the moment the overture strikes up, and we get our first taste of those tunes, it's impossible to resist the delights of Opera North's revival of Cole Porter's Kiss Me Kate.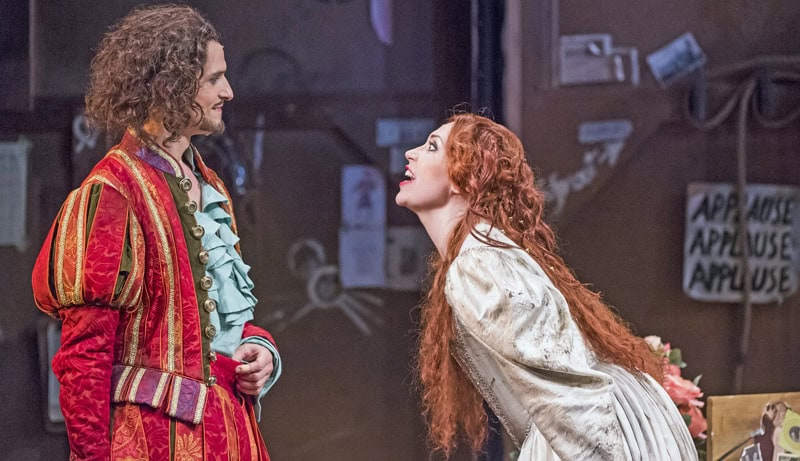 The source material is notoriously problematic, but we are at several removes from Shakespeare's troublesome and troubling Shrew.  We're watching a small theatre company put on Fred Graham's musical adaptation of the Bard, and whilst he and his ex-wife Lilli play Petruchio and Kate respectively, it's the fiery, combative, entirely equal relationship between them that we're watching.  Lilli's tender So In Love might sound like a woman submitting to lousy treatment from her man, but it's reprised by Fred later on, with exactly the same words: 'So taunt me and hurt me, Deceive me, desert me, I'm yours 'til I die'.
Not that there aren't moments when contemporary sensibilities could be affronted, but there's no doubt that the women in this drama are every bit the equals of the men.  Lois Lane's first number may be a touching plea to her feckless boyfriend to 'behave', but later her reprise segues into the shameless Always True to You Darling in My Fashion which celebrates her own bad behaviour.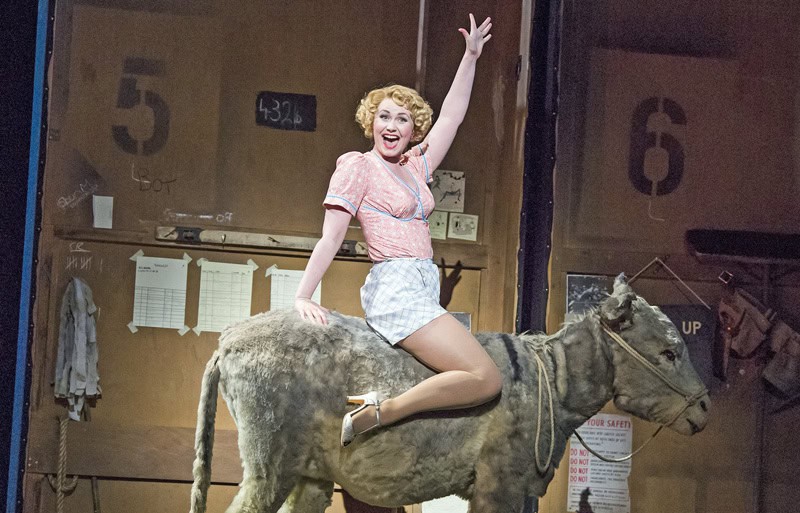 The show is packed with tunes that lodge themselves firmly in the memory, and insist you tap your toes.  The lyrics are sharply witty and often startlingly rude.  I've seen this production before, but I'd forgotten that Bianca's Tom, Dick, or Harry ends with a celebration of, well, 'dick, dick, dick, a dicka dick!'.   And then there's the dancing.  The high points here are the opener to the second act, Too Darn Hot with Stephane Anelli taking the lead in an exhilarating ensemble routine, and Alan Burkitt's solo number, Bianca, where he turns a (deliberately) cheesy song into a bravura tap dance.
There's always plenty happening on stage, as clothes rails and props, including a stuffed mule, are wheeled in and out. The Grand's stage configures and reconfigures itself and the lines between what we see as the audience for Kiss Me, Kate, and what we see as stand-ins for the audience for Taming of the Shrew are frequently blurred.
There's plenty of comedic mileage to be had from the latter with missed cues and mistimed sound effects, and some Morecambe and Wise business with the curtains. The Two Gunmen are gloriously played by John Savournin (whose impeccable comic timing informed his Leporello in Don Giovanni a couple of months ago, and who directed Opera North's Trial by Jury last autumn) and Joseph Shovelton.  These two played the roles in the 2015 production, and it was a delight to see them again, especially in their own showstopping number, Brush Up Your Shakespeare.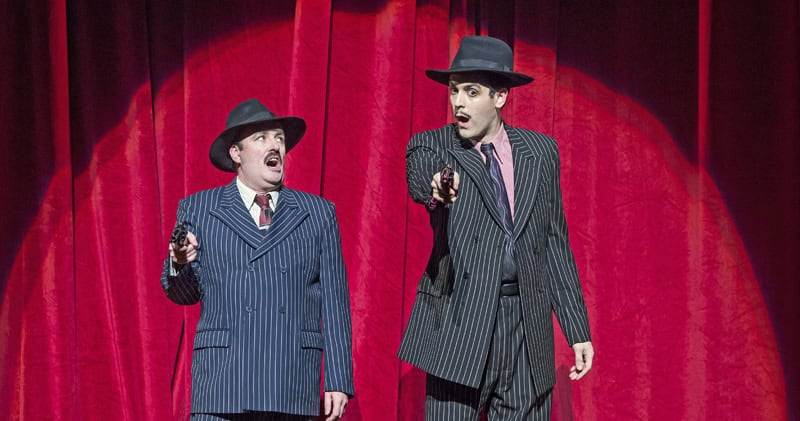 Quirijn de Lang as Petruchio is all swagger and braggadocio, revelling in being a cad, a 'loathsome lad'.  But as Fred he always lets us see beneath that surface, so we're rooting for him to end the show with the woman he is clearly 'so in love' with (as if it could end any other way).  De Lang's singing is glorious and he's perfectly matched by Stephanie Corley's Lilli / Kate, who has to rage and rant but also convince us of her tender feelings for Fred.
Zoe Rainey makes her Opera North debut as Lois / Bianca, and her performance, vocally and comedically, is a delight.  She's partnered with Alan Burkitt, whose entrance is notable for a splendid portrayal of a very drunk person attempting to get up a flight of stairs, and whose tap dancing skills have already been noted.   The other couple who particularly deserve note are both ON debutantes, Stephane Anelli as Paul, and Aiesha Pease as Hattie.
But as much as the show depends upon the vocal skills, comic timing, and acting chops of the leads, it is very much an ensemble show, albeit one in which many members of the cast get their moment in the spotlight.
From the first notes of the overture to the final curtain call, I couldn't stop smiling.  It was an evening of delight, where everything combined beautifully – tunes, lyrics, and the performances of singers, dancers and orchestra, the direction and choreography.  It's sizzling hot, it's wunderbar, it's so much more than just 'another show'.
Kiss Me, Kate is now on tour, with performances at the London Coliseum (20th – 30th June), and the Edinburgh Festival Theatre (4th – 7th July).
Read theCV's interview with Kiss Me, Kate's Quirijn de Lang and Stephanie Corley here