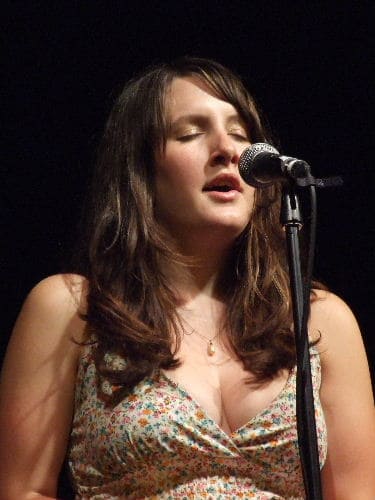 Paul Clarke looks ahead to a unique collaboration at the inaugural Hebden Bridge folk festival this weekend.
A one off collaboration between new folk queen Becky Unthank and veteran songwriter Steve Tilston is the highlight of the first Hebden Bridge Folk Roots festival on Saturday.
It seems bizarre it's taken so long for this Pennine town with its rich folk heritage to actually organise the festival at the famous Trades Club, but they've pulled off a coup getting local residents Becky and Steve to perform together.
The Unthanks have taken the folk world by storm with four critically acclaimed albums – one won a Mercury Prize nomination – and a series of offbeat shows, including one at Leeds Town Hall with the Brighouse and Rastrick Brass band.
"I'm really excited by this opportunity to perform with someone of Steve's calibre, just a short walk from home" says Becky, who moved to Hebden Bridge two years ago.
'Since coming to Hebden it really feels like I'm part of a community. There's so many musicians around who come in and out of the town so
it is tailor made for a folk festival of its own.
"Folk is ignored by the national media even though it reflects localities across the country, and it really is the music of the people"
Steve Tilston was a key player in the singer/songwriter revival of the early 70s, having songs recorded by the likes of Fairport Convention and his work was praised by John Lennon.
He first knew Becky as one of the 'Whitby Babes' along with her sister Rachel, Kate Rusby and a whole new generation of female folk singers who were taken to Whitby Folk Week by their parents.
All the other performers on a high quality bill are Yorkshire based, and the festival is headlined by folk anarchists Chumbawamba who scored a surprise huge hit with Tubthumping.
The band are regular visitors to the Trades, which has a rich socialist tradition, and last time they played it was a sell out.
Other acts include Grace Notes, Maia, Halifax's Roger Davies and Ewan McLennan who, according to Becky, has a 'gorgeous voice'.
There's also a rare show from French singer Flossie Maliaville who since she's been in living the North of England now speaks with a strong Darlington accent.
The festival runs at the Trades Club from noon to 10pm and tickets priced £20 waged and £15 unwaged can be bought via www.wegottickets.co.ok or through the club on 01422 845265.
*Becky is also part of an Unthanks pre Christmas tour in which they will interpret the songs of Robert Wyatt and Anthony and the Johnsons. They will appear at the Hebden Bridge Picture House on 5-6 December as part of that tour. The Culture Vulture will have an exclusive interview with Becky about those concerts next week.