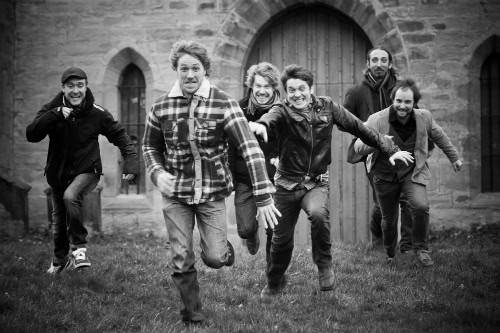 Leeds band, Hope & Social are playing Grassington festival today, but in the lead-up they've been involved in something rather more intriguing, as frontman Simon Wainwright explained to Matty Hebditch …
For the last six weeks or so, we've been doing these musical workshops in Grassington, about 2 or 3 a week. It started as a little gig at the Town Hall for anyone who wanted come and get involved. We've called it 'The Band Anyone Can Join', which is a culmination of these workshops. We've had a real range; youth groups, randoms who just wanted to come along, mainly non-musicians but also people who are learning to play or who haven't played for a long time. One guy who's been playing drums hadn't drummed for 32 years and he's since been inspired to go and buy a drum kit. It's been lovely, really nice."

People have been really keen to get involved, a lot of people have come down to see what we're doing and I guess it got down to about 35 people, rehearsing in their own time, printing out the music at home, etc.

We did a special workshop with the local rounders team (which is a big deal in Grassington), when we spent the night in the pub after their game and played a gig where they all joined in. We'd bought 30 ukeleles for each of them to play a couple of songs we'd taught them and around 10 of them are going to be with us on the night, a lot of them playing onstage for the first time.
The band have a colourful recent history of engaging in unusual projects that encourage interaction with others.
Last year, we did 'The Grassington Run', where we travelled there on public transport as a mobile band; us, all our gear and around 50 fans.

We'd had this idea of Band Anyone Can Join for a while and put it forward as a new project for this year. We did something similar with Garforth Arts Festival and it's something we'd like to do again in the future.

Mainly, though, we just like to try new stuff. We were asked if we'd do the same thing at next year's Grassington but we'd prefer to try something else.

During the last 4 years, there have been various projects; we turned our Crypt studio into a bistro restaurant and did a show there, there was an open-top bus ride to the seaside where we did a pop-up gig on the beach, with another gig in a pub on the moors on the way back. A couple of Christmases ago, we did the 'Snow Ball', basically a glorified pub crawl which ended at this one venue where (without telling anyone) we'd arranged a 20-piece swing band to perform Hope & Social songs in a big-band jazz style. We also did a garden party for about 600 people at this beautiful house, an old vicarage in Mirfield, of all places, with a gorgeous garden. It was a beautiful afternoon with other bands playing and loads of independent food and craft stalls where people could make their own merchandise.
They have a refreshingly carefree, wholly inclusive attitude to how they project themselves as a band and are always looking for unique places to play or different ways to perform and promote their music.
The best times we've had as a band & the most enjoyable things we've done are when other people get involved. A while back, Ed, our keyboard player, made the very valid point that we never make any money from CDs, so let's just get our music out there at whatever price people wanna pay" (an approach they adopted before Radiohead supposedly pioneered this method of sharing and promoting their music, with their 'In Rainbows' album).

It's better people have heard it than not, as it gets more people to the gigs and creates a bigger community with more people interested and involved. It's paid itself back tenfold, as the average price people have been willing to pay is way more than you'd get if you sold it at HMV, for example.
What else do you have planned for the near future?
We'd like to do another garden party and we're trying to plan an event in London. The Hope & Social 'Piss-Up In A Brewery' keeps getting mentioned, just to show we can organise one. Although it's proving harder than you'd think, as most are small microbreweries now.

We're also doing a week at Edinburgh Festival, a show called 'Bring The Happy', which we did in Leeds a few years back with an interactive arts company called Invisible Flock who collected happy memories from 1500 random passers-by, placed them on a map of Leeds, then we went away, wrote a load of songs about those memories and created this show, kind of a cross between a gig and a wedding reception. We did it at Warwick Arts Centre last month and now it's touring the UK, gathering more memories from different places.
You certainly get about a bit.
We're lucky, we've been involved in a lot of different projects with a lot of lovely people. There are loads of opportunities to do interesting stuff at the moment so we're making the most of it.
Musically, they come over like a huge, amorphous, tempo-shifting tune machine, boasting a kind of expansive melodic majesty akin to a slightly more raggedy, kick-ass version of Elbow.
Each song is infused with good vibes while their varied choice of instrumentation and Simon's impassioned pin-sharp vocals make them an arresting, hugely impressive live outfit well worth your time and money (once you've decided what they're worth).
Saturday spent in Grassington will offer you plenty of opportunity to catch them.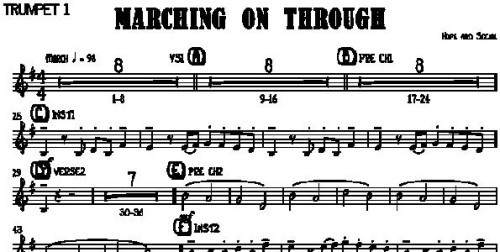 We're playing the session in the village square in the morning, then gonna be walking through the town with everyone playing along, we've final rehearsals in the afternoon then we're playing the Town Hall at night.
A limited number of tickets for the Town Hall show are still available if you act fast