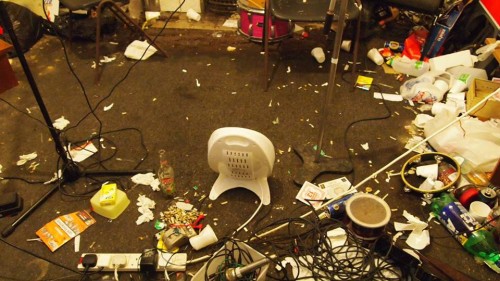 Michelle Dee interviews four young musicians from Immingham who go by the name Ming City Rockers.  After a chance meeting with Richard Hawley's Manager, at a college-based music industry event, the band are making everyone sit up and listen. They are supporting the hotly-tipped Glastonbury Festival bound Ruen Brothers, at the Jack Daniels Roots Show in Scunthorpe 21st June.
Michelle: Please name line up and what they do in the band
Clancy Jones-Rhythm Guitar/vocals/harmonica, Morely Adams-Lead Guitar/backing vocals, Doc Ashton-Drums, Jakki Walsh-bass
Michelle: What's the story behind the band's name?
The band name has the same syllables as 'rock paper scissors'
Michelle: You recently had interest from radio 1's Huw Stephens. How did that come about?
The interest from Huw Stephens was the work of our manager Graham Wrench. He passed on our demo and Huw liked it so he played us on BBC radio 1 that same night twice!
Michelle: You got a mention in the NME, are you regular readers of the music press if so how did it feel getting in NME and is it important to you?
We like to read about the latest bands and check them out online. It was really cool to be in NME because there might be people like us checking out new bands and it's nice to think they found us.

Michelle: I overheard you saying that you'd been going for 2 years, but that in the last six months you'd got good. What do you put that shift down to?
Since Jakki joined, things have seemed more solid. It took a while to get the sound we have today.
Michelle: So you are from Immingham in Lincolnshire, describe it for us and how does the town feel about your success?
Immingham has never been a good place for music or bands. I don't think they like us here, or want to acknowledge us. We like to play in Hull.
Michelle: Has the town influenced you or inspired you in anyway to become musicians?
Immingham is not good for your soul. Because it's so crap here it inspires you to get out. Playing music keeps us sane.
Michelle: How have you found the response away from your hometown at gigs/shows?
Gigs away from Immingham are usually better than playing in Immingham.. probably because people are a lot more open minded in bigger cities than in small towns. They're open to new and different things.
Michelle: Describe how, where and when you practice and how you chill out?
Our practice place is a rat infested piss sodden hole.. but we love it! There isn't much to do in 'Ming' so we just sit around drinking and being cynical.
Michelle: Who are your musical inspirations past and present?
Robert Johnson
Michelle: Three of you have a very glam goth kind of look, was that a deliberate move or is that how you really are?
It's just how we are.
Michelle: So you have some gigs coming up and a Huw Stephens showcase is that right? Can you tell us about them?
We like to gig a lot. Graham (Electric Canyon) gave Huw a CD and he played it on the radio, he then invited us to play in London in June. We're playing a Jack Daniels Roots gig with the Ruen Brothers in Scunthorpe on the 21st. It's being filmed for TV.
Michelle: When will your single She's a Wrong 'un be coming out and will it be on a label? Are you signed?
Our single will be out in mid June. It's being released with our managers record company. We're not officially signed.
Michelle: Where was your best gig?
Supporting the Palma Violets in Sheffield was a really good gig. There were lots of people, lots of booze, and the Palma Violets were really good to watch live.
Michelle: So far where have Ming City Rockers had airplay? What's it like hearing your songs on the radio? What feedback have you had?
We were played on radio 1. we were quite happy.
Michelle: What's the next move for Ming City Rockers?
Bishop to D4, Bishop takes pawn.