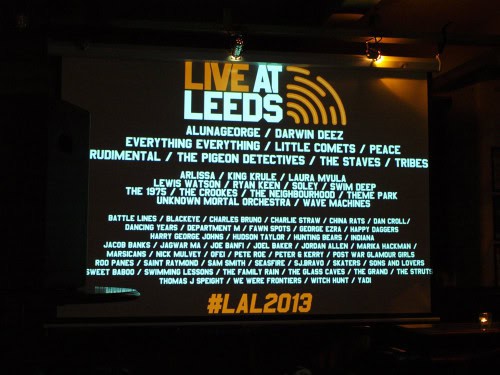 YET ANOTHER LIVE AT LEEDS REVIEW from Matt Brown
Despite living here for over three years, I'm a lazy bastard so this was my first Live at Leeds experience. To be honest, having to spend all day traipsing around the city to get to different venues sounded a bit annoying. However, with the notable exception of The Pigeon Detectives, the 2013 line up looked pretty strong so off I went.
Due to spending far too much time eating lunch and having to wait for my friend who was delayed by the EDL march (she wasn't on it or anything), we didn't get started until fairly late on. Leeds quartet Fun Adults got the day off to a promising start at The Brudenell Social Club, impressing with their mixture of ambient electronica and acoustic folk textures interspersed with stuttering beats. All very reminiscent of 'Smother'-era Wild Beasts which is obviously a good thing.
After lots of booze and a brief trip to see a friend's band in The Packhorse, we headed to Stylus at Leeds Uni to see Savages. The massively hyped London post-punk band were hampered by sound problems at the start but still delivered an intense set which was mainly comprised of songs from their debut album 'Silence Yourself'. Singer Jehnny Beth is a commanding presence on stage and the combination of an off-kilter but rock solid rhythm section and Gemma Thompson's slashing, dynamic guitar gives the music a Siouxsie and the Banshees-like ferocity. I'm still not sure how many truly great songs they have in their repertoire but they certainly seem pretty promising.
The headliners at Stylus were The Walkmen. First coming out of New York around the same time as The Strokes but sounding nothing like them, the five-piece have been one of my favourite bands for ages and didn't disappoint. The set was mainly drawn from their most recent two albums, 2010s 'Lisbon' and last year's career best 'Heaven', with the odd early classic like 'The Rat' thrown in for good measure; the sheer amount of amazing tracks they played only confirmed them as one of rock's most underrated acts.
After heading back to the Brudenell for more drinks (and the end of The Sunshine Underground who seemed alright as far as I can remember) I called it a night. In spite of all the walking and inconvenient racists, Live at Leeds was pretty good overall and I'll definitely try and get there earlier and see more bands next year provided they don't book the fucking Pigeon Detectives again.