Photos: Robert Workman
Salome, an excellent coda to the feast of desire, betrayal and revenge in Opera North's Fatal Passions season, still has the power to shock.  CATH ANNABEL revels in the lush intensity of the music and the drama.
Richard Strauss's treatment of Oscar Wilde's play Salome was as much a shocker in its day as its source material.  Opera North's concert staging allows the full power of the orchestral sound to be heard, whilst stripping away staging of the plot down to the bone – thus the Dance of the Seven Veils takes place off stage, leaving the lyrical sensuality of the score to tell the story (and our imagination to do its work).
With less to distract us visually, we need those core performances to match the power of the music.  And they do.  Oliver Johnston's Narraboth is a man hypnotised by desire. Heather Lowe's despairing Page warns him his obsessive gaze will have terrible consequences. It sets the mood before we even meet the object of that gaze.
Herod (Arnold Bezuyen in a compelling Opera North debut) mirrors Narraboth, but with the difference that Herod has power – and lots of it. Believing he is in control (even whilst Herodias, echoing Page, warns of the dire consequences if he continues his obsession with Salome), he oozes patrician confidence. That is until Salome reveals herself not merely as object of desire but as having implacable desires of her own.
Katarina Karnéus imbues Herodias with sensuality and deep insecurity, as Salome and Jokanaan both threaten her security.  Portrayed by Robert Hayward with prophetic gravitas – especially when we hear, but do not see him – Jokanaan becomes simply a man when faced with Salome, albeit a man who, unlike the others, is repelled rather than seduced.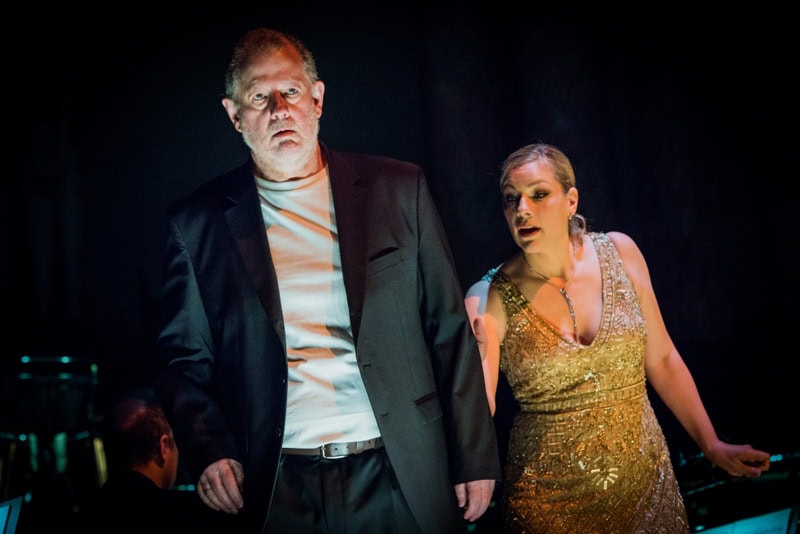 Jennifer Holloway's Salome is sublime.  She's played the role before (though this is her first for Opera North) and she conveys the complicated young woman she is portraying with great subtlety and skill.  The role is fascinating in terms of its sexual politics. Salome sees the power she has over men (both Narraboth and Herod are unable to resist looking at her) and despises them for their weakness; at the same time, she is furious and vengeful at Jokanaan's rejection.  Holloway is utterly convincing – by turns bored, petulant teenager, sensual seductress and implacable harpy – and her voice copes gloriously with the range.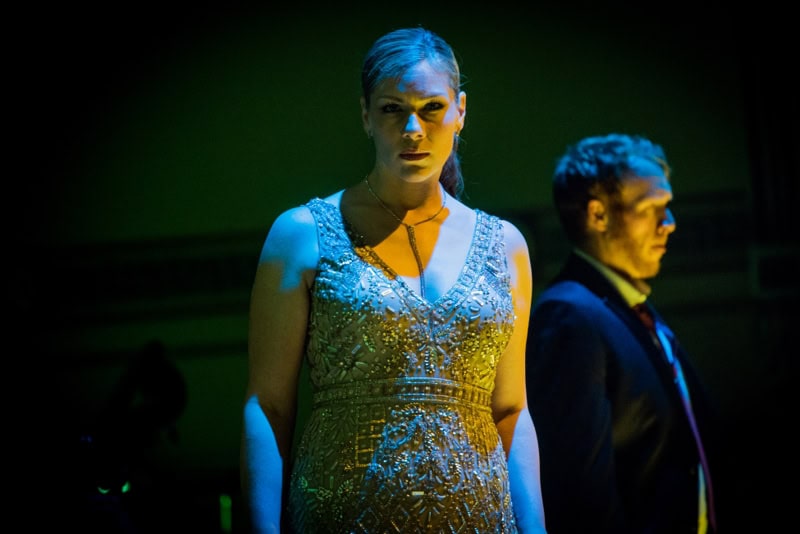 Rupert Christiansen, writing in the Daily Telegraph, claims 'the idea of a woman as a culpable sexual predator is not something the 'MeToo' generation wants to hear about.' The issues are rather more nuanced than that comment suggests – and so too is the role.  Salome is objectified, and she, in turn, objectifies. She can only turn that around because of Jokanaan's powerlessness. He is a prisoner whose life or death may be determined on a whim.
Her vengeance is shocking: her final soliloquy (addressed to Jokanaan's severed head) even more so. It is also nonetheless moving. There can be no happy endings for Salome, or for anyone for that matter.  Terrible things have been foretold, and terrible things must happen.
The sheer violent, overwhelming power of the music and these exemplary performances, makes gimmickry entirely unnecessary.  The lighting is used to good effect (blood red at the moment of Jokanaan's execution), but there are no costume changes and virtually no props.  Just Richard Strauss at his most potent and thrilling, and an anti-heroine who challenges stereotypes today as she always has.
Opera North presents Salome at Leeds Town Hall, 25 April, then on tour. Details here.