Anything Goes… James and Esther of OWT (Photos by Warehouse606)
JAMES SIMPSON and ESTHER MIGLIO mix the French love for quality fresh ingredients with a Yorkshire flair for invention. ARCHIE WHINCUP discovers that literally OWT can happen…
Nestled away in the heart of Kirkgate Market, squeezed between a fishmongers and a butchers, is OWT; a tiny restaurant with huge ambition.
Founders James Simpson and Esther Miglio conjure a dining experience from sheer culinary skill, DIY determination and a dash of punk attitude, kept on their toes by an ever-changing menu of spectacular meat, fish, and vegan dishes.
"We want to be creative, rather than have the same menu over and over again," says James when we meet. "It's only a small menu, but you can make sure the quality of what you are cooking is absolutely spot on."
Every recipe is designed to showcase the quality produce available around them in Kirkgate Market, a philosophy which draws inspiration from the French versions Esther grew up surrounded by in her youth.
"It just made sense. Loads of small restaurants and cafés in French markets do exactly what we do," she says. "James is a very creative chef, and we're very quickly inspired when we come to the market and are surrounded by amazing food."
"We come in every morning and have new ideas, craft a new menu and make it as attractive as we can. How we plan the menu is very messy process. Usually we just get really drunk on Saturday night and that's where the menus arise! It's scary and exciting!"
James and Esther may be the ones in the kitchen, but the food they create is testament to the hard work of the business community which surrounds them, Esther says. "Last week we had a battered Coley which we took to the fishmongers to show what we were doing. He was really happy!"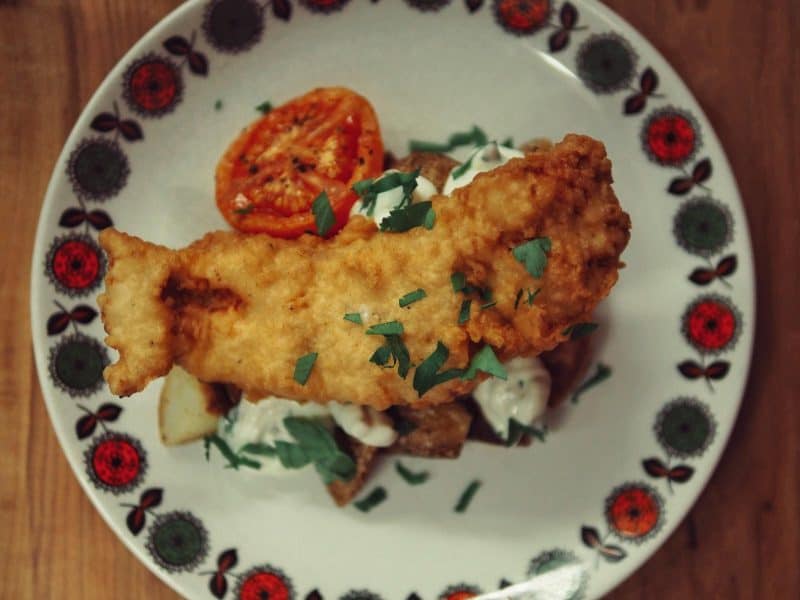 "We love that we get to make those traders proud of their produce because they should be proud. They are here every day at 6am – if it's raining, if it's cold – delivering the best quality food. We're just the people that add salt and pepper!"
The alternative music scene in Leeds has played its part too, says James, who, when he's not cooking, is a drummer with two local bands. "We wouldn't be able to do all of this without the support of our amazing friends in the music scene. They've helped us out so much, even fitting out the restaurant with vinyls on the walls."
"All the artwork has been done by our community. If we hadn't had that, it would have made the whole thing so much more difficult. A lot of our friends are vegans and vegetarians, and that's influenced how we approach our menu. We always offer a vegan main alongside a meat main."
The inspiration goes deeper. Music played in the restaurant is largely by, or suggested by, locals artists and bands. It's a relationship which goes from strength to strength. OWT plans serving food for the music scene which inspires them most to anyone attending the upcoming Noise-fest British Wildlife Festival.
There's something uplifting about such fresh, delicious food made with real love and dedication towards Leeds and its communities. With such exquisite quality food available on the city centre's doorstep, OWT deserves to be a lunchtime staple for years to come.
OWT is at Unit BS4B Row 1 in the Kirkgate Market, Leeds.
Architect Jenny Booth reviews Kirkgate Market for the Spaces&Places series.