OUT TODAY : Stunning Luxury by Snapped Ankles (All images courtesy of Leaf Label)
STUNNING LUXURY is the dystopian second coming of SNAPPED ANKLES; a concept album about the death of the neighbourhood you can dance to. Review: NEIL MUDD
If the synth-drenched punk-funk of 2017's Come Play the Trees was an infectious caterwaul with a degree in Can, Stunning Luxury finds the London-based eight-legged-grove–machine determined to surf the disjunctive.
Since Mark E Smith was consigned to that great industrial estate in the sky, who better to carve out a passage through our self-inflicted extinction moment than Snapped Ankles?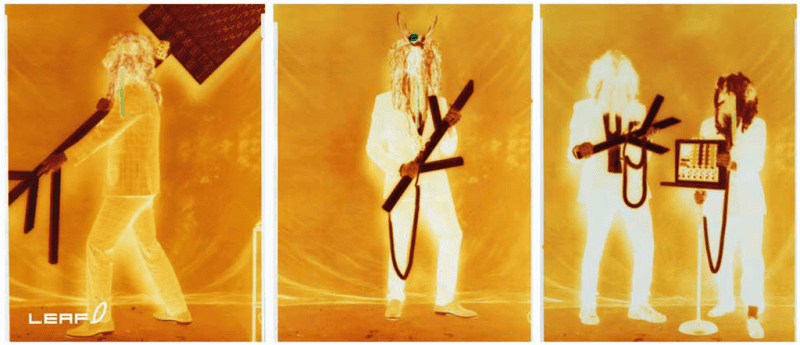 Jazz-inflected opener Pestisound (Moving Out) is a synth-meth wander through suburban dreams which stutters and hiccups like a broke transistor. Drawing on the late Bill Hicks, the crazed motorik fury of Tailpipe too soon gives way to the brilliant middle-east Nintendo call and response of Letter from Hampi Mountain.
In the press release for Stunning Luxury, Snapped Ankles quote writer J G Ballard whose future shock dissections came steeped in the 'mystery of multi-storey car parks, in the poetry of abandoned hotels.' It could be The World According to Snapped Ankles.
The central section of the album is perhaps its heart in more ways than one. Rechargeable's Joy Division-Talking Heads summit meeting frug recoils at the 'stunning luxury of converted factories;' there is a feeling of accepting despair when the 'mathematics of consumption converge' in the punky pop Delivery Van. The throwback techno of Three Steps to a Development, coupled with the storm warnings of Skirmish in the Suburbs, is a (meaty beaty) manifesto of sorts.
Dial the Rings on a Tree could be an outtake from the first LP were it not for an abrupt proggy left-turn late on. Drink and Glide is a soaring affirmation of what makes Snapped Ankles so bloody brilliant, yielding ground to the gently yearning Moogie Wonderland of closing track Dream and Formaldehyde.
Stunning Luxury may not deviate too widely from its predecessor, but then neither did one Ramones albums from another, and those are marvellous. There is however a clearer desire to communicate with this new album. Like Ballard, Snapped Ankles 'believe in the power of the imagination to remake the world, to release the truth within us…'
Snapped Ankles – Stunning Luxury (The Leaf Label) is released today on vinyl + CD and digital download. Independent retailers have exclusive neon pink vinyl copies while stocks last.