Rebel Rebel | Photos Courtesy of Pavilion
Pavilion's Art School for Rebel Girls is a fabulous mess, says VANESSA MUDD …
Teenage years are difficult. With creativity in schools under attack, the emotional and creative development opportunities for young people have narrowed even further.
For many girls it is especially difficult to interpret and fit into a world of contradictions from filtered selfies to the #MeToo campaign. Art School for Rebel Girls, run by arts charity Pavilion, seeks to tackle it head-on.
Girls aged 12 and 13 from Carr Manor and Leeds Co-operative Academy schools have worked alongside artists Sarah-Joy Ford and Soofiya and volunteers, developing their creativity and self-expression and culminating in an exhibition at Leeds University.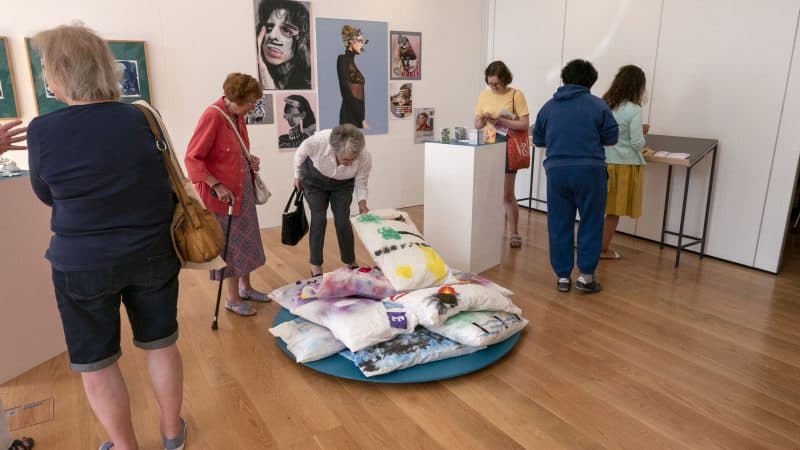 As you would expect, the art is wonderful and varied. The immediate impression one of celebration; of pride in being a girl. I'm treated to a quick tour by one of the students. She tells me her favourite piece to make was The Mess.
A central piece of abstract art, its vivid colours light up the room; it emits fun and teamwork. The home-made variety of 'art' tools are proudly displayed beside it. This theme of creative self-sufficiency is self-evident throughout the exhibition.
The girls have been actively encouraged to try out new techniques to express themselves across many different artistic forms. A fantastic video shows photography, every girl participating, posing with mini props as an experiment in portraying themselves. Opposite hangs an array of wire mobiles suggest faces; as the lighting shifts, so the shadow faces evolve and change.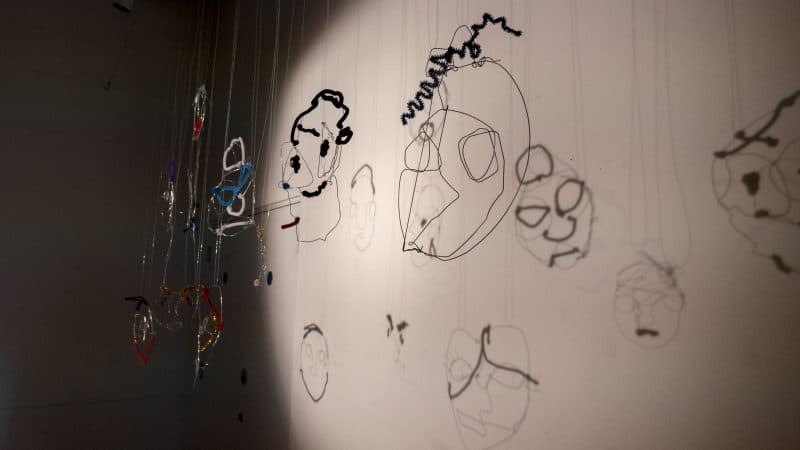 The central item in the main room is the banner which appropriately enough celebrates the Suffragette movement with its slogan "Rebel girls have rights." The necessity of this project is evident in the collage pieces which combine pictures from glossy magazines, distorting and manipulating these 'perfect' images.
Alongside the slogan posters, these are strong evidence of the power the Art School for Rebel Girls project has given its participants. I hope the girls maintain the confidence the experiencehas given them because so many of these pieces reflect an uncomfortable reality.
While it is only on for a brief spell, hopefully some pieces from the exhibition will be curated elsewhere in the city. It is clear that the girls involved have been profoundly affected. We are invited to take home the 'zines they created in which the messages are heart felt and emphasise why projects encouraging creativity are so vital.
What kind of world is it where young girls have to defend themselves wearing a scarf or their right to be untouched? These pieces are brave works of art and should make us feel uncomfortable. Be resilient. Mistakes are OK. Don't give up. Spend time with family. Be yourself. Each is a reminder of the struggles teenagers encounter, a reminder that we must guard against expectations denying them a choice, a reminder that art and rebellion go hand in hand.
Art School For Rebel Girls is a collaboration between Pavilion and Soroptimist International Leeds and supported by the University of Leeds. The exhibition is the Project Space in the School of Fine Art, University of Leeds until Saturday 18th August 2018.