FREEDOM STUDIOS latest site-specific production is an intimate new play which explores male friendship, masculinity, betrayal and the fragile nature of the male psyche. Director AISHA KHAN talks to RICHARD HORSMAN about a show that challenges the taboo of men expressing their feelings ..

Danny and Tommo have been friends since they were 8 years old. Now they're grown up; Danny's down in that London and Tommo is off work and back in his old bedroom. But Tommo's mum, Julie, is really worried about him, and Danny may be the only one who can help…
Freedom Studios do things differently. Previous shows have been staged in the basement of a derelict Marks and Spencer's, a chip shop, and ice cream van – and even the ladies' loo at Bradford Interchange.
The next show 'When We Were Brothers' takes place in the grungy setting of Bradford's Underground nightspot (and on tour). There's a bar. And the production takes a look at mental health issues for blokes who don't share their emotions that easily.
The CV's Richard Horsman caught up with Director Aisha Khan at rehearsals to find out more:
Writer Ben Tagoe has also given his thoughts about the play in a post for Freedom Studios' blog.
"Even though the play deals with difficult subject matter, I've really tried to make sure it isn't depressing. I wanted to write a play that celebrates male friendship and those brilliant relationships that lots of men have, where we basically tell our mates that we love them by insulting them and making fun of them.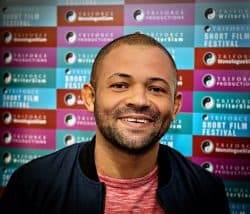 "I lost a good friend of mine to suicide when I was in my late twenties. Outwardly, my friend was confident, assertive and funny. However, since he died, I've spent a lot of time thinking about what was going through his head in those last few hours. I've also never been able to shake the image of his mum at the funeral.
"As I've gotten older, I've also started to realise just how common it is for men to express fear or sadness through anger or violence. I wanted to write a story about two friends who both learn to address that in themselves, but at different times and in different ways. For one of them, it's a matter of life or death."
When We Were Brothers runs from 22 April until 5 May at The Underground, Bradford

It's also staged as part of the Reveal Festival at Bolton Octagon on 27 and 26 April only

Production photography: Freedom Studios