Opera North's production of Puccini's La Bohème stars Eleazar Rodriguez and Lauren Fagan (Photos: Richard H. Smith)
Phyllida Lloyd's 1993 production of La Bohème was last seen here in 2014; its longevity is well deserved. A lively, colourful production, the action and costumes have been updated to the early '60s, with contrasting scenes set in a shabby garret room and on bustling city streets full of Christmas shoppers and busy cafes. Puccini called the sections of his opera 'tableaux' rather than acts, and this is conveyed visually through Anthony Ward's clever set designs.
La Bohème is a relatively early Puccini work, and took some time to reach the level of success we now associate with it. The very things that gradually won it a place in the hearts of audiences – its depiction of ordinary people struggling to make a living and its striking musical contrasts – were the reason it struggled initially, along with some puritanical responses to the 'loose morals' of the characters.  
One of the striking things about the opera is how stripped down the plot is. We are told about key milestones in the central love story – Rodolfo attempting to make Mimi leave him for someone wealthier by pretending he no longer loves her; Mimi's affair with a viscount – all of which are played out off stage. We get to see snapshots from their relationship only, mirrored in the much more obviously volatile relationship between Marcello and Musetta who hurl punches and insults as they break up and make up.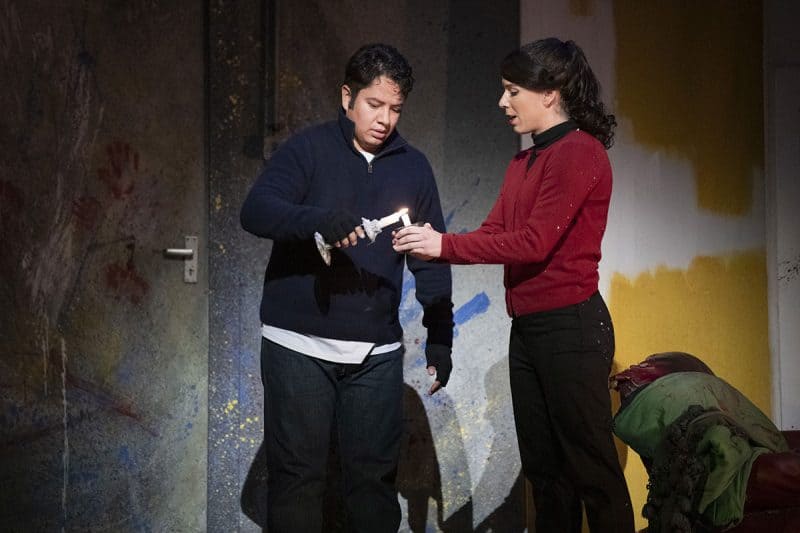 Eleazar Rodriguez as Rodolfo and Lauren Fagan as Mimì © Richard H. Smith
It's a performance full of contrasts. We open with the real 'bohemians' – an artist, a poet, a musician and a philosopher – who playfully bemoan their failures and poverty, whilst feeding Rodolfo's latest play into the stove to keep warm and bamboozling their landlord out of his overdue rent.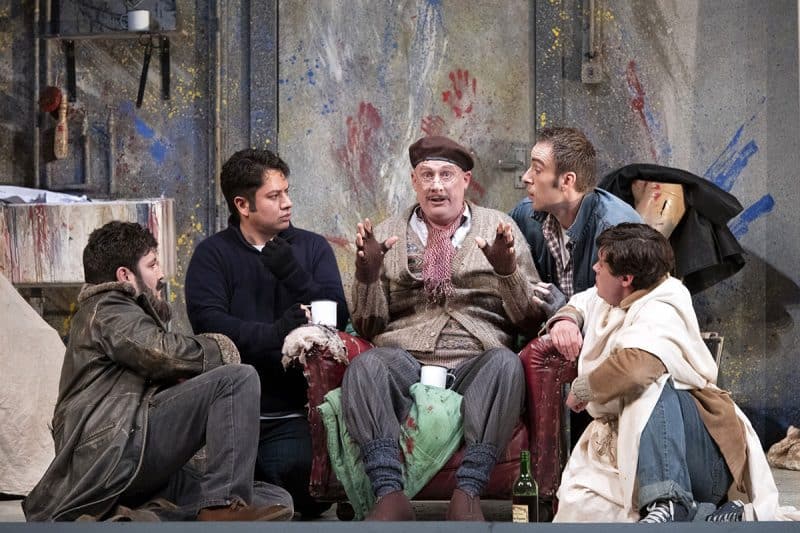 Emyr Wyn Jones as Colline, Eleazar Rodriguez as Rodolfo, Jeremy Peaker as Benoît, Yuriy Yurchuk as Marcello and Henry Neill as Schaunard (Photo: Richard H. Smith)
As they busily avoid the big questions about life and love and purpose, the music reflects the mood: light and quick and lively. Then Mimi knocks on the door to ask for a light for her candle and the mood changes; now lyrical and passionate as Mimi and Rodolfo fall immediately in love. The final act opens in similar vein, although the genuine emotions of Marcello and Rodolfo are closer to the surface and cut through the jests and play-acting, the contrast is even starker from the moment that Musetta, dressed in black, brings a dying Mimi to the door.
There are two casts for this revival production, and the majority – all of the leads in the opening night cast – are new to Opera North.
Schaunard the musician and Colline the philosopher are engagingly portrayed by Henry Neill and Emyr Wyn Jones respectively – they make the most of the comedic moments in the first and final acts, but also capture the dramatic change in mood in the last part of the opera as all frivolity is abandoned.
Marcello is played by Ukrainian baritone Yuriy Yurchuk. He carries the role with confidence, conviction and lean energy, and his singing is rich and powerful. Eleazar Rodriguez needed a bit more power as Rodolfo, as there were moments when the swell of the orchestra overwhelmed his voice, but he excelled in the more lyrical passages. 
Anush Hovhannisyan's warm soprano expresses Musetta's passionate and volatile nature beautifully, and has the emotional range to persuade us that, as Mimi says, and despite the accusations of her lover, she is both kind and good.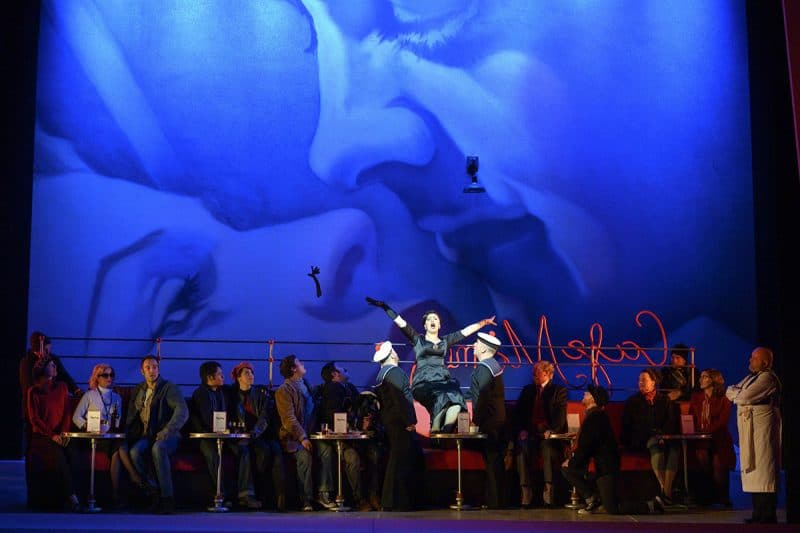 Anush Hovhannisyan as Musetta with the cast of La bohème (Photo: Richard H. Smith)
The role of Mimi presents a challenge for the performer, who must sing with real power whilst persuading the audience that she is sick and frail. Lauren Fagan rises to the occasion, her stunning voice soaring even over the most intense moments of the orchestral score, whilst portraying Mimi's emotional and physical vulnerability persuasively and poignantly.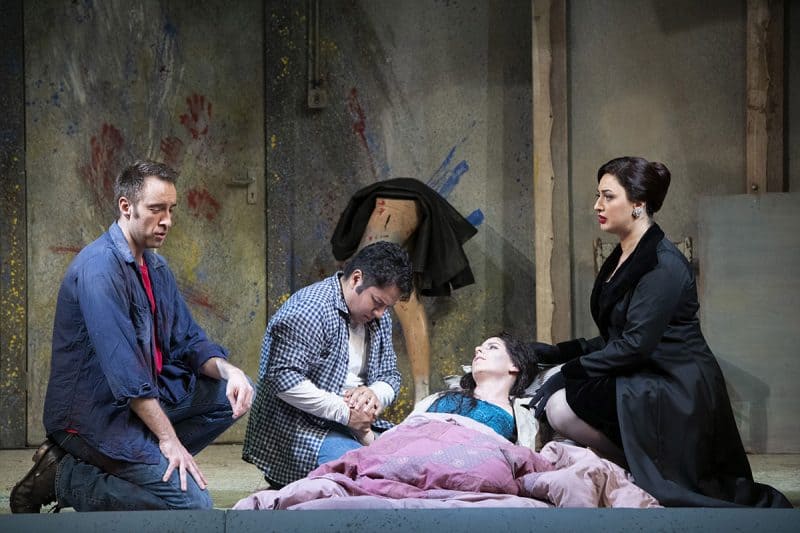 Yuriy Yurchuk as Marcello, Eleazar Rodriguez as Rodolfo, Lauren Fagan as Mimì and Anush Hovhannisyan as Musetta (Photo: Richard H. Smith)
Opera deals in heightened reality, but in Puccini's La Bohème we can nonetheless see ourselves (our younger selves, at least), facing up to responsibility, romance, love and loss. We might not be impoverished artists living in Parisian garrets, but there's something universal about these characters and their transition from frivolity to tragedy that resonates.
That – and of course the glorious music – is the secret of La Bohème.
Puccini's La Bohème is at Leeds Grand Theatre until 26 October, after which it goes on tour to Newcastle, Nottingham and Salford. Details here.