Leeds' own radical theatre RED LADDER chalks up half a century with a re-imagining of BERTOLT BRECHT'S classic MOTHER COURAGE AND HER CHILDREN at the Albion Electric Warehouse. RICHARD HORSMAN follows the van

If, as artistic director Rod Dixon points out, you're celebrating fifty years of "telling the stories of the working class, reflecting unheard voices on our stages and making theatre that is relevant to ordinary people", you need to do something special.
Red Ladder have certainly achieved that by bringing new life to a text first performed in 1941, a play reputedly written by Brecht in little over a month in an angry response to the Nazi invasion of Poland. It's been a standard of the classic repertoire ever since.
Amid sixteen years of war, Mother Courage the canteen woman is the living embodiment of the attitude 'keep calm, and carry on'.
Her trade is selling booze, belts, and bits of kit to soldiers from an old caravan. It's a living of sorts, but It's bleak. Very bleak. Let's just say it starts out as 'Mother Courage and her Children', but that title's way too long by the end of the evening.
It's gritty. There's some gritty language, and it's gritty underfoot in the warehouse, where the cart trundles in circles from scene to scene with the audience following promenade style behind. Sometimes there are benches, sometimes not.
The site specific staging gives this production a great deal of its impact; the final, harrowing scene takes place in front of what appears to be a real bricked-up fire exit. There's no way out for Courage, so she carries on yet again. There's even an actual red ladder used as part of the set. I'm pretty sure such details are not accidental.
If it all sounds pretty gloomy, it's worth noting that Brecht went out of his way to prevent audiences feeling empathy for the characters, as generations of literature students have learned from the pass notes.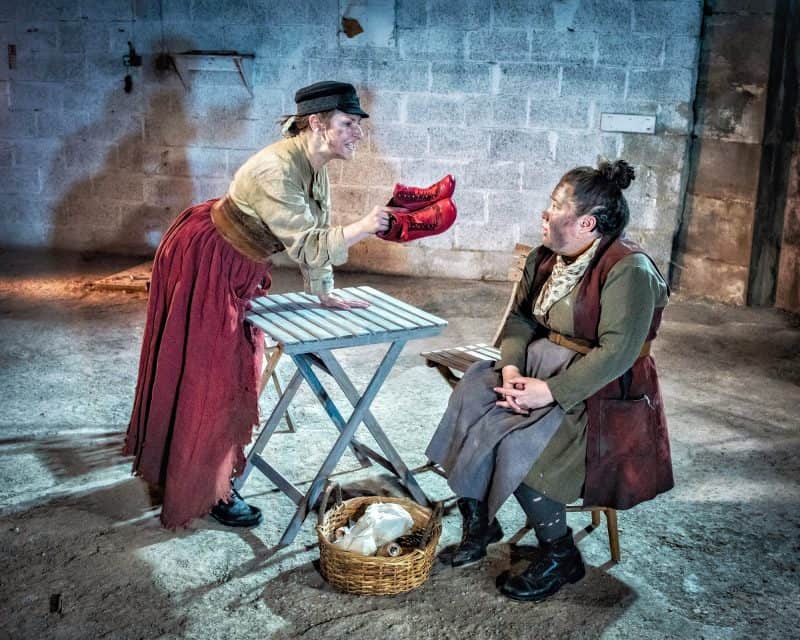 And yet .. there's a deep humanity to the character of Courage, and that's down to a truly remarkable performance from Pauline McLynn in the title role.
She's best known to audiences from performances in Father Ted and Shameless; but here she displays real range and subtlety. There's a lightness of touch in her bargaining for the sale of a capon on the battlefield, and a practiced if fragile toughness when required in facing up to authority.
There's a tenderness beneath the brusque facade in her relationship with mute daughter Kattrin, played by Bea Webster, here making her professional debut as one of the first graduates from the UK's only performance degree for d/Deaf performers at Royal Conservatoire of Scotland.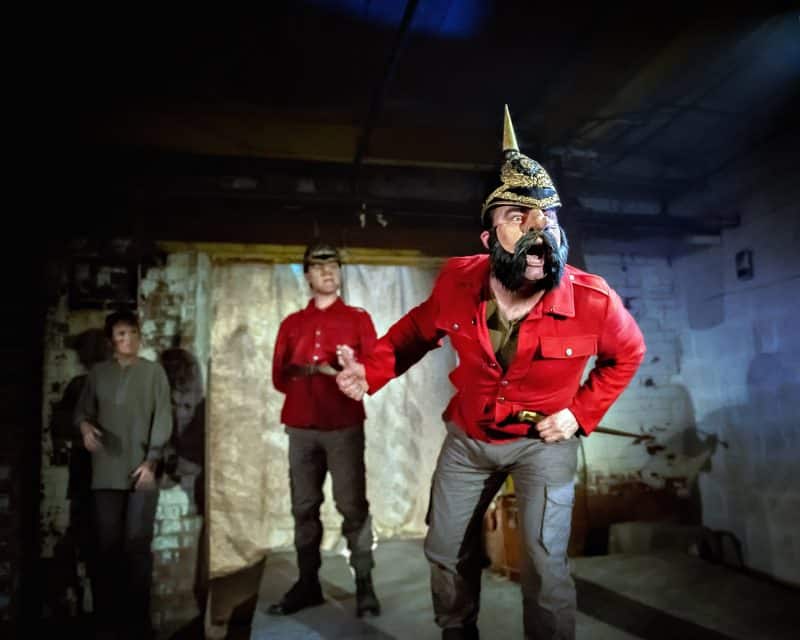 Sara Parks' design incorporates many grotesque cartoonish elements; military characters always appear masked except for Courage's son Eilif (Levi Payne).
The cast is completed with Becky Barry (Farmer's Wife/Soldier/Peasant), Luke Dickson (The Cook/Recruiting Officer/Old Colonel), T.J. Holmes (The Chaplain), Matthew Lewney (Swiss Cheese), Beccy Owen (Old Soldier, Peasant, Old Woman) and Kathleen Yore (Yvette, The General). There's also a community chorus moving and singing among and behind the audience, putting observers in the centre of the action.
Music is a big part of the production, with Boff Whalley re-scoring Brecht's lyrics to great effect, especially in the barnstorming number 'Fraternising' which celebrates the debauchery and pleasure in the moment indulged in by troops and civilians alike during brief respites from the grim realities of war.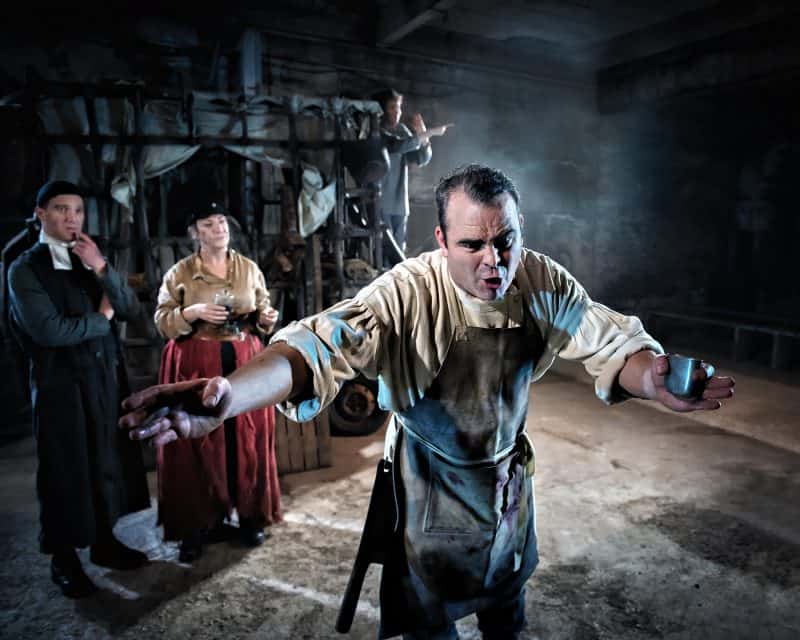 As to the message, and the reason for choosing this show to mark Red Ladder's anniversary .. some will see parallels between 16 years of war, and the continuing impacts of austerity.
Beyond that, Rod Dixon says he hopes the production addresses urgent questions surrounding the stigma and fear of immigration and the effects of war, and echoing the modern-day refugee's universal displacement.
"To me, it's the perfect play for our troubled times. Brecht is one of the most radical and experimental of playwrights from the last century and my ambition is to use this brilliant piece of theatre to counter the narrative of the right-wing media that refugees from 'there' do not need to be 'here'."
Mother Courage and her Children is staged at the Albion Electric Warehouse, South Accommodation Road, Leeds LS10 1PR until 20 October, with very limited ticket availability for many dates.
Photography: Anthony Robling