With references to the Cookridge tower, the Three Legs and the bus to Beeston RICHARD HORSMAN feels sorry for any London reviewer trying to make sense of SEARCHING FOR THE HEART OF LEEDS at the newly-retro-named LEEDS PLAYHOUSE.
It's impossible to separate last night's performance of ".. Heart of Leeds" from announcements made earlier in the day on the theatre's future.
In adopting the name Leeds Playhouse theatre bosses are evoking the spirit of the twelve hundred people who thronged Leeds Town Hall on 5 May 1968 calling for a producing theatre in the city … because, in the words of writer Keith Waterhouse at that meeting,
"a city without a theatre is a city without a heart".

By the time you read this the final performance will have taken place in the Quarry Theatre prior to a year long refub, so it's no spoiler to say the concluding image of the show, in which an enigmatic and otherworldly owd lad reveals his true identity as the spirit of an icon, is a tear-jerking moment of pure theatricality.
If you know Leeds. that is. Otherwise you'll be baffled by the audience reaction.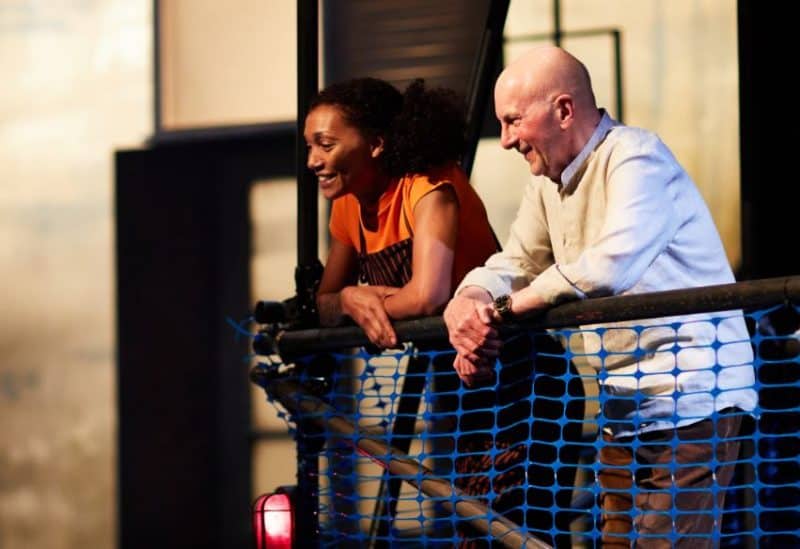 The performance leading up to the big finish is probably best described as a heartfelt celebration of belonging.
Not so much breaking as taking a sledgehammer to the fourth wall, a meta-story revolves round a narrator who's cajoled by her mum to join the Playhouse's cast of community volunteers making a show about the city, but is nervous of performing.
Instead she's sent to find stories to act out from people who live in Leeds. What follows is a series of scenes in which people she meets tell their own tales, sometimes direct to the audience and sometimes dramatised.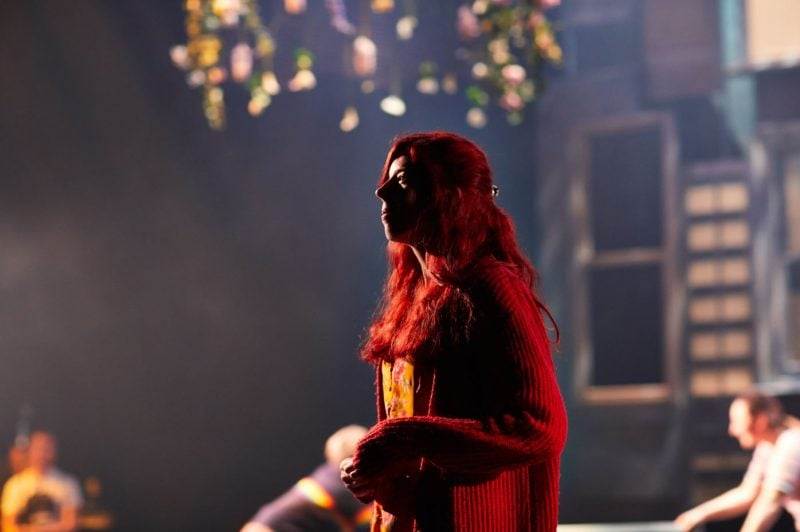 Those of a gammon mindset should look away now as Mark Catley's script ticks off an inventory of inclusivity featuring refugees, graffiti artists, wheelchair users, a gay boy from Bramley, Big Issue sellers, Carnival dancers and (of course) a female Vietnamese weightlifter all brought together by a sense of place – that place being Leeds.
"'Harrogate's got Betty's – but we've got diversity".
And it's a tribute to work over many seasons at the Playhouse that the involvement of a deaf character signing her performance live is now so commonplace on the Quarry stage as to pass without comment.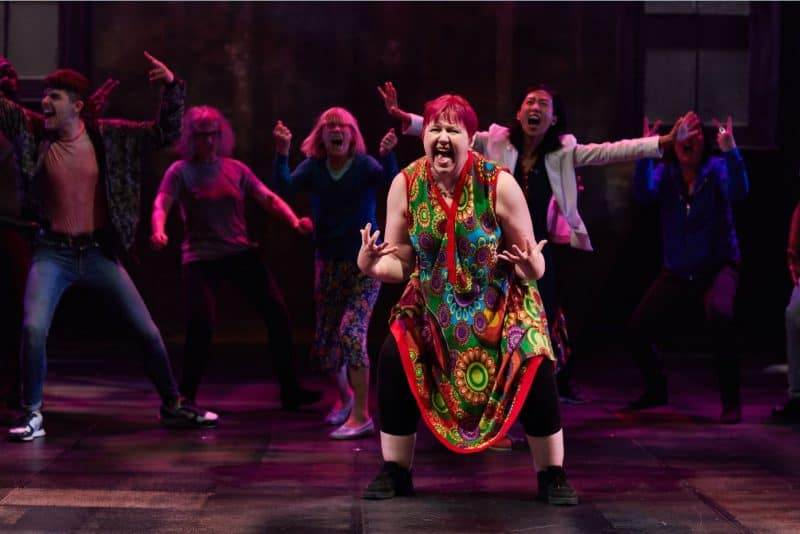 It's by no means all joyful memories, though.
Interwoven with an upbeat scene celebrating the golden days of the Mecca ballroom is a chilling reminder of the widespread workplace sexism that helped provide cover for the Mecca's most notorious former DJ, as a 15 year old office junior is pawed by her married boss.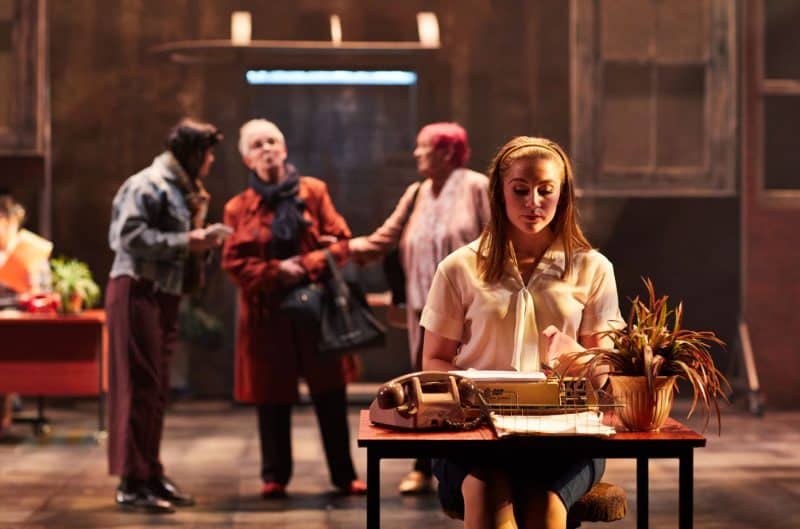 There are also references to the Yorkshire Ripper, to date rape in the hedonistic student party culture and to the city's current transport ills
"this is the fifth time a tram 'asn't 'appened"
… being a line that stopped the show with spontaneous applause.
There's some cracking music from a house band covering Leeds artists from Marc Almond to Chumbawumba, from Kaiser Chiefs to Corinne Bailey Rae in a celebration of the city's contribution to pop culture .. although in another cutting meta-reference one character remarks archly to the audience
"you realise they're laughing their arses off in Manchester at this".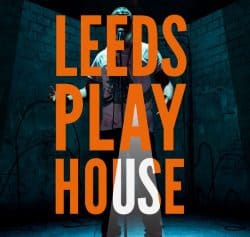 It's a community show. Of course it's patchy. But there are enough moments of joy, of poignant emotion, of shared insider knowledge to bring a lump to the throat. It's about us. It puts 'us' in the spotlight.
As does the new Leeds Playhouse logo. It took me a few moments to spot that.
Back to yesterday's big announcement, and what's in a name? The justification for the change, according to Artistic Director James Brining, is that
"people keep asking me where we are".
Whereas Leeds has growing recognition as a city in its own right, with instant recognition within the UK, and Yorkshire is of course a global brand thanks to yellow bikes and famous Tykes,  West Yorkshire is less well appreciated, even by people who live here, though maybe not as unloved as Humberside.
Fair enough. I don't think I've ever told someone "I'm from West Yorkshire".
It should be remembered, however, that the Playhouse wouldn't be there at all without a final act of generosity from the old West Yorkshire County Council, abolished in 1986, which chose to spend its last reserves on a project to build the new theatre – because Leeds University wanted their sports hall back, the temporary space borrowed by the Playhouse pioneers.
The new purpose built complex was named "The West Yorkshire Playhouse" when it opened in 1990 to recognise that significant contribution.
I'm sure the Playhouse will be quick to nudge me if I ever forget to call their exciting new underground performance space "The Bramall Rock Void" as a thank you to the sponsor who is making the conversion possible. "The Void" won't do.
It would be good to think the earlier civic investment could still be remembered with pride and affection somewhere in the new complex, even if no longer as prominently over the fly tower.
Meanwhile the creative team have announced an exciting new season of smaller scale performances coming up during the coming year to be staged in a 350-seat pop up auditorium which will be created in what is currently a scenery dock.
This means performance will continue in the building throughout the year of building work, although carefully timed to avoid intrusion by, say, jackhammers into Hamlet.
Highlights of that season include, yes, Hamlet with a female lead, a revivial of Barry Hines' Barnsley boy and bird saga Kes, another revival with contemporary relevance staging David Greig's exploration of identity in Europe and a joint venture between the Playhouse and Opera North, Not Such Quiet Girls telling the story of WW1's women ambulance drivers.
There'll be a series of radio plays – Airplays – performed live and also broadcast on BBC Radio Leeds, and a festive special with A Christmas Carol happening at the end of the year.
Full details of the new season are on the new Leeds Playhouse Website, as is this brilliant promotional video
Production photography: David Lindsay