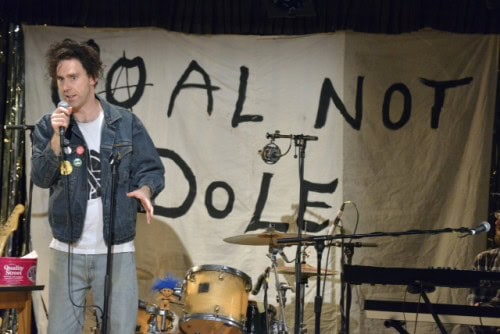 Local author (and self-confessed demagogue) Mick McCann almost reviews My Generation and incidentally comes out as a bit of a fanboy of WYP's new(ish) Artistic Director, James Brining …
I do realise that in the crap tradition of regional press I should be straight into telling you about the play, not being at all critical and saying how lovely it all was. I'm not doing that, although I might actually talk about My Generation in the last couple of paras. Live with it, jump to the end of the 'review' or click away from here now.
I've been wittering on and bitching for the last 20 odd years about the redundancy and cultural fascism of the 'high arts' – opera, ballet, that Shaky fella and classical music. I castigate the patronising, anti-democratic and unrepresentative (of the huge majority of our nation) funding model of the Arts Council, propping up rotting arts with the moribund justification that it's just in case 'normal' people want to see it – which, by and large, we don't – or that it's mystically 'important' but only these financial gate keepers and their mates are smart enough to know why.
Sometimes I tag theatre onto that list but I've recently realised that I used to do it with more gusto. Slowly accepting that I had no beef with community theatre or Theatre-in-Education, my main criticism of theatre was that across the nation it tends to be a homogeneous mass spewing out the same old trodden-in-shite, with little reference to its place or the wider 'local' community.
Happily there's a new Sheriff in town – well, at the WYP – who agrees with me about the positioning of regional theatre – that it should reflect its 'local community' (in the case of the WYP around 3 million people) and find its USP, its unique voice, in that which makes West Yorkshire special and interesting. The newish artistic director (James Brining) is doing just that and My Generation, set in Leeds over 30-40 years, is a product of his philosophy. I love him and his philosophy with a passion; we are special as a region and who else is going to tell the world if we don't?
'YES.' I hear you shout, 'HE'S ACTUALLY MENTIONED THE PLAY.' I think certain members of the audience (me included, and almost certainly too the editor of The CultureVulture) came to play with pre-conceptions, expecting dour, slightly naïve, '70s/'80s politics (what total twaddle! Ed.) We expected a worthy lecture. This meant that I was confused (ok, ok, even more confused than normal) and it took a while to realise that it was laced with humour and piss-taking. Laughter is under-rated, the ability to make people laugh a gift, and by-eck is Alice Nutter gifted. The play was littered with proper belly laughs, although most of the early ones went over my head because I was in lecture mode – my fault not the play's.
The first half ('70s/'80s) felt confused in places but the performance of the actor playing the dad (Craig Conway) was fabulous. Although it says little about the socio-political themes of the present or our recent past that most of you won't already know (or could easily find out), it was extremely entertaining, pacey and dynamic. You could argue that both halves were over long but I struggle sitting still for very long and at no point during the performance did I check my phone for the time; too much happening, it was a splendid spectacle.
The greatest success of the production was in making me want to punch the radical feminist (similar to the '70s/'80s when I classified myself as a feminist) (The Culture Vulture does not condone such behaviour, Ed) and it took me a while to grasp that this may have been intentional. The swearing was well delivered, well positioned, necessary and relevant. The live band was marvellous and cleverly handled, bringing a relaxed intimacy between audience and production.
Anna Morrissey, the 'movement director', deserves a special mention. The set pieces and dance routines were stunning. From a slightly techy perspective I suspect she was also involved in choreographing the frequent scene changes which were smooth as a baby's bottom and a work of art in their own right.
Alice Nutter took on almost 40 years of history and condensed it into two and a half hours of theatre, an extremely brave and bold project. It wasn't just humour; a more introspective section towards the end of the show had me wiping tears, Alice is certainly an extremely talented writer.
Now the WYP needs to balance its books and most people don't want to see ground-breaking, edgy, original works – they want to see The Phantom of The Opera or the 700th production of Annie because it's easy like soap opera. James Brining is taking a risk by fighting the good fight and we should support him in his quest to create a new tradition at West Yorkshire theatre. So buy a ticket. The other reason I'd suggest you buy a ticket is that, despite its issues, My Generation is an extremely entertaining and watchable piece of theatre with some very special moments, and you really should see it.