Actor and director Barrie Rutter – photo: Chris Pepper
Actor and director BARRIE RUTTER talks to ANNA CALE about his fascinating career, and the importance of bringing theatre to the heart of northern communities.
When I meet Barrie Rutter for a coffee in Halifax, he's in a reflective mood. The renowned actor, director and former Artistic Director of touring theatre company Northern Broadsides is perhaps known for his forthright views, but I was keen to hear his stories. The conversation didn't disappoint.
Born in 1946, a self-proclaimed 'fish dock lad from Hull', Rutter's fascinating and varied career has seen him perform everything from classical theatre to sitcom.
Like a number of people with no background in the industry or obvious route in, Rutter got into acting through the support of a school drama teacher, who saw potential in him that other teachers didn't, and encouraged him to stay on, "There was some dismay when I scraped five O levels and managed to get back to do A levels amongst certain staff."
He had already emerged as a bit of a star of the drama society at that point, and his teacher suggested he should join the National Youth Theatre. Rutter was successful and went on to play Macbeth in their 1964 production.
The next step was applying to drama school. Having done one season with the National Youth Theatre, Rutter knew he didn't want to stay on in London, so he applied to provincial drama schools north of the capital. He chose Glasgow, "I got two letters of acceptance on the same day, I happened to open theirs first, but also there was a trunk service between Hull and Glasgow, so I could get there for 10 bob on a lorry instead of £3.50 via Leeds on a train, so I just chose Glasgow out of serendipity."
He didn't stay long, however, instead leaving to do a European tour of David Halliwell's play Little Malcolm and His Struggle Against the Eunuchs. That, and another season at the National Youth Theatre, were his springboard into professional acting.
Rutter acknowledges that his access to drama school would be rare these days, with the cost of attending closing off routes for young people from a working class background, "I'm of the golden generation who got everything paid for…it's the bank of mam and dad a lot more now."
His big break came in 1968. Peter Terson followed the massive success of 1967's National Youth Theatre production of his play Zigger Zagger with The Apprentices, which was written for Rutter. He remembers receiving telegrams from multiple agents the morning after its first performance, and lots of offers of work, including film and television roles. Instead, he chose to go to Nottingham Playhouse, "I went away quietly to Nottingham to learn my trade as it were, instead of cashing in on the publicity. In a way things could have been different, but I've always been a stage animal, I just loved the stage."
Being on the stage has defined Rutter's career, "It's the best drug in the world, its just wonderful. I've always felt comfortable on a stage." He's known that since his first school production aged 16, it was instinctive. The importance of being with an audience is paramount, "You can't upstage me, because I'll work my way down stage and talk to the audience. It's all about that interaction for me."
After a number of years working in theatre, and a smattering of television and film appearances, including the Leeds-based sitcom Queenie's Castle with Diana Dors in the early 1970s, Rutter had an artistic encounter that would lead to an important shift in his theatre career.
In the 1980s, Rutter met the Leeds born poet and playwright Tony Harrison. He was working with the National Theatre at the time, "Tony met me and said, 'I've just been spending 10 years translating The Oresteia for voices like yours.'"
Rutter continues, "He wrote it for a bunch of northerners, because ancient Greek is much more like guttural Yorkshire than any other language. The millstone and granite vowels of Yorkshire are what ancient Greek is composed of, they are the perfect sound to come out of a mask."
They bonded straight away, "Within 10 minutes we were talking about rugby league…and so I knew he was a kindred spirit." Harrison started writing for Rutter's voice, and their work together included productions within the ruins at Delphi and on former gladiatorial killing fields in Austria, "It was a meeting of two minds, a marriage of true performing affability, friendship and creativity."
That theme of performing in different spaces came to define Rutter's approach to theatre. He describes it as a 'happy accident'. Working with Harrison, who wrote for the specific place, was Rutter's turning point, "That was my road to Damascus in terms of doing classical work, with an all-northern company in places that weren't necessarily theatres, which I christened 'Non-Velvet', and that's how it started off."
The idea for Northern Broadsides, the theatre company Rutter founded in 1992, came from his work with Harrison, "I got the idea doing a play in Bradford, where the natural voice of the play met its natural audience at Salts Mill, and that lit a spark."
Northern Broadsides was founded on that idea of staging productions with an all northern cast, and taking the work to northern audiences in surroundings familiar to them. They first came together to perform Richard III, which opened at a converted boatshed in Hull, then toured spaces such as the Piece Hall in Halifax and the West Yorkshire Transport Museum in Bradford. The company now mixes classical plays and new works. Rutter resigned as Artistic Director in 2018, citing frustrations over Arts Council funding.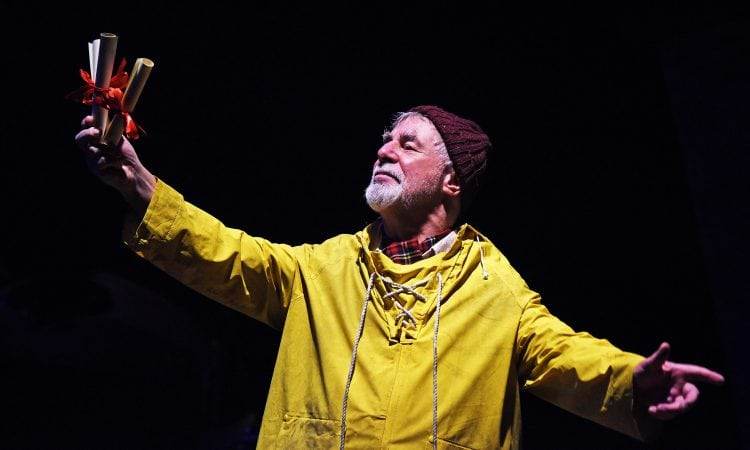 Rutter's other work as a director has included the 2009 production of Othello starring Lenny Henry in his first dramatic stage role, and Two Noble Kinsmen at Shakespeare's Globe. Rutter feels his experience as an actor helps to inform his directing, meaning he reaches a high level of success with actors, "I'm certain of it, because I want every actor to be as good as I'd want myself to be. To have as much generosity on stage, doing what's right for them, to show off."
He also acknowledges that his background brings a different perspective to his work, and sees a lot of benefit to be gained from his "Working class pragmatism about the job," which he feels helps to avoid artistic indulgence.
Although he has always enjoyed the 'different rhythms' of acting for the screen or for radio, he has always come back to theatre and working on the stage. When we meet, he's still coming to terms with his very recent diagnosis of throat cancer. He very quickly went public with the information to, in his words, 'control the news.' We discussed the effects of that diagnosis on his work and his plans. Inevitably he's cancelled everything in his work diary while he waits to start treatment.
As we finish our conversation, we chat about the positive effect that theatre and the arts can have on young people, particularly those who might struggle to access it. Rutter's continued passion for theatre, and making it available to everyone, has certainly created a remarkable legacy in that space.