Black Teeth and a Brilliant Smile by Freedom Studios is directed by Kash Arshad and stars Emily Spowage as Andrea Dunbar and Lucy Hird as young Andrea with Claire-Marie Seddon, Laura Lindsay-Alam and Balvinder Sopal as supporting cast.. Photo by Tim Smith
Black Teeth and a Brilliant Smile at The Ambassador, Bradford. Words CATHERINE SIMES.
There are no jobs for writers in Bradford. You have to be realistic.
Black Teeth and a Brilliant Smile, a play based on the life and work of Bradford playwright Andrea Dunbar, began its sell-out tour this week.
Watching the film Rita, Sue and Bob Too is a rite of passage where I'm from. I went to the same school as playwright Andrea Dunbar. We don't have that many famous alumni from Buttershaw Upper so we make the most of them. But I never knew much about Andrea's life. That changed when I read Adelle Stripe's extraordinary novel, 'Black Teeth and a Brilliant Smile' inspired by Andrea's life and work. How did a girl from Buttershaw estate have a play commissioned in London's West End before she was even 20 years old?
I've passed the novel around various friends and family members, some have found it laugh-out-loud funny, reminiscent of working class, Bradford childhoods on council estates and at upper schools. For some it was too close to home. Andrea is famously quoted as saying "You write what's said. You don't lie. Or say it didn't happen when it did all the time …" I never knew that Andrea hated the ending of Rita, Sue and Bob Too. That it wasn't her ending at all.
Adapted for the stage by Lisa Holdsworth, Black Teeth and a Brilliant Smile premiered in The Ambassador pub in Bradford this week. The play is a fictionalised version of Andrea's life based on letters, scripts, interviews and hearsay. Directed by Kash Arshad of Freedom Studios, a very conscious decision was taken to perform the play in an environment that would be relaxed and unstuffy. The pub provided the perfect backdrop – have a drink, wait for something to happen and watch the drama unfold.
An all-female cast was again a deliberate decision to concentrate on Andrea's voice and tell the story from her point of view. Adult Andrea, beautifully played by Emily Spowage also carried the 'male roles', giving voice to Andrea's frustrations and anger at the men who'd by turns tried to impress her, scare her, intimidate her. Adult Andrea's impression of theatre director Max was a treat, puncturing his pomposity and laughing at him in all the right places.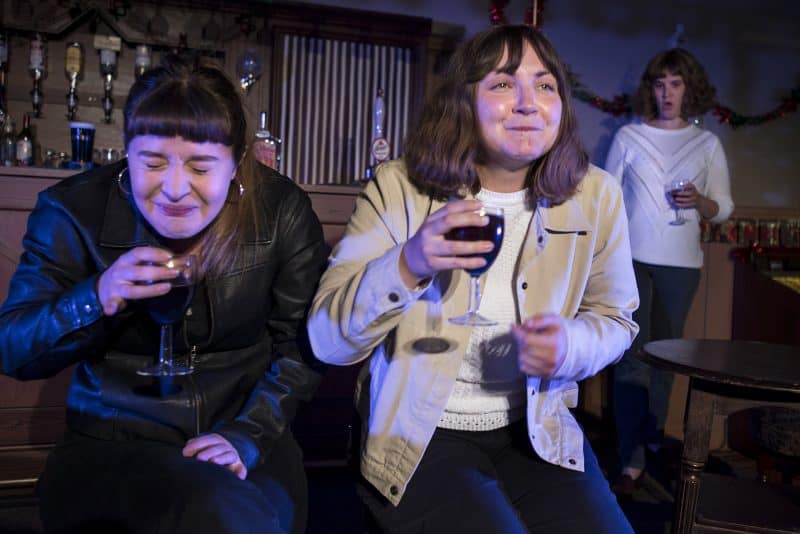 The words fly from the actors' mouths, dragging you back to school days, the 1980s, arguments between teenagers in the street. Nasty and rude, angry, half-meant and funny; this didn't quite translate in London theatre land. For Andrea, London was another world. Yet she was strong enough to hold her own and fight for her words to be heard unadulterated. It takes a lot to impress a Bradford lass and young Andrea's response to her first tour of the theatre "Yeah, it's nice" is my level of cultural appreciation. Lucy Hird's portrayal of young Andrea had just the right amount of cockiness, sulkiness and determination not to show anyone you might be impressed.
We loved Rita, Sue and Bob Too because it was so rare that you saw a place like Buttershaw on screen. It's still rare to hear a strong Yorkshire accent on tv. What I find remarkable is that Andrea had such confidence that her play would be performed in London. Why would it not be? Andrea's great talent for dialogue and telling working class stories is something that both Adelle and Lisa have inherited and it made for a great night of theatre.
During the applause for the all-female cast I couldn't believe that only five women had played all the roles. A really impressive feat of acting and staging.
This was a brilliant piece of theatre and Bradford history. Of an incredible working class talent that wasn't protected enough and tragically died far too young. Of the shit that young women have to go through. Of someone's life and struggles reduced to how effectively they could be told on stage. As Andrea says in the play, "When you haven't got another idea in your head, they'll send you back". But Andrea was always looking to get back to Buttershaw, where she knew and felt safe. It was a place where "We look after each other and we have a laugh. Every day I go out I hear something that is interesting. There aren't many other places you could say that about."
Black Teeth and A Brilliant Smile continues its sold-out run at The Ambassador until 8 June, then continues at venues across the north until 30 June 2019.