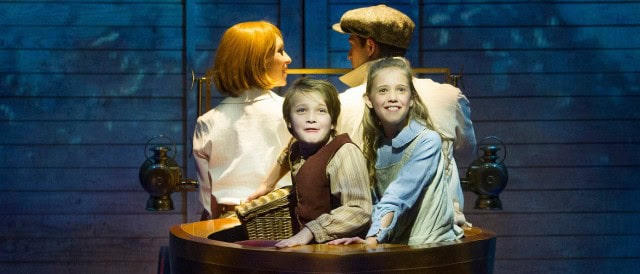 Amanda Wignall reviews: "THE MOST FANTASMAGORICAL STAGE MUSICAL IN THE HISTORY OF EVERYTHING" screams the posters for Chitty Chitty Bang Bang and it is impossible to dispute that claim. Here we have the familiar story of an eccentric widowed father, a sinister child-catcher and a truly magical car.
While there are some slight differences from the classic movie it is in fact (dare I say) as good if not better. Chitty is a clapped out rusty old race car that gets some much needed tlc and a facelift from the slightly chaotic but utterly adorable widowed inventor Caractacus Potts (Jon Robyns). This appears to breathe life into Chitty in more ways than one. With his two devoted children and their brilliantly crackpot grandpa in tow the adventure begins. Along the way we meet the eloquent headstrong tomboy Truly Scrumptious (Amy Griffiths).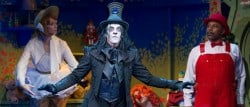 Added to the mix is a pair of bumbling spies who are on a mission from the infantile Baron Bomburst of Vulgaria to track down the legendary car. The Baron and the manically child-phobic Baroness provide real comic moments delivered with ease. But the character we were all awaiting with thrilling anticipation was The Child Catcher.
With his cat-like grace, stirring movements and menacing elegance, Stephen Mathews is beyond measure in this chilling role although in fairness the whole cast is beautifully faultless throughout the show. Even the child actors playing Jeremy and Jemima are solid and engaging in their performances without that over top irritating gusto you get from many stage school kids.
There is no skimping on the much-loved songs we all know and love. From the sweet gentle Hushaby Mountain, the ridiculously energetic Me Ol Bamboo to the breath taking Doll On A Music Box and of course the show stopping Chitty Chitty Bang Bang. You cannot help but tap your foot, nod your head and sing along.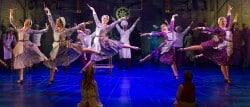 This musical extravaganza constantly delights with its incredible set design, sharp graphics and seamless special effects with all three coming together in probably one of the most spectacular stage events I have personally witnessed: CHITTY CHITTY BANG BANG REALLY FLIES!! She really is the ultimate star of the production and I defy anyone to see this and not be completely blown away by the visual feast before your eyes. It really is something to behold and had my eight year old daughter gasping wide eyed "Mum is the car really flying"!
Chitty is the gold standard in family entertainment and at two hours long you should buckle down for the ultimate ride. Giving you thrills, laughs and genuine jaw dropping scenes you will be hard pressed not to agree with the loud posters for Chitty,that it truly is: "THE MOST FANTASMAGORICAL STAGE MUSICAL IN THE HISTORY OF EVERYTHING".
Reviewed by Amanda Wignall on 10 December 2015 at West Yorkshire Playhouse where it runs until 30 January 2016.