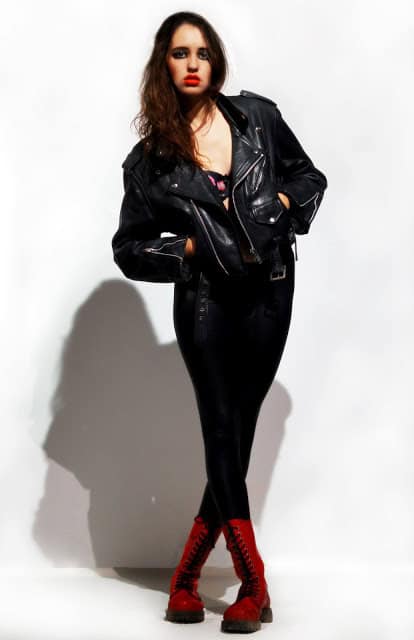 "East London Hipster meets Dorian Gray, yeah?" Well, kind of: Sean McGeady (@MacTingz) reviews The Hungry Bitches production of Facehunters at Stage@Leeds …
After a successful year, including a triumphant run at the Edinburgh Fringe, Leeds producers The Hungry Bitches bring their acclaimed show back to the Stage at Leeds Theatre for 2013 to remind the city what it's been missing.
Billed as a marriage between the notorious east London Hipster culture and Oscar Wilde's 'The Picture of Dorian Gray', Facehunters is an ambitious musical production aiming to question our generation's narcissistic appointment of fashion and personal identity as the be all and end all of our youth.
A certain level of esoteric knowledge is required to truly understand the varying levels of parody at work within Facehunters. Without this knowledge, the show flounders somewhere between a drug-fuelled lecture on morality and a public information film warning reserved Northerners against the colourful perils of The South.
My simple Northern mind — interested only in tea, privets and precipitation — can scarcely comprehend that characters as grotesque as those portrayed in Facehunters can exist in any mortal realm, be it in east London or otherwise. Nevertheless, there is fun to be had with the show even without the knowledge required to understand how cleverly it may or may not be satirizing its subject.
Comic relief comes from Rose Brown, whose outrageous assertions are enough to lighten the show during its dramatic moments without undermining its premise. It's clear these comedic instances have been carefully considered and inserted into the show to help retain the playful edge it comes terrifically close to losing.
The show contains an interesting selection of songs, ranging from well-crafted and genuinely emotional to lazy satirical attempts. Though despite some trifling tangents and languid lyrics, the cast ensures each song is delivered with enough energy to elevate the show's lacklustre moments beyond their worth.
Leads Laura Johnson, Charlotte Ward and Laurence Schuman give powerful performances as Katherine, Sweetie and Sam, respectively. But unfortunately the entirely consistent cast is let down by material that isn't consistently tight.
If there is a marriage between the show's settings and inspirations, it is tired and desperately imbalanced. Facehunters displays no semblance of gothic or Faustian themes. Rather, the show meanders through east London exhibiting debatable attitudes regarding drugs and social media, before borrowing Oscar Wilde's famous supernatural twist in a transparent attempt to shake things up.
Though some delicate foreshadowing gives the audience reason to question key characters midway through the show, the Dorian twist still comes as an unpleasant surprise, and feels clunky and overwrought.
Despite its imbalanced tones, plot holes and nonsensical twist, Facehunters remains a fun show with a talented cast. The problem is that it sets out to satirize a defined section of our generation for taking itself too seriously, and by its end commits that same crime, tumbling from an interesting discussion on drugs, vanity and social media obsession to a mawkish statement on ill-fated compassion.
Hipster culture probably won't survive much longer. These brief and conceited crazes are usually exhausted within years before being rebranded or rebuilt. But perhaps if The Hungry Bitches pledge their souls to this review, my words will age rather than theirs, leaving Facehunters as a timeless artistic statement and this review as increasingly dated and embarrassingly out of touch. I'm prepared for either outcome. I hope they are too.