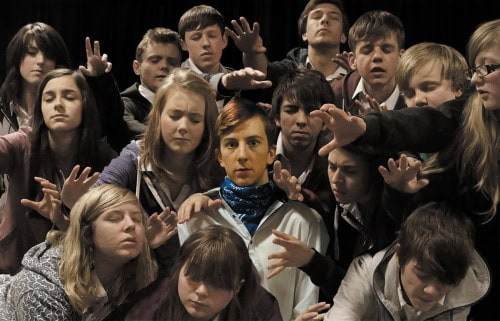 Katie Beswick (@ElfinKate) reviews Faust: O Man Fly! A youth theatre production by Escape:cyt 
The fate of the future is in the hands of the young – yes, I know, those same hands that turn up the volume on their mobile phone speakers and press 'play' so that tinny dance music rings in your eardrums when you're trying to enjoy a light hearted story about a smiley, fluffy penguin on page three of the morning Metro. Still, when you consider that my generation have done almost nothing to fight the world's injustices (unless you count Owen Jones, which I don't, mainly because of his terrible taste in shirts) I can't be too harsh about the smart phone generation. Especially because, judging by the young I witnessed last week performing a response to Marlowe's classic Dr Faustus, there's a sliver of hope for humanity yet.
Faust: O Man Fly, by youth theatre company Escape:cyt, was a surrealist mash up of the original Faustus story, a GCSE English Literature revision session, Radio One and a political rally; peppered with characters borrowed from the DVD collection of the entire cast (Alan Rickman's Snape as the devil and finger puppet angel Homer Simpson are two memorable examples). As various morally dubious characters negotiated a pact with the devil, and various other characters offered an analysis of great works of literature (well, mainly it was Robert Frost's The Road Not Taken), the play worked to illustrate the difficult moral waters the teenage performers would have to navigate, post adolescence, in order to build a meaningful life. Importantly, the work ended with the cast discussing the ways that arts education had sculpted their experience, and calling for the government to recognise its value beyond economic measures.
Staged in traverse (that's when the audience sit on either side of the stage, like a catwalk) – which is, incidentally, my favourite staging –  the performance was well choreographed, and well pitched. There were some brilliant individual performances, but I loved the ensemble work the most; it was a little bit chilling watching a gang of masked devils seducing a nervous, school uniformed incarnation of Faustus into signing a contract in blood. I also loved the word 'tragical'  (which I've redefined to mean 'tragically magical' and will start using regularly), repeated throughout.
The performance, directed by Simon Brewis, was an energetic and convincing celebration of the arts. The work embodied the spirit of 'beyond economics' in its production too – it was supported by Lawnswood School, Ralph Thoresby School and Slung Low's HUB who provided free space and facilities without which the performance would not have been possible. In keeping with Slung Low's policy the evening was pay what you can – a wonderfully inclusive policy which, while perhaps not replicable at mainstream venues, makes a visit to the theatre feel like something far more important than money. Which, of course, it is.
Escape:cyt are currently accepting new members, 11 – 18 yrs. If you are interested please contact Simon Brewis at simon@escapecyt.co.uk.