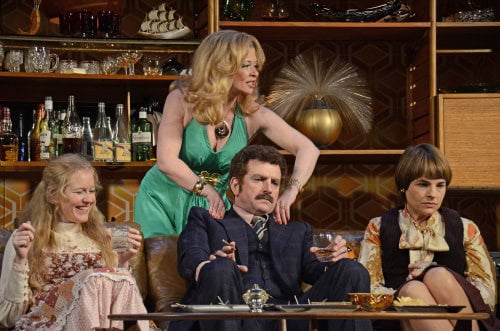 Writer-director, Mike Leigh is perhaps more famous these days for films like Another Year but was once better-known for a 1977 play that the West End almost overlooked. Currently touring the UK, Abigail's Party stopped at Bradford's Alhambra where Leo Owen caught the show …

Designer, Mike Britton, mimics the play's TV studio origins with a shrunk down claustrophobic set, blacking out much of the height and width of the stage, resulting in the cast at times almost resembling caged animals.
A lit-up box room sets the scene of a 70s' living room with wallpaper and upholstery prints matching trends of the time. Donna Summers' Love To Love You Baby loudly plays as a chain-smoking host in a flowing green evening dress sets out hors d'oeuvres ready for a gathering.
Beverly's husband, Laurence (Martin Marquez), arrives home late from work and their guests follow in quick succession. In an unspecified part of Essex at 13, Richmond Road, nurse Ang (Katie Lightfoot) from number 16 arrives with her husband Tony (Samuel James), shortly followed by Sue from number nine.
Wittering on amiably, endearingly stupid Ang has some of the best lines, while her quieter husband speaks in bored sounding monosyllables. Short-haired divorcee housewife, Sue (Emily Raymond) is also a woman of few words who contrasts both visually and verbally to Leigh's other female leads. As host, Beverly (Hannah Waterman) is the least sincere character, showering guests with "lovely"s and "fantastic"s; lusting after Tony; bossing everyone around and cruelly belittling her husband, Laurence, who she mocks at every available opportunity.
Although the action of Leigh's play is very insular, Touring Director, Tom Attenborough, brings Richmond Road to life with off-stage sound effects. Unexpected musical choices create humour and dampen the party's mood while characters' references to Abigail's titular party are supported by sounds of distant revellers. Dodgy southern accents grate but are quite convincing and Attenborough's use of space occasionally reinforces characters' social standing.
Leigh's characters aren't always likeable but are undoubtedly very real. Brought to life by an equally strong cast, they may not be characters you'd like to meet but are all easily recognisable three dimensional beings. His brilliant attention to detail is perfectly illustrated by Sue dancing with her handbag draped over her shoulder, Ang shaking hands at the end of a dance or Beverly's shameless booty shake.
Little happens but the tactless one-upmanship of character conversations is so well-written, it's painful to watch at times. A discussion about fitted carpets is one of the play's most animated, and house sizes, supermarket preferences etc are used as indexes of status, alongside the name-dropping of brands. The out-numbered male characters strive to get one-over on each other while Laurence blatantly insinuates his neighbours are intellectually inferior simply because they don't own the complete works of Shakespeare.
The females are just as embarrassing to watch, often talking as if other characters are no longer present. Ang inappropriately tells the others Tony avoids eating Indian food after suffering from gastroenteritis while Beverly patronises Laurence rather thoughtlessly announcing he "wouldn't suit a beard – his face is too fat." Beverly's misplaced arrogance and underlying insecurities are clearly apparent when she gives Ang unprompted make-up application tips.
The play's most obvious humour first stems from Sue's concerns about her daughter's unchaperoned party, prompting audible chuckles from the audience. Reminiscing about unruly teenage gatherings, the other characters manage to visibly fluster an initially unfazed Sue. Watching Beverly and Tony sensually dance while their respective spouses look on makes for awkward viewing while Ang's constant inane smiling and Beverly's narky reactions to less alcohol dependent guests are also both mildly entertaining.
References to "coloured chaps" and the harmlessness of smoking, illustrate cultural changes since Abigail's Party was first performed but negative representations of marriage are the most interesting. Characters discuss the unhappy marriages of their parents, how "the fun [of marriage] wears off" over the years and hypothesise growing divorce rates are the result of increased wife-swapping trends, women's lib and accepted promiscuity.
The female characters dominate, often speaking for their men but their male partners always have the final say – whether it's car makes or wall hangings. Through forcing a group of odd-bunch neighbours together, Leigh epitomises the mundane small talk sometimes necessitated when acquaintances socialise and invites viewers to come to their own conclusions about the fate of each character.
Quietly entertaining with a charm that's difficult to immediately pinpoint, Abigail's Party is observational comedy at its best, with little action in the first half, some predictable outcomes in the final act and a few surprises thrown in. The butter knife comes out and overlapped voices are raised but there's a lot of waiting as viewers tensely anticipate the result of extensive alcohol consumption. Leigh also cleverly creates suspense by making his audience wonder if we'll ever be introduced to his titular character.