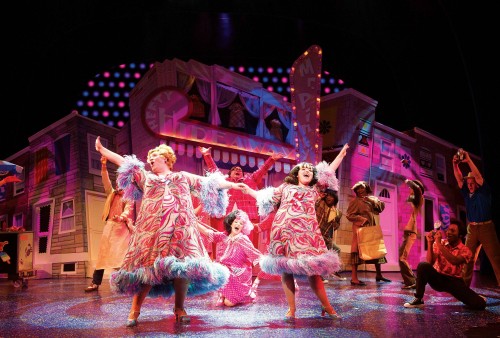 These days Hairspray is associated with the 2007 Adam Shankman film but the stage show is based upon John Water's 1988 original. Leo Owen catches the first leg of its UK tour in Bradford to see how the musical compares to the film …
An upright bed faces the audience and a backdrop has dancers silhouetted in 60s' style bubbles to accompany opening feel-good number "Good Morning Baltimore". It's 1962 and the popularity of rhythm and blues is on the up, despite continued segregation between the white and black communities. Young Tracy Turnblad is desperate to appear as a regular dancer on the Corny Collins Show but must overcome the prejudices of others to succeed.
David Rockwell's clever set design allows for seamless location changes and remains in keeping with the production's 60s' setting with a colourful pastel-striped backdrop to represent the Corny Collins Show and record shop props appearing from above. Director Jack O'Brien makes the show feel interactive and breaks the fourth wall with guards running on stage from the auditorium ("This is what happens when you sit in the cheap seats," jokes one to front row audience members). William Ivey Long's colourful wardrobe includes lilac Ultra Clutch Hairspray costumes and compliments the play's larger-than-life characters and hairstyles with plenty of psychedelic patterns, glitzy dresses and spangly suits.
As the show's lead Tracy, Freya Sutton (amazingly, a newcomer who only graduated in 2012 and will surely go far) sets high standards in the opening song, belting out Marc Shaiman and Scott Whittman's lyrics. Memorable high-energy show songs include "I can hear the bells", "Hey Mumma" and "Big, Blonde And Beautiful". Sandra Marvin gives an incredible performance as Motormouth Maybelle singing the latter, eliciting gasps of surprise and adulation across the theatre.
Suttons' deliberate panting during her duet with Link (Luke Stiffler) in "It Takes Two" is both embarrassing and funny. Stiffler ably matches her vocals in this early duet but later gives one of the show's weaker performances during the prison break scene. The musical's only other slight let down surprisingly comes from one of its biggest name cast members – playing the overly dramatic show producer, Velma Von Tussle, Lucy Benjamin (Eastenders) is unfortunately no Michelle Pfieffer.
In the same 2007 remake Pfieffer starred in, the unlikely pairing of John Travolta and Christopher Walken as Wilbur and Edna was one of the film's greatest strengths. In this production Mark Benton plays Edna with her "indeterminate girth" and Paul Rider acts as her easy-going husband, Wilbur. First scenes lack the indescribable chemistry Travolta and Walken achieved but as the show progresses Benton and Rider warm to their roles. Watching their little and large act in "Timeless To Me" is enormous fun, made all the more enjoyable by both almost breaking the fourth wall – playing for laughs they're clearly enjoying themselves and openly chuckling at their own camped-up performances. Benton's voice fluctuates between deep male vocals and faux female, perfectly illustrating just how seriously this show takes itself.
Scenes without the comedic pairing of Edna and Wilbur are just as funny with plenty of other humorous moments, including a slapstick P.E. lesson with the "populars" playing against the "special ed" group. Writers Mark O'Donnell and Thomas Meehan ensure there are plenty of cheeky one-liners between songs ("Hey baby – looks like you could use a stiff one…") to keep the mood light, alongside Tracy's charming internal monolgues, highlighting the melodrama of being a teen experiencing "love" for the first time.
The music is a little loud at times, making it sound like the cast are battling to be heard (particularly during "The Big Doll House") and some performances are weaker than others but Hairspray's exceedingly upbeat vibe makes it easy to forget its minor faults. Expect a lot of hip bumping, multiple hairspray canisters and Diva-like performances. It's uplifting and immensely enjoyable to watch, almost resulting in the smile-induced jaw-ache its unrivalled star, Freya Sutton, must surely experience. The infectious final song "You Can't Stop The Beat" makes for a free-for-all high energy ending, prompting the well-deserved standing ovation the show received. If you're feeling tired on arrival, you'll either find Hairspray exhausting to watch or be re-energised – it's Red Bull without the negative side-effects.
Hairspray shows at Bradford's Alhambra from March 12-23 before touring the rest of the UK:
http://www.hairspraythetour.com/